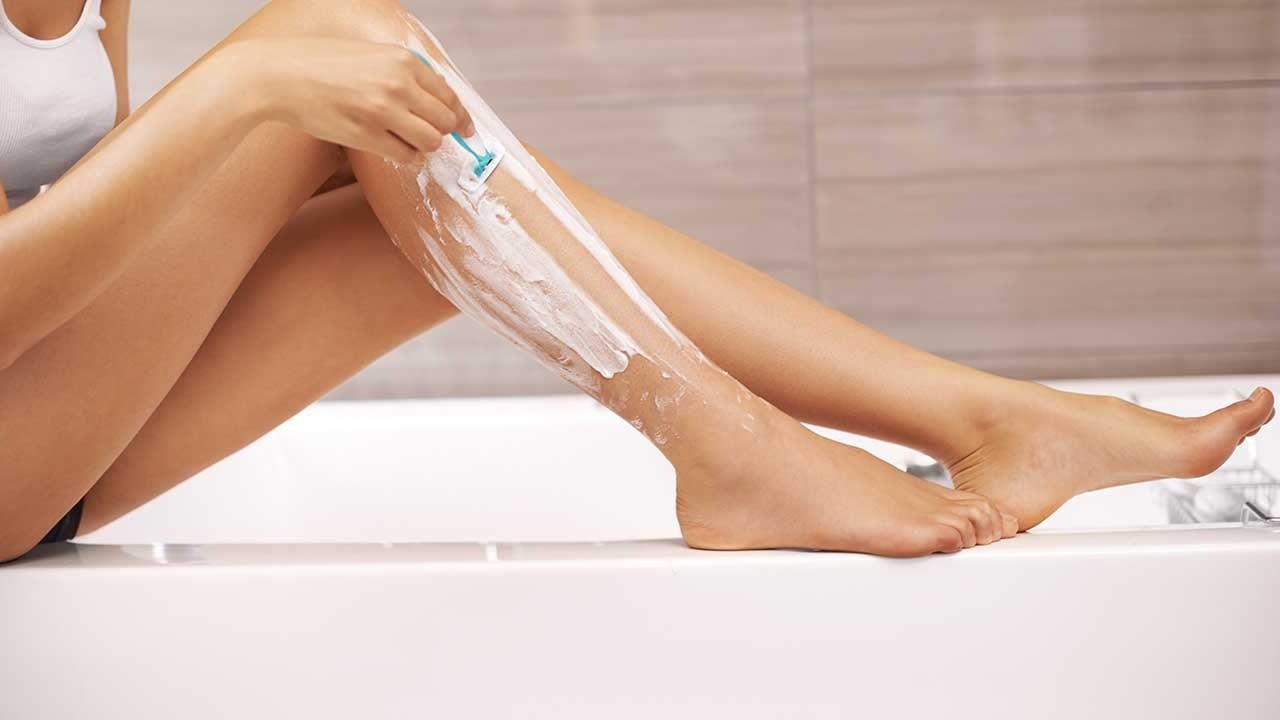 skin care essentials
How to Shave Your Legs Like a Pro
Be honest, is shaving the bane of your existence? It's a total hassle and one that sometimes results in irritated skin and cuts at that. But by learning how to properly shave, you can make this part of your beauty regimen a more enjoyable experience—with a more successful outcome. Much like removing facial hair, knowing how to shave your legs simply requires mastering a few basic steps.
Follow our step-by-step guide on how to shave your legs like a pro, and you'll have it down—no problem. And yes, if you've ever been confused about how to shave legs without ending up with itchy legs after shaving, or can't seem to achieve a super-smooth shave no matter how hard you try, we've got you covered. Reach for your razor and a shaving cream or gel, then hop in the shower. Once you're ready to go, read on, and employ the following tips in the leg-shaving portion of your skin care routine.
LEG-SHAVING TIP #1: SOFTEN YOUR SKIN
If you're on the quest to learn how to shave your legs the right way, your first step should be hopping into the tub. According to the American Academy of Dermatology (AAD), before you begin shaving your legs, you should wet your skin and hair to help soften it. That means no more attempting to shave your legs when your skin is dry! The AAD states that this can scratch your skin and make it feel rough. Ouch! Instead, get into the bathtub or shower and wet your skin before picking up your razor.
LEG-SHAVING TIP #2: EXFOLIATE
Exfoliation is the key to a clean, smooth shave! Shaving smooth, exfoliated skin will be easier and more effective, as your razor will be able to get to the root of your hair and give you the closest shave possible.
Editor's tip: Need some help figuring out where to start when it comes to exfoliating? Head over to our article, How to Exfoliate from Head to Toe.
LEG-SHAVING TIP #3: SAVE SHAVING FOR LAST
Do you exfoliate before or after shaving? Going off of our last tip, save shaving for the last step in your shower routine. Apply shampoo, a hair mask, and the rest of your in-shower products before ever reaching for your razor! This will give your skin plenty of time to soften.
LEG-SHAVING TIP #4: LATHER UP
Again, shaving dry skin is a total no-no, as this can lead to irritation. Shaving your legs while your skin is wet is the way to go. But before you get to work, follow this step: After getting your skin wet in the shower, the AAD recommends applying a shaving cream or gel. This can help to prevent you from cutting your skin while you're shaving your legs.
LEG-SHAVING TIP #5: USE THE RIGHT PRODUCTS
If you've ever wondered how to get rid of shaving bumps, you'll want to pay special attention to this tip. Like we mentioned, the AAD recommends using a shaving cream or gel when shaving. While you may have heard of people reaching for bar soap, body wash, or even conditioner in place of a shaving cream, don't do it! Using the wrong shaving products can lead to seriously irritated skin, nicks, and razor bumps. Play it safe and use a product specifically designed to make shaving easier.
LEG-SHAVING TIP #6: GRAB A FRESH RAZOR
It's time to toss that razor that's been sitting in your bathroom for quite a while—go ahead and grab a new one! The AAD recommends using a disposable razor or one with a disposable blade, making sure to replace the razor or blades often. According to the AAD, you should throw away disposable razors after five to seven shaves, as this can help minimize irritation caused by dull blades. Consider stocking up on a pack of razors so that you always have a new one on hand when you need a replacement.
LEG-SHAVING TIP #7: FOLLOW DIRECTIONS
Now, how exactly should you go about shaving your legs? Should you glide your razor in the direction that the hair grows or in the opposite direction? Ah, this is the age-old question, isn't it? Well, when it comes to how to shave your legs, the AAD advises shaving in the direction that your hair grows. Going against the grain can lead to ingrown hairs, nicks, and irritation.
LEG-SHAVING TIP #8: BE GENTLE!
The AAD says you shouldn't press too hard with your razor, as this can leave you with irritated skin. Being gentle is key—especially when you're using a fresh razor!
LEG-SHAVING TIP #9: TAKE YOUR TIME
Slow and steady wins the race—or in this case, the shaving contest. While you may be tempted to spend as little time as possible shaving your legs, it's important to take your time because rushing can lead to nicks and an uneven shave. Make more time for shaving by multitasking in the shower. Some ways you can do this include applying a hair mask or face mask before shaving and rinsing off once you're done. You have to wait for those three to five minutes either way, so might as well get something done!
LEG-SHAVING TIP #10: MOISTURIZE
Prone to having itchy legs after shaving? Moisturizing your legs is super important, especially post-shave. After all, you don't want to put in all that effort just for your legs to be dry and ashy! Apply a hydrating body lotion or body butter to give your freshly shaved skin the moisture it needs.
LEG-SHAVING TIP #11: RELOCATE YOUR RAZOR
You may not realize it, but storing your razor properly plays a big role in how successful you are at shaving your legs. You should keep your razor in a dry space in an upright position in order to help keep bacteria from forming on the blades. Trust us, you don't want to risk a nasty infection!
LEG-SHAVING TIP #12: GIVE YOUR LEGS A BREAK
While you may be tempted to shave your legs every day, you should try to give them a break from your razor. Why? Similar to exfoliating too often, shaving too frequently can irritate your skin. And honestly, your legs will still look smooth if you opt to shave every other day.
There you have it: 12 easy tips on how to shave your legs, from prepping your skin in the shower to gently pressing on your skin with your razor.
HOW TO GET A GOLDEN-LOOKING GLOW AFTER SHAVING YOUR LEGS
After you're done shaving your legs, you probably want to slip on your favorite sundress or pair of shorts to show them off, right? Well, if you want a little bit of color before heading out in your short apparel, freshly shaved legs are ideal for applying self-tanner. In fact, if you think you may want to get your glow on in the next few days, you shouldn't hold off. That's because shaving can strip away self-tanner, and if you wait to apply, it won't be long before it's time to shave again. So, make the most of your sun-kissed skin and your smooth legs by applying the self-tanner immediately after shaving (and moisturizing, of course). There are so many different types of self-tanners that it can be overwhelming to figure out which one you should use. Here are three of our best self-tanners.
If you want an instant sunless tan…try a tanning mist like the L'Oréal Paris Sublime Bronze ProPerfect Salon Airbrush Self-Tanning Mist Medium Natural Tan. This self-tanner has a 360-degree wide-angle applicator that will help you reach even the most difficult of spots—including the backs of your legs. In just a few minutes, you'll be left with natural-looking, streak-free results. Worried about it getting on your clothes? There's no need! This self-tanner dries instantly so you can throw on your outfit and head out the door after application.
If you want a travel-friendly sunless tanner…try tanning towelettes for an ultra-convenient option. The L'Oréal Paris Sublime Bronze Towelettes for Body have enough self-tanner for one application in a single towelette, so you can toss one in your travel bag and be good to go. As for the end results, you'll be left with a streak-free, 100% natural-looking tan and ultra-smooth skin.
If you want a gradual sunless tanner…try the L'Oréal Paris Sublime Bronze Hydrating Self-Tanning Milk Medium. This is the perfect option for those who want to ease into their fake tan. With one use, a bronzed glow will appear within hours, while continued use will help gradually deepen your tan for a buildable glow any time of year. Bonus: The formula will also nourish and hydrate your skin.
Now that you know which self-tanner is right for you, here's how to apply one.
STEP #1: SHAVE AND EXFOLIATE
You've got these steps down pat by now!
STEP #2: MOISTURIZE
Make sure you apply a moisturizer before picking up your sunless tanner! Hydrated skin will help prevent your self-tanner from sticking to dry areas, which can lead to patchiness.
STEP #3: APPLY YOUR SELF-TANNER
Smooth your self-tanner of choice on evenly over your entire body, using sparingly around joints.
STEP #4: RINSE YOUR HANDS
Wash hands thoroughly after use, allow your tan to develop if needed, and enjoy!
HOW TO REMOVE HAIR FROM OTHER AREAS OF YOUR BODY
So, you know the steps for shaving your legs like the back of your hand. But what about other areas of your body? Are they the same? Here are a few pointers to keep in mind.
If you're removing hair on your underarms…the same steps for shaving your legs apply. If you want a smooth, seamless shave, exfoliating, using a new razor, and moisturizing are all steps you'll want to take.
If you're removing hair on your face…check out our article, Girl Talk: Your Guide to Removing Unwanted Facial Hair. Since removing hair from your face is slightly different from removing hair on the rest of your body—as your facial skin tends to be more fragile and some areas, like your eyebrows, may only require partial hair removal—you'll benefit from reading our full guide.
If you're removing hair on your arms…your leg-shaving expertise can be applied once again.
Next up: Inspired to upgrade how you care for your limbs—beyond how to shave? In that case, head over to our article, How to Create a Skin Care Routine for Your Body.
Discover more tips & tricks
Keep your skin happy
See all articles
Shop Featured Skin Care products
Discover More