skin care concerns
Our Best Eye Creams For Dark Circles
Say hello to a brighter gaze.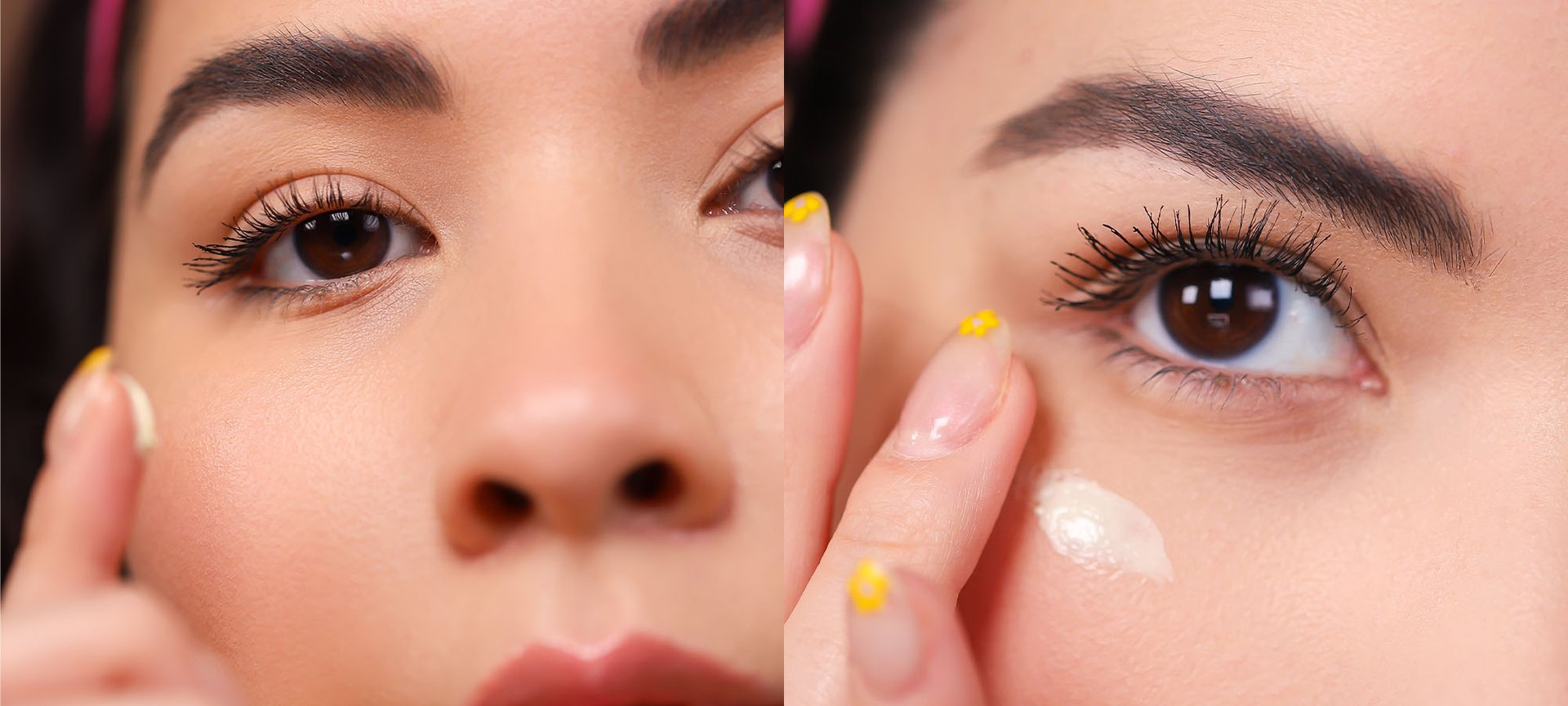 We'll be the first to admit that the dark under-eye circle trend was one of the most bizarre trends to hit social media — and we loved it! When you naturally have dark circles under your eyes, it feels pretty nice to see people not only embrace it, but actually want to mimic it. But like most TikTok trends, its popularity faded as quickly and ferociously as it peaked. And those of us with under-eye circles are back to searching for the best products and techniques to keep our deeply colored eye area a secret. While makeup plays a big role, eye cream is a must-have if dark circles are playing defense against your skin goals.
If you have dark circles and eye cream isn't part of your skin care routine, you could be missing out. Those tiny jars and tubes may not seem that much different than moisturizer, but eye creams are actually formulated to help address skin concerns that are specific to your delicate under-eye area. Keep reading to find out more about our best eye creams for dark circles under the eyes, plus get tips for concealing dark circles with that aforementioned makeup too.
Our Best Eye Creams For Dark Circles Under Eyes
Luckily, there are skin care products you can incorporate into your skin care routine to help reduce the appearance of dark circles with continued use over time. Here are our best eye creams for dark circles — go ahead and pick the one that suits you best. Bonus: Some of our best eye creams for dark circles can help minimize the look of under-eye bags and crow's feet, too.
This powerful and luxurious serum is formulated with Pro-Xylane and hyaluronic acid to repair wrinkles, reduce bags, and lift the eye area. Apply in small dots around your eye with your ring finger and smooth gently until thoroughly absorbed in the morning and night to clean skin.
Formulated with hydrating hyaluronic acid and re-energizing caffeine, this eye serum visibly reduces the look of fine lines and crow's feet, puffiness under the eyes, and brightens dark circles with continued use. Dip the rollerball applicator into the serum and massage it over the contours of the eye area all the way up to the temples and eyelids. Use your ring finger to gently tap in excess serum.
This anti-aging treatment targets five signs of aging, including dark circles, puffiness and under-eye bags. Made with vitamin E and a patented antioxidant recovery complex, it boosts the cell renewal process, making the skin around the eye area appear younger. Dot around the eye area and gently tap it in using your ring finger until fully absorbed. Apply it as part of your morning and evening skin care routines.
This ultra-gentle eye gel is formulated with manuka honey extract and nurturing oils to cushion mature, very dry skin with nourishing moisture. In one week, puffy bags appear reduced, dark circles appear brighter, and eyes look more youthful. Apply twice daily on clean skin. Using the rollerball applicator, massage formula onto the under-eye area in circular motions. Gently pat any excess with fingers.
This anti-aging eye cream has a unique whipped texture that instantly blurs to help visibly correct dark circles. Formulated with imperial peony, it reduces the look of dark circles, visibly brightens skin around the eye area, and provides an overall healthier, younger-looking complexion. Also noteworthy, the formula is paraben-free, mineral oil-free, and suitable for sensitive skin. Every morning, pat around the eye area and gently smooth until absorbed. This eye cream can be used on the under eye and eyelid areas.
Formulated with Pro-Retinol, this eye cream can help firm the feel of skin around the eyes and diminish the appearance of dark circles with continued use over time. Use morning and night alone, under makeup, or layer as needed.
How To Hide Dark Circles With Makeup
In addition to adding a new eye cream to your skin care routine, there are some makeup tips and tricks that can help you mask your dark circles, too. Basically, be thankful for face makeup.
Tip 1: Color Correct
When your under-eye circles are really dark, you may want to consider color correcting. This technique involves applying your knowledge of color theory (think back to art class) to your makeup. Since dark circles typically have a blue hue, a peach or orange concealer will be your best friend for hiding them. Try the L'Oréal Paris True Match Color Correcting Crayon in the peach, bisque, or orange hues, being sure to follow with a concealer that matches your skin tone. Blend everything with a makeup blender for a seamless finish.
Editor's tip: Keep the color correctors on hand if you also have dark spots. Shades of orange are perfect for covering up other discolorations, too.
Tip 2: Use a Full-Coverage Concealer
Don't underestimate the power of makeup. If your regular old concealer doesn't seem to make a dent in disappearing those dark circles, switch to a fuller coverage option, like the L'Oréal Paris Infallible Full Wear Concealer Waterproof, Full Coverage. Reach for a makeup blender to apply, blend, and buff the concealer onto your skin for heavy-duty coverage that doesn't actually look heavy.
Tip 3: Use A Multitasking Concealer
We can't think of anything better than a hybrid makeup product that offers coverage with skin care benefits. The L'Oréal Paris True Match Eye Cream in a Concealer, 0.5% hyaluronic acid combines the coverage you crave from a concealer with the hydrating benefits of an eye cream. Formulated with hyaluronic acid, it offers 24 hour hydration, instant dark circle coverage and helps to reduce the look of puffiness after one week of use.
Next: This Is How You Should Be Applying Eye Cream
Edited by: Shalwah Evans, Photo Credit: Luis Omar Landestoy
Discover more tips & tricks
Keep your skin happy
See all articles
Shop Featured Skin Care products
Discover More