skin care concerns
7 Tips To Treating Peeling Skin On Your Face
Don't fret those flakes.
October 09, 2020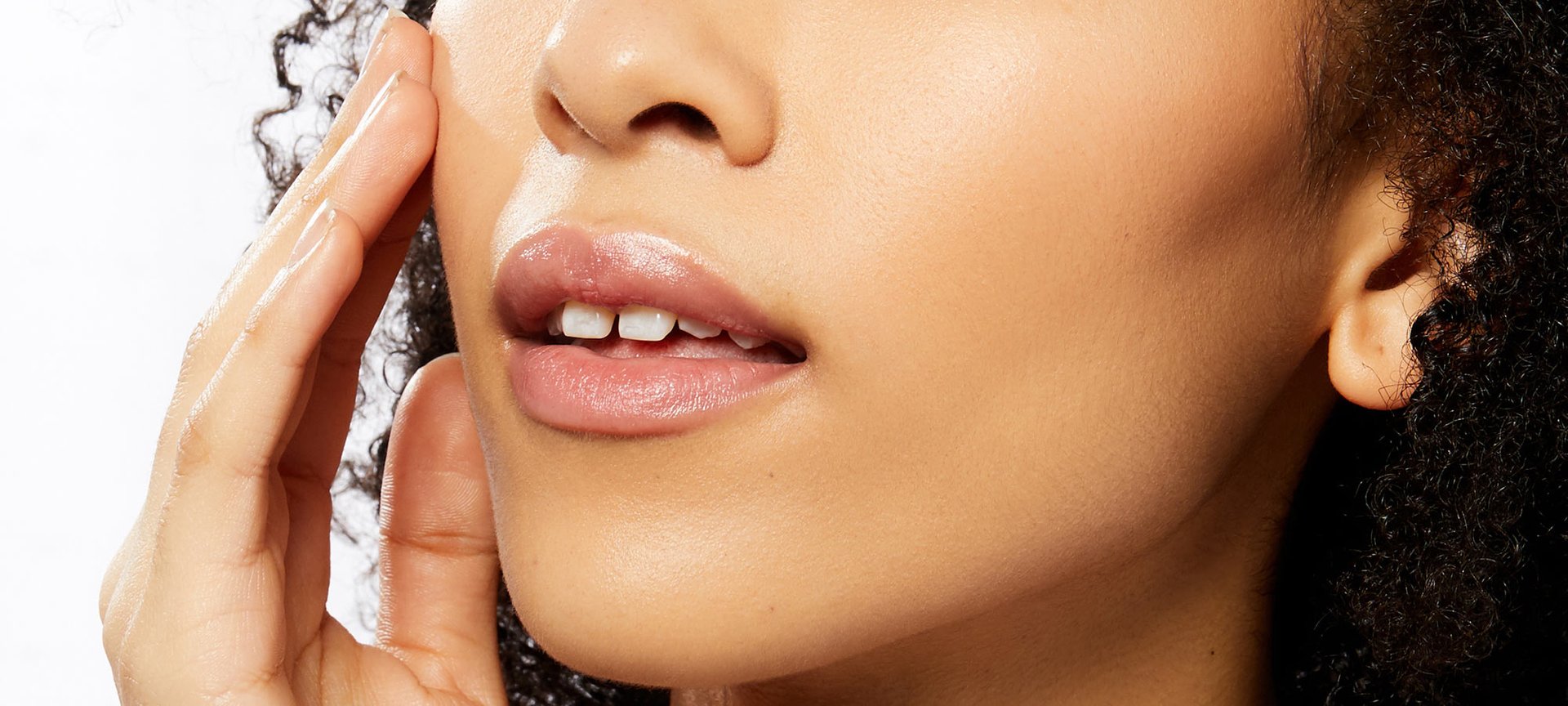 Putting your best face forward might feel impossible when you are dealing with peeling skin. Whether it's from sun burn or another complexion concern, peeling skin is one of those things that you can't cover up but you definitely want to get rid of. And we want to help. Below, we're sharing seven tips to help you manage skin peeling on your face.


1. Gently Exfoliate Regularly
Often, a little bit of exfoliation can go a long way when dealing with peeling skin. Mostly, those little flakes are dead skin cells that can be polished away with some assistance. You shouldn't pick at or peel off your skin but you can use a face scrub to dislodge dead cells that are ready to be removed. The L'Oreal Paris Revitalift Bright Reveal Brightening Daily Scrub Cleanser is perfect for this step in your routine. This facial cleanser has gentle micro-pearls and glycolic acid which exfoliates dullness and impurities to improve skin tone, texture, and clarity. Immediately after use, skin looks more refined and feels softer, smoother, and comfortable.
If you're new to exfoliation, take it slow. Your skin may not be able to handle daily scrubbing. Start with exfoliating once a week, and if it goes well, you can build up to more frequent use.


2. Wash With Lukewarm Water
The water you wash with may not seem like a major component of your skin care routine, but you might be surprised. Showering in scalding hot water (or splashing it onto your face) has a well-earned reputation for being relaxing; however, it takes a toll on your skin. The steaming water can dry out your skin, and as you likely know, dry skin and peeling tend to go hand in hand. Thankfully, a simple switch can make a big difference. Turn down the temperature in your shower and on your sink and start washing with lukewarm water. Trust us, your complexion will be better for it after this little upgrade.


3. Use a Toner to Sweep Away Dead Skin
Toner sometimes gets pushed aside, but that's because not everyone understands what toner does. The right formula can help refresh your skin and get rid of the dull, flaking skin on its surface. We love the L'Oréal Paris Revitalift Derm Intensives 5 Percent Glycolic Acid Peeling Toner, which is alcohol-free and has a gentle, non-drying formula. The toner doubles as a liquid exfoliant, thanks to a formula with 5 percent pure glycolic acid. It helps gently sweep away dull, tired-looking skin, protect against moisture loss, and refresh and brighten your skin.


4. Moisturize, Moisturize, Moisturize
One of the best things you can do to prevent and manage peeling skin on your face is to be diligent with moisturizing. This means applying a nourishing face moisturizer morning and night. The L'Oreal Paris Revitalift Triple Power Day Lotion SPF 30 is perfect for daytime. The creamy moisturizer is formulated with pro-retinol, vitamin C, SPF and hyaluronic acid to reduce wrinkles, firm, brighten and protect your skin from the sun. At night, you can make a swap, and use the L'Oréal Paris Collagen Filler Collagen Moisture Filler Day/Night Cream, which immediately surges your skin's moisture levels.


5. Wear Sunscreen Every Single Day
If you've ever had a bad sunburn, you know that peeling skin can be the result. One of the easiest ways to prevent peeling is not to get burnt, so sunscreen should already be part of your daily skin care routine. Apply one with an SPF value of at least 30, as recommended by the American Academy of Dermatologists (AAD), each morning, and reapply throughout the day.
If you're partial to a minimalist skin care routine, you can opt for a moisturizer with SPF, like the L'Oréal Paris Revitalift Bright Reveal Brightening Day Moisturizer SPF 30.


6. Apply Primer Before Your Makeup
Peeling skin on your face doesn't have to stop you from wearing a stunning makeup look. What's important is to prep your skin with a primer before you do. When you apply foundation straight to peeling skin, it's sure to cling to dry patches and draw even more attention to the peeling. By laying down a base first, it can give you a smoother canvas for the rest of your makeup. We recommend the L'Oréal Paris Studio Secrets Professional Magic Perfecting Base, which glides onto skin, leaving it velvety-smooth to the touch. The lightweight formula helps to smooth lines, hide pores, and banish imperfections.


7. Use a Hydrating Foundation
Your foundation choice is just as important as your primer. To reduce the appearance of peeling skin, rather than opting for a matte look you should choose a formula that's moisturizing and gives skin a glow—something peeling skin may sorely lack. A serum foundation, which blends skin care and makeup, is an especially good pick. The L'Oréal Paris Age Perfect Makeup Radiant Serum Foundation with SPF 50 offers all-day hydration, evens your skin tone, and leaves it with a natural-looking, glowy finish. The foundation also won't settle into lines, which makes it an essential for mature skin.
Next: 11 Things You Shouldn't Do if You Have Dry Skin
Photo Credit: Chaunte Vaughn
Discover more tips & tricks
Keep your skin happy
See all articles
Shop Featured Skin Care products
Discover More