skin care concerns
Can You Remove Blackheads?
August 09, 2019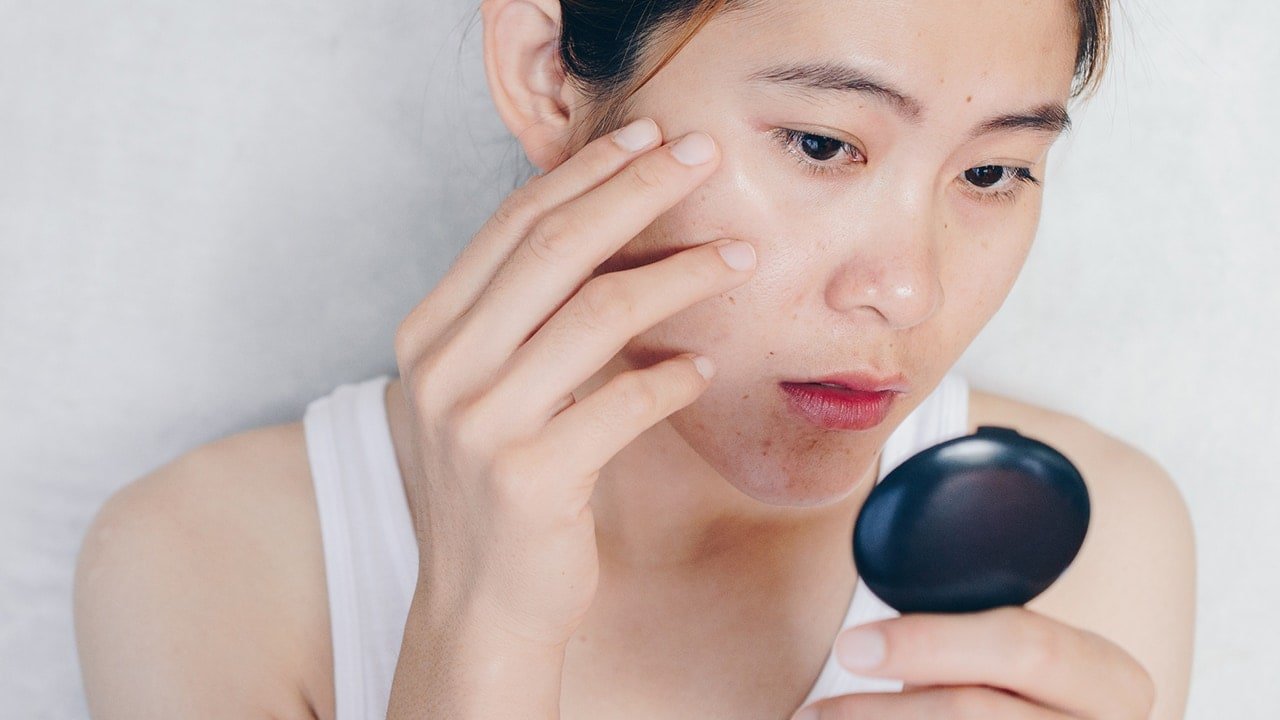 Blackheads—those little dark dots that typically can be found on your nose, forehead, or chin—are a common skin care concern shared by women and men of all ages. No matter how diligently you use a facial cleanser and moisturizer as part of your skin care routine, there's still a chance that those undesirable black spots could remain visible. It raises the question, is blackhead removal possible? You've probably searched high and low for skin care products that help with blackheads, as well as tips on how to remove blackheads, but blackheads can be pretty difficult to manage. But thankfully, difficult isn't the same as impossible. Blackheads can be managed! Below, we're sharing everything you need to know about blackheads—from what, exactly, they are to how to reduce your chances of getting them to whether or not you should remove or pop blackheads. Consider this your ultimate guide to blackheads!
WHAT ARE BLACKHEADS?
Before delving into skin care products to help address and manage blackheads, let's back up for a sec. First, it's important to understand what blackheads are. According to the American Academy of Dermatology (AAD), blackheads can be a sign of a mild form of acne. Per the AAD, blackheads occur when oil, dead skin cells, and bacteria build up on the surface of your skin and clog your pores. If your pores stay open after they've become clogged, this can cause bumps with a blackish tint to become visible—hence the name blackheads.
CAN YOU GET RID OF BLACKHEADS?
We need to clear up one common misconception about managing this particular complexion concern: You shouldn't attempt to remove, pop, or get rid of blackheads. While blackhead extraction may be tempting, this can result in irritation and redness. Yes, this means popping blackheads and Googling blackhead removal tools are a no-no. Instead, your focus should be on achieving the appearance of clearer skin. When it comes to managing the look of blackheads, it's all about switching up your skin care routine so that it's tailored specifically to your complexion's needs.
HOW CAN YOU HELP MANAGE BLACKHEADS?
Now that you know what blackheads are and that you shouldn't try to remove them, it's time to get to what we know you're really here for: tips for addressing blackheads. The good news is, if you have blackheads, there are a few things you can do to help diminish their appearance—but these will take some patience. According to the Food and Drug Administration (FDA), blackheads can often be addressed at home, since blackheads are the result of mild acne.
The FDA states that some of the most common at-home topical skin care products to help reduce the appearance of blackheads are gels, lotions, creams, and soaps formulated with benzoyl peroxide or salicylic acid. Just keep in mind that you shouldn't expect anything you try to work overnight. According to the AAD, you could start to notice improvements in your skin's appearance in four to six weeks, but it could take two to three months (or more!) for your skin to clear. That's why it's a good idea to continue to use an acne treatment once you notice improvements in your skin, as this can help reduce the chances of new blackheads forming.
HOW CAN YOU HELP REDUCE YOUR CHANCES OF GETTING BLACKHEADS?
One of the things you shouldn't do to reduce your chances of getting blackheads is over-wash your skin. According to the AAD, washing your face too much can actually irritate your skin. The AAD recommends sticking to twice a day facial cleansings (once in the morning and once at night), as well as after a heavy sweat session. (Read our article on Our Best Facial Cleanser for Every Skin Type.) Beyond getting your cleansing frequency right, be consistent with your acne treatment. As we said before, is if you're using a treatment that starts clearing up the look of your blackheads, continue using it to help reduce your chances of new blackheads rearing their ugly heads.
WHAT'S A GOOD SKIN CARE ROUTINE FOR BLACKHEADS?
A good skin care routine when you have visible blackheads includes regular cleansing. Remember: There's no reason to go overboard! All you need in the way of cleansing is to pick up a facial cleanser morning and night—and make sure to remove any makeup you're wearing before you go to bed. When you sleep in your makeup, it can mix with the dirt and oils on the surface of your skin, which can lead to clogged pores—and as you now know, clogged pores can lead to the appearance of blackheads.
Editor's tip: Want to try a skin care product specifically formulated for clogged pores? The L'Oréal Paris Pure-Sugar Purify & Unclog Kiwi Scrub is the product for you! This face scrub has a light, gel-like formula that contains three pure sugars and kiwi seeds. The scrub will remove any impurities without harsh exfoliation and will leave you with baby-soft, smooth, and comforted skin. Your pores will look tighter, unclogged, and less visible. Sign us up! If you want more skin care tips focused on clogged pores, head over to our article, What Causes Clogged Pores?
Try stocking your nightstand with micellar water or makeup removing towelettes—both are no-rinse makeup removal options that can be used from anywhere, no sink required. To use micellar water, all you have to do is apply some of the product on a cotton pad, then smooth the saturated pad over your face to remove makeup and impurities. The L'Oréal Paris Micellar Cleansing Water Complete Cleanser - Normal to Oily Skin is the perfect product to use. The formula is gentle on the skin, leaving it looking purified and mattified. If you would rather opt for makeup removing towelettes, try the L'Oréal Paris Ideal Clean All Skin Types Makeup Removing Towelettes. The alcohol-free formula will remove all traces of makeup without drying out your skin.
Another thing to consider when curating your skin care routine is to opt for facial moisturizers and serums that aren't formulated with oils, as oil-free formulas are less likely to clog pores. Try the L'Oréal Paris Revitalift Derm Intensives 10% Pure Vitamin C Serum, which has an oil-free, paraben-free, and fragrance-free formula with 10% pure vitamin C. As for how it benefits the skin, the serum will leave your complexion powerfully radiant and velvety soft.
CAN I USE MY MAKEUP ROUTINE TO COVER BLACKHEADS?
As we mentioned earlier, using the right skin care products and following the correct routine for minimizing the appearance of blackheads doesn't mean they're going to go away immediately. So, what can you do in the meantime to disguise your unwanted spots? Lucky for you, there are a few makeup products you can add to your makeup routine to cover blackheads until your complexion clears.
BLACKHEAD MAKEUP PRODUCT PICK #1: MAKEUP PRIMER
Using a makeup primer will be a key step in your daily makeup look if you're trying to cover blackheads. A primer will prep your face by correcting the appearance of imperfections and allowing your makeup to last longer. Here are some of our best makeup primers:
L'Oréal Paris Infallible Pro-Glow Lock Makeup Primer: This illuminating makeup primer primes, perfects, illuminates, and hydrates skin preparing it for a better makeup application. The formula will leave you with a radiant complexion and healthy glow that lasts all day.
L'Oréal Paris Infallible Pro-Matte Lock Makeup Primer: With its long-lasting formula, this primer will keep oil at bay throughout the day. The primer prepares your face for makeup and smooths and blurs imperfections.
L'Oréal Paris Studio Secrets™ Professional Magic Perfecting Base: This makeup primer provides instant smoothing results. The silky, lightweight formula minimizes the look of pores (perfect for blackheads!) and fine lines leaving your skin feeling and looking smooth.
BLACKHEAD MAKEUP PRODUCT PICK #2: CONCEALER
Of course, concealer is a go-to when it comes to covering up any imperfections—including blackheads. Whether it's full-coverage or color-correcting concealer, there are quite a few options you can choose to add to your routine. Here are some of our favorite concealers for covering blackheads:
L'Oréal Paris True Match™ Super-Blendable Multi-Use Concealer: The super-blendable formula of this high coverage concealer makes it ideal for camouflaging blackheads. The formula provides blurring coverage to hide imperfections. Even better, it offers ultra-buildable coverage allowing you to get as much or as little coverage as you need.
L'Oréal Paris True Match™ Color Correcting Crayon: These color-correcting concealer crayons are a must when it comes to using makeup to cover blackheads. The lightweight formula is super blendable, neutralizes color, and transforms your complexion. Use the green to neutralize redness, the yellow to neutralize blue and purple tones, and peach, bisque, and orange to neutralize dark circles, spots, and hyperpigmentation.
L'Oréal Paris Infallible Full Wear Concealer Waterproof, Full Coverage: This full-coverage, waterproof concealer will easily conceal any blackheads or imperfections. The formula has a flawless matte finish and won't transfer, fade, or flake so you can count on it to camouflage your blackheads all day and night.
BLACKHEAD MAKEUP PRODUCT PICK #3: FOUNDATION
While makeup primer and concealer will both help you disguise blackheads, foundation will give you the overall flawless complexion you crave. To really cover your blackheads, opt for a foundation with a high coverage or buildable formula. Here are some noteworthy foundations that will do the job:
L'Oréal Paris Infallible Up to 24HR Fresh Wear Foundation, Lightweight: With its lightweight, buildable formula, this foundation can provide medium to full coverage. What's more, the formula is transfer-, sweat-, and water-resistant—making it one you can surely count on. Even more importantly, this foundation is non-comedogenic, which means it won't clog pores.
L'Oréal Paris Infallible Total Cover Foundation: This foundation provides full coverage with a formula that feels lightweight and looks natural. The foundation will instantly cover dark spots, blemishes, scars, and hyperpigmentation, so you're left with a flawless complexion. What's more, it has a long-lasting formula that will keep your blackheads hidden all day long!
L'Oréal Paris Infallible Pro-Glow Foundation: This foundation also has a long-lasting, lightweight formula making it perfect for all-day wear. The hydrating foundation instantly hides imperfections so you can rock a clear complexion throughout the day (and night).
L'Oréal Paris Infallible Pro-Matte Foundation: The lightweight, creamy, long-wearing formula of this foundation will leave your skin with a demi-matte finish. The foundation will hide imperfections so you can have a smooth, clear complexion that won't fall flat.
L'Oréal Paris True Match™ Super Blendable Foundation Makeup: This foundation is formulated with Precise Match™ Technology to help you match your skin tone (seriously, it comes in 45 shades!). As for why it's one of our foundation picks for disguising blackheads, well, It's also free of oils, fragrances, and pore-clogging fillers.
BONUS BLACKHEAD PRODUCT PICK: MAKEUP BLENDER
Wondering how you should apply all these products? Well, not with your fingers! You don't want germs or oils transferring from your hands to your face. A makeup blender is a more hygienic way to apply your products. Just be sure to regularly clean your makeup blenders and brushes!
Now that you're a blackhead expert, check out our articles, How to Help Manage Acne-Prone Skin and How to Cover Up Acne with Makeup.
Discover more tips & tricks
Keep your skin happy
See all articles
Shop Featured Skin Care products
Discover More