anti aging
What Are Worry Lines and How To Stop Brooding Over Them
September 25, 2020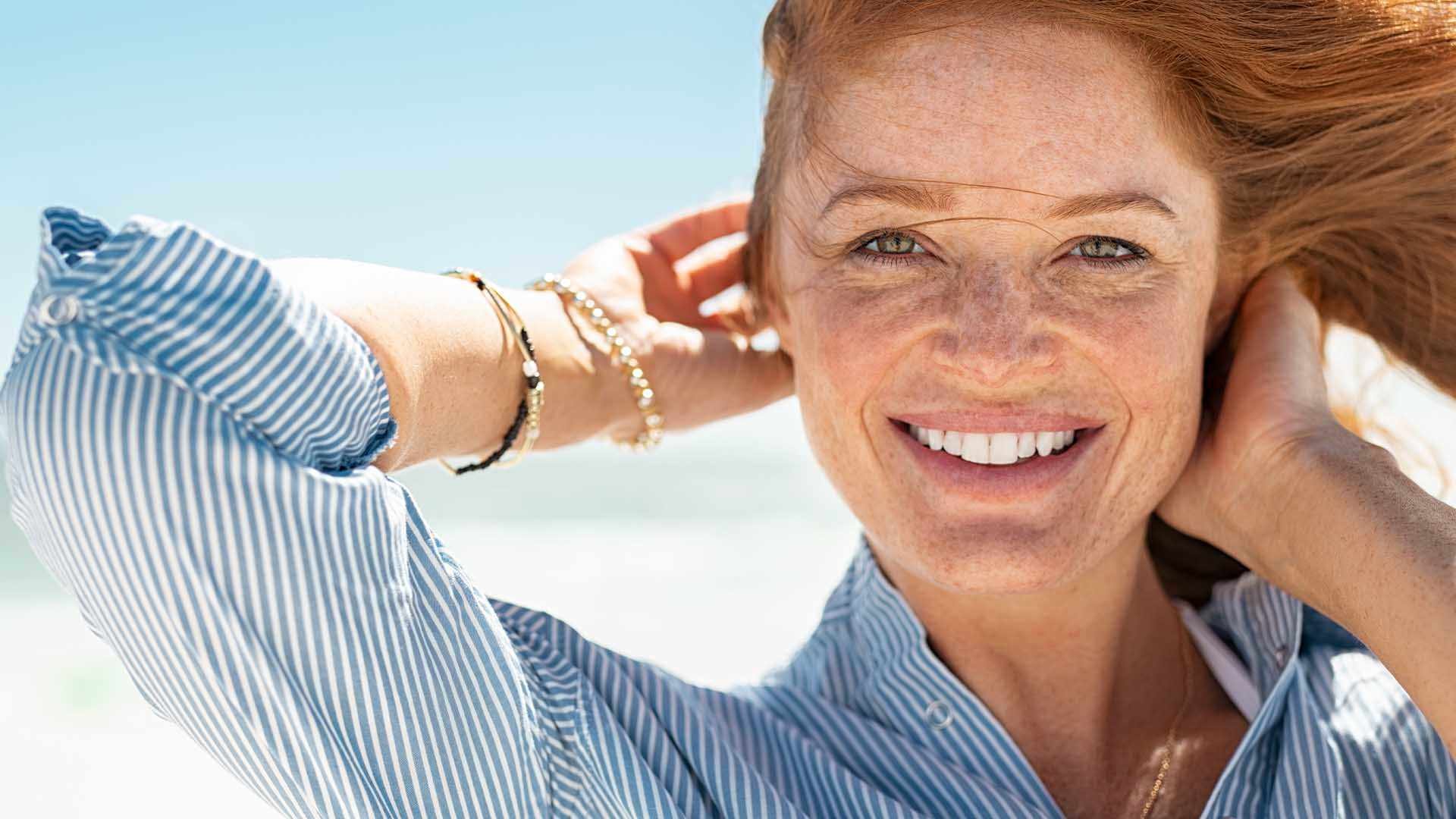 No matter how consistent you are with your skin care routine, there are certain things that will happen to your visage over time as you age. One of those things is none other than worry lines. Like the appearance of fine lines and wrinkles, the news may not be what you want to hear. However, it's important to note that aging skin is a part of life. As you navigate through the inevitable process, you'll want to revamp your regimen to help you maintain radiant and healthy-looking skin.
If you've been asking yourself, "How do you get worry lines?," we're here to help. Keep reading to learn everything you need to know about the causes of worry lines and tips for managing them.
WHAT ARE WORRY LINES?
Worry lines (a.k.a lines on the forehead) develop due to small muscle contractions, per the Cleveland Clinic. Frowning, raising your eyebrows, and other repeated facial expressions cause these lines to become more prominent over time. Aging skin also tends to lose its ability to secrete oils and retain moisture adequately, which plays an added role in the development of these wrinkles. In turn, all these things set the tone for worry lines to become a permanent fixture on your face. Not to mention, the Mayo Clinic shares that exposure to UV light speeds up the natural aging process and leads to facial lines as well.
ARE WORRY LINES THE SAME AS FROWN LINES?
You may find that some people use worry lines and frown lines interchangeably. However, both have subtle differences. It is a fact that worry lines and frown lines are wrinkles that form on your face. The only difference is that worry lines tend to develop on your forehead, whereas frown lines can be found between the eyebrows and mimic the shape of the number 11.
CAN YOU MANAGE WORRY LINES?
We touched on this briefly, but there isn't a way to completely keep worry lines at bay. As we mentioned, worry lines are the result of many causes from natural aging to sun exposure. While there is no magic button that can get rid of them for good, you can help stave them off by following an anti-aging routine. Speaking of which…
HOW TO MANAGE WORRY LINES
Now that you know all about those pesky worry lines, it's time to take action. Consider our four tips below to help get your skin back into tip-top shape.
TIP #1: USE A NOURISHING CREAM CLEANSER
One of the best things you can do for worry lines is to add a cream cleanser to your regimen. It works wonders to replenish your skin with moisture, which helps to reduce the look of visible signs of aging. Start things off by using a cream cleanser, like the L'Oréal Paris Age Perfect Nourishing Cream Cleanser. It's formulated with replenishing oils, which gently remove all traces of makeup and cleanse skin without overdrying.
TIP #2: REACH FOR A FACIAL MOISTURIZER
Moisture is the key to minimizing the look of worry lines. So, it's vital that you add a facial moisturizer to your regimen. Remember, you'll need a formula that goes the extra mile to provide your skin with lasting hydration. We love the L'Oréal Paris Age Perfect Hydra Nutrition Honey Day Cream, which is formulated with nurturing oils and manuka honey extract. This face cream works to replenish skin with long-lasting, non-greasy, and non-sticky nourishment.
TIP #3: GRAB A FACE SERUM
A facial moisturizer shouldn't be your only line of defense for nourishing your skin. Face serums are another skin care staple that can immediately restore hydration to your skin—an excellent tactic for dealing with worry lines. Grab the L'Oréal Paris Revitalift Derm Intensives 1.5% Pure Hyaluronic Acid Serum, which works to enhance the skin's moisture-retention to provide nourishment that goes the distance. It also visibly reduces the look of wrinkles in just two weeks.
Another fabulous serum that should be on your radar is the L'Oréal Paris Revitalift Derm Intensives Night Serum, 0.3% Pure Retinol. This pick is formulated with our highest concentration of pure retinol and fights key signs of aging like deep wrinkles. It also helps to smooth and brighten your complexion for a luminous finish.
You'll need to take a gradual approach with this (or any) retinol serum, so the skin can acclimate. During week one, start by applying two to three drops to clean, dry skin twice a week. Week two, use every other night. Week three, use nightly if your visage can tolerate it. Follow up with a broad-spectrum sunscreen in the a.m. to shield the skin, which may become more sensitive to the sun.
TIP #4: ALWAYS PROTECT YOUR SKIN FROM THE SUN
Sun protection should be a key part of your routine. Spending prolonged periods in the sun without adequate protection can cause visible signs of aging like worry lines to become a reality faster than they normally would. Play it safe and apply a broad-spectrum sunscreen with an SPF of 30 daily as directed. Try the L'Oréal Paris Revitalift Bright Reveal Brightening Day Lotion SPF 30, which is formulated with glycolic acid, vitamin C, and Pro-Retinol. This day cream reveals brighter skin, helps correct uneven skin tone, and reduces the appearance of wrinkles in just one week. While we already mentioned a facial moisturizer, this offering is an amazing alternative that helps to pare down your routine by combining a moisturizer and broad-spectrum sunscreen into one.
Your sun protection measures shouldn't start and end with sunscreen, however. Limit your amount of time in the sun (especially between 10 a.m. to 2 p.m., which are the sun's peak hours), seek shade when outdoors, and cover up exposed areas in long sleeves, pants, a broad-brimmed hat, and UV-blocking sunglasses.
Next: Now that you know how to manage worry lines like a pro, it's time to focus on other mature skin tips. Head on over to our article, 10 Skin Care Rules For Mature Skin, to do just that.
Discover more tips & tricks
Keep your skin happy
See all articles
Shop Featured Skin Care products
Discover More