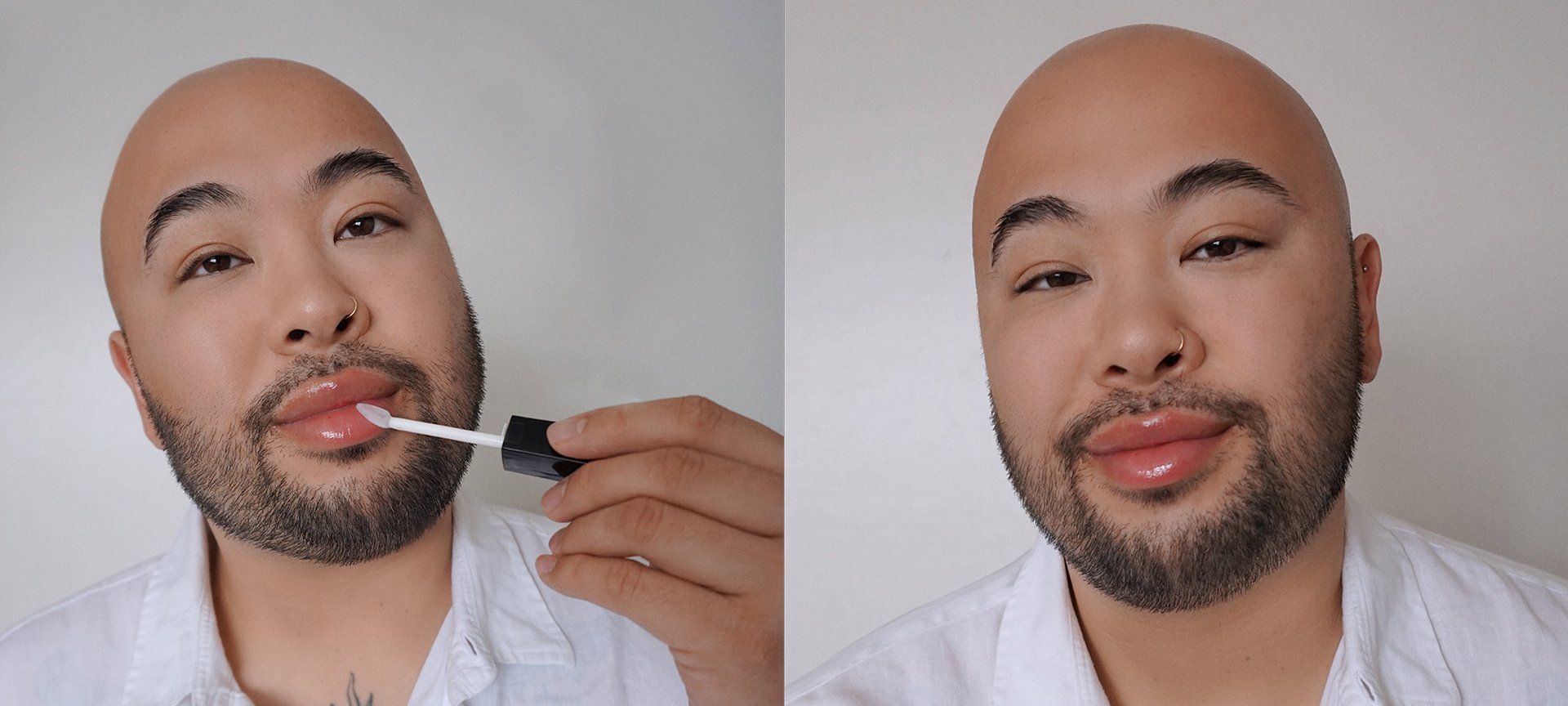 makeup trends
Men's Makeup Guide: Subtle Ways To Wear Makeup For Beginners
Simple techniques make a big difference!
Perhaps you want to fake a wide-awake appearance or maybe you're looking to remedy redness or excess oil, but you've yet to explore makeup as a solution. Makeup is a great tool to use when you're looking to get creative, conceal blemishes, or enhance your features—and it's not reserved for just women. Men, if you want to dive into the world of makeup, but you're not sure where to begin, let us help you by providing some pointers on subtle makeup techniques that will give you the ultimate confidence boost.
1. Even Your Skin Tone With A Tinted Serum
If you want your makeup look to be subtle yet effective, applying a tinted serum can create a natural, even base. It can cancel out redness and hyperpigmentation and even out your skin tone overall. The L'Oréal Paris True Match Nude Hyaluronic Tinted Serum provides hydration, radiance, and natural-looking coverage to the skin. It's also easy to apply—simply work the tinted serum into your skin with your hands just like you would with any skin care serum.

2. Brighten Dark Circles With Hydrating Concealer
Dark circles under the eyes can make you look tired. To give your face a brighter, more awake appearance, gently pat in a few dots of a hydrating concealer under your eyes. Use your fingertips to warm up the product and blend it into your skin. It's important to opt for a hydrating concealer because a matte option could emphasize dryness under the eyes and distract from the fresh, bright look you're going for. The L'Oréal Paris True Match Eye Cream in a Concealer, 0.5% hyaluronic acid is perfect because it's a concealer and eye cream hybrid that moisturizes the eye area while also providing coverage for dark circles.

3. Combat Excess Shine With Loose Powder
If you have oily skin or notice that your face looks shiny throughout the day, you can combat excess shine by applying a light layer of loose setting powder. Loose powders are incredibly lightweight which means that if you apply just a bit to your skin, they won't create cakiness. The L'Oréal Paris Infallible Pro-Sweep & Lock Loose Setting Face Powder is a great option because it's translucent, meaning that it works for all skin tones. This powder also helps to blur pores and lines, helping to create a smooth finish.

4. Lightly Groom Brows With Eyebrow Gel
Eyebrows are key when it comes to defining the face, and grooming your eyebrows properly can make all the difference. If you have full or unruly brows that you want to give a more polished appearance, try setting the hairs in place with a clear brow gel like the L'Oréal Paris Unbelievabrow Longwear Brow Topcoat, Waterproof Universal Transparent. It's easy to apply and can keep your eyebrows in place for up to 30 hours. If you have sparse brows that you want to even out or add the appearance of fullness, apply one to two coats of a tinted eyebrow gel.

5. Define Your Eyes With Mascara
If you want to make your eyes pop without fussing with too much eye makeup, applying a coat or two of mascara will add definition in just a few seconds. The L'Oréal Paris Telescopic Original Mascara is great for adding length to your lashes with a natural look. If you prefer to add volume too, the L'Oréal Paris Air Volume Mega Mascara, Lightweight Mega Volume Washable is perfect for you because it adds thickness to the lashes without weighing them down.

Next: How To Perfect Your Beard Stubble

Photo Credit: Juan Miranda
{ "@context": "https://schema.org/", "@type": "WebPage", "speakable": { "@type": "SpeakableSpecification", "cssSelector": ["speakable-content"] }, "url": "https://www.lorealparisusa.com/beauty-magazine/makeup/makeup-trends/subtle-ways-to-wear-makeup-for-men" }
Discover more tips & tricks
Keep your skin happy
See all articles
Improve your routine
Show your new look more love:
makeup
{ "@context": "http://schema.org", "@type": "BreadcrumbList", "itemListElement": [ { "@type":"ListItem", "position": 1, "item": { "@id": "/", "name": "Home" } } , { "@type":"ListItem", "position": 2, "item": { "@id": "https://www.lorealparisusa.com/beauty-magazine", "name": "Beauty Magazine" } } , { "@type":"ListItem", "position": 3, "item": { "@id": "https://www.lorealparisusa.com/beauty-magazine/makeup", "name": "Makeup Tips For Every Look" } } , { "@type":"ListItem", "position": 4, "item": { "@id": "https://www.lorealparisusa.com/beauty-magazine/makeup/makeup-trends", "name": "Makeup Trends" } } , { "@type":"ListItem", "position": 5, "item": { "@id": "https://www.lorealparisusa.com/beauty-magazine/makeup/makeup-trends/subtle-ways-to-wear-makeup-for-men", "name": "subtle-ways-to-wear-makeup-for-men" } } ] }