makeup looks
10 Products To Include In Your First Men's Makeup Kit
We're breaking down the basics.
June 25, 2021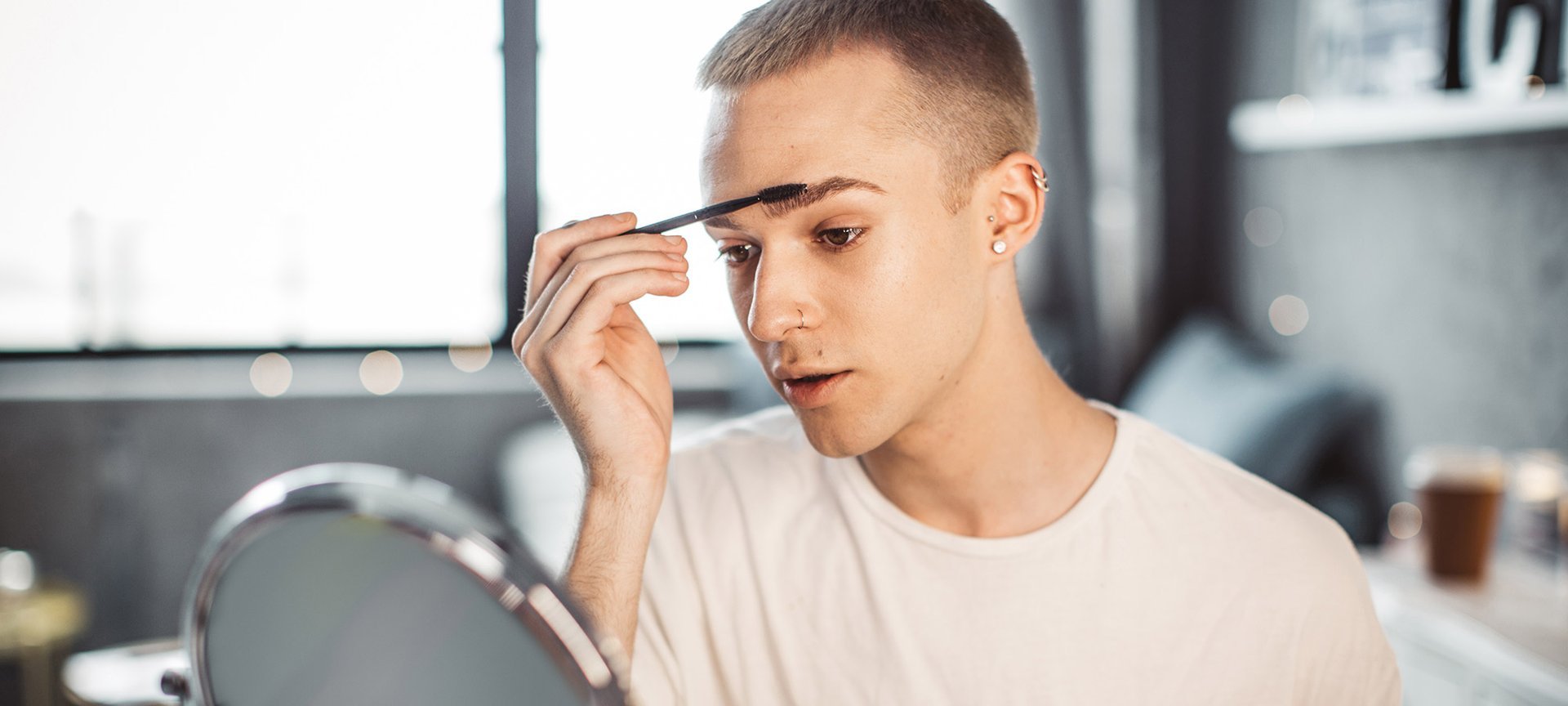 If you've been working from home over the past year and half, you might be sick of staring at yourself during video calls. Perhaps you've noticed imperfections in your appearance that were previously not as obvious to you. There's a reason makeup for men is trending, after all. Gone are the days when applying makeup to enhance self-confidence was reserved for women. If you're looking to learn about what products you should invest in to start your men's makeup journey, you've come to the right place. Below, we're sharing the best makeup products for men, as well as application techniques to help you look and feel like the best version of yourself.
The Best Makeup Products For Men
Let's start off by reminding you that there are no rules when it comes to makeup—that's the beauty of it. If a specific product or makeup look makes you feel your best, then go on and wear it. But, it's also okay to recognize that tons of men haven't played in the makeup space before, and some just want their makeup to enhance their features and blur imperfections while also remaining natural and relatively undetectable. Here, we're sharing ten products you'll need to complete your first makeup kit. While that might seem intimidating, keep reading to see which products we recommend plus tips on how to use them.
Men's Makeup Product #1: Primer
Makeup primer is made to help you create an even complexion in texture and tone so that when you apply foundation or concealer later on top, they go on smoothly. There are glowy primers like the L'Oréal Paris Infallible Pro-Glow Lock Makeup Primer, which adds luminosity to the skin. There are also primers like the L'Oréal Paris Infallible Pro-Matte Lock Primer, which are great for oily skin as they work to mattify your complexion and blur your pores. Consider your skin's needs when choosing the right option for you and then simply use your fingers to work a dime-size amount onto your skin.
Men's Makeup Product #2: Makeup Sponge
In order to seamlessly apply complexion products (like foundation or BB Cream) on top of your makeup primer, you'll want to have a makeup sponge on hand. The L'Oréal Paris Infallible Blend Artist Foundation Blender was designed to evenly blend cream and liquid products. Wet the sponge with water, then use the damp sponge to gently press your foundation or concealer into the skin.
Men's Makeup Product #3: Tinted Serum
Foundation can be intimidating to someone who's never used it before. A great way to test out a product that's designed to even out your complexion is by starting with something incredibly natural like the L'Oréal Paris True Match Nude Hyaluronic Tinted Serum. It's a makeup and skin care hybrid that's designed to give natural coverage and brighten the look of your skin. Plus, you can apply it just like you would a regular serum so it's truly foolproof.
Men's Makeup Product #4: Tinted Moisturizer
Another option for a product that provides light coverage and hydration is a tinted moisturizer. Formulated with aloe vera, witch hazel and SPF 19 L'Oréal Paris Skin Paradise Water Infused Tinted Moisturizer provides a natural glowy finish to the skin as well as sun protection. To apply it, either work a few dots onto your skin using your fingers like you would with a regular moisturizer, or use the L'Oréal Paris Infallible Blend Artist Foundation Blender to buff and blend for a seamless finish.
Men's Makeup Product #5: Foundation
If you want a product which can be built up to provide medium to full coverage, then it's time to dabble in foundation. And the L'Oréal Paris Infallible 24 Hour Fresh Wear Foundation, Lightweight is perfect for a beginner because it's easy to blend and is suitable for all skin types. Despite its lightweight feel on the skin, it's transfer-, sweat- and water-resistant, too.
Men's Makeup Product #6: Lightweight Concealer
Dark circles under the eyes is a common concern among everyone. To brighten the appearance of tired eyes, apply the L'Oréal Paris True Match Eye Cream in a Concealer, 0.5% hyaluronic acid to your under-eye area by patting in a few dots with your fingertips (opt for the ring finger—it has the least mobility so it's the most gentle for this job). This concealer and eye cream in one provides beautiful, natural coverage as well as hydration, all while remaining weightless on the skin.
Men's Makeup Product #7: Powder
After applying tinted moisturizer and concealer, it's a good idea to set your base in place with setting powder to ensure your makeup doesn't move around. The L'Oréal Paris Infallible Pro-Sweep & Lock Loose Setting Face Powder is great for keeping oil at bay without looking cakey, and it's also translucent so it will work for all skin tones.
Editor's Note: If you want to set your makeup while also adding some additional coverage, apply a light layer of the L'Oréal Paris Infallible Up to 24HR Fresh Wear in a Powder, matte finish to your skin. While it's formulated as a powder foundation and can be used on its own to provide buildable coverage, it can also be used as a powder to set your makeup.
Men's Makeup Product #8: Bronzer
What's a better confidence boost than adding a bit of a healthy-looking glow to your complexion? Skip the dangerous tanning beds. Using your fingers or a makeup sponge, simply blend a few swipes of the L'Oréal Paris Infallible Longwear Foundation Shapring Sticks onto your skin in a color that's about two shades deeper than your complexion. If you want a more defined look, apply the bronzer to the hollows of your cheeks and lightly blend out.
Men's Makeup Product #9: Eyebrow Gel or Mascara
When it comes to men's grooming, the eyebrows are often overlooked. Grooming and defining your eyebrows can make all the difference in your appearance—they're essential for making your facial features pop. Instead of reaching for a pair of tweezers and trying to shape your brows, familiarize yourself with brow gel like the L'Oréal Paris Unbelievabrow Longwear Brow Top Coat, Waterproof Universal Transparent which will hold your existing hairs in place for up to thirty hours. If you have sparse brows and want to fill in any gaps, opt for a tinted eyebrow gel like the L'Oréal Paris Brow Stylist Boost & Set Brow Mascara. Not only does it add a bit of color to your eyebrows to even them out, but it's great for keeping your hairs in place and adding a bit of extra volume. Start with clean brows and use the angled skinny brush in short, upward strokes to boost volume and build your brows to your desired intensity and shape.
Men's Makeup Product #10: Mascara
Longer, defined lashes that frame your eyes can create a more awake, polished appearance. The L'Oréal Paris Telescopic Original Mascara is great for separating your eyelashes, adding length and a bit of volume while remaining natural-looking. Simply comb the mascara brush through your lashes, starting from the base and working your way to the tip of your lashes. The skinny wand makes it easy to comb through the lashes mess-free.
Bonus product: As a final recommendation for your makeup kit, we suggest keeping a bottle of micellar water like the L'Oréal Paris Micellar Cleansing Water Complete Cleanser Waterproof - All Skin Types on hand. It's the perfect product to gently remove your makeup in just one step.
Next: Sir John's Eyebrow Makeup Tips For Men
Written by: Alyssa Kaplan, Photo: iStock
Discover more tips & tricks
Keep your skin happy
See all articles
Shop Featured Makeup products
Discover More