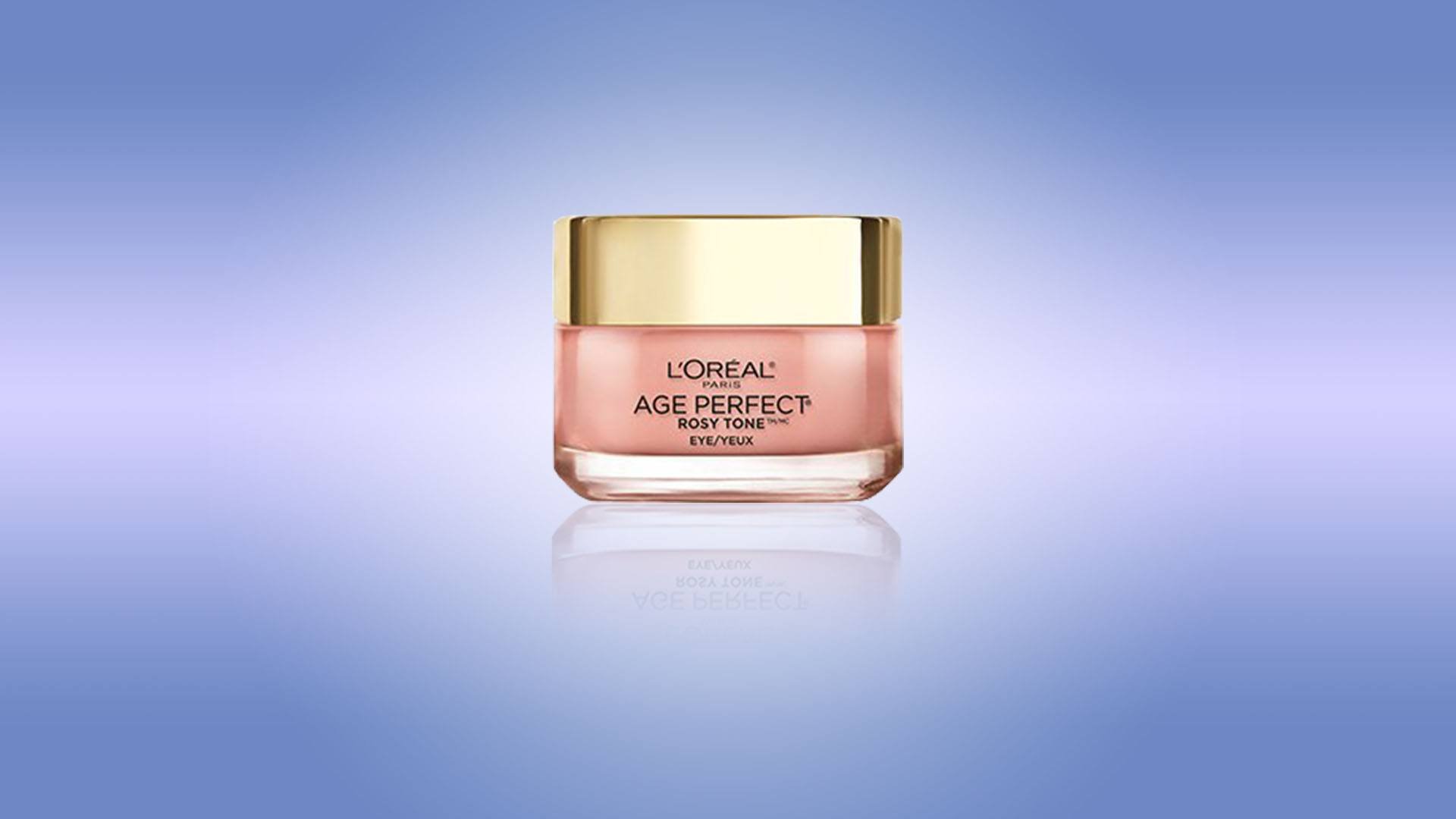 Dark circles: We've all been a victim of theirs. Whether you've pulled an all-nighter or had a case of insomnia, lack of sleep not only leaves you feeling crappy the following day, but it can also take a toll on your beauty look. But you know what they say—fake it 'til you make it! If you aren't able to get enough shut-eye, you can at least make it look as though you did with the help of an under-eye brightener. Yes, under-eye brightening creams exist, and they're about to be your secret weapon for looking wide awake and radiant! Interested? We thought you might be. With the help of our L'Oréal Paris eye brightener, you'll be well on your way to well-rested eyes in no time.
INTRODUCING OUR BEST UNDER-EYE BRIGHTENER
Ready to meet your new BFF? The L'Oréal Paris Age Perfect Rosy Tone Anti-Aging Eye Brightener Paraben Free is just what you need to combat the appearance of a lack of sleep. This eye cream, which is formulated with imperial peony extracts, reduces the look of dark circles, visibly brightens skin around the eye area, and creates an overall healthier, younger-looking complexion. No sleep? No problem! The under-eye brightening cream has a unique whipped texture that instant blends onto your skin. Oh, and did we mention that it's paraben and mineral oil-free and suitable for sensitive skin? It's safe to say it checks all the boxes.
HOW TO USE AN UNDER-EYE BRIGHTENING CREAM
So, you know about our under-eye brightening cream and how it can help reduce the appearance of dark circles, but how do you put it to use? Well, follow the steps below to do just that!
STEP #1: CLEANSE YOUR SKIN
The first step to creating the illusion of an awake complexion is to use a brightening cleanser. Give the L'Oréal Paris Revitalift Bright Reveal Brightening Daily Scrub Cleanser, which is formulated with glycolic acid and gentle micro-pearls, a try to exfoliate dullness and impurities to improve skin tone, texture, and clarity. The result? Visibly brighter, more radiant skin. Lather into wet hands and gently massage onto skin in a circular motion, avoiding the delicate eye area. Rinse thoroughly and pat dry.
STEP #2: APPLY A SERUM
Next up, you'll want to use a brightening face serum. After all, looking wide awake is all about having radiant, luminous skin, right? We recommend a vitamin C serum, like the L'Oréal Paris Revitalift 10% Pure Vitamin C Serum. The lightweight, yet highly potent formula (it contains 10% pure vitamin C!) effortlessly glides onto skin to restore skin's radiance and reduce wrinkles. Apply dime-size amount onto fingertips and apply to face and neck, gently smoothing over your skin. Avoid the eye area.
STEP #3: GRAB YOUR SECRET WEAPON
Drum roll, please—it's time for your under-eye brightener! Simply use your fingertip to pat the under-eye brightening cream around the eye area and gently smooth until absorbed. You can use it on the under-eye and eyelid areas. Dark circles, who?
STEP #4: LAYER ON MOISTURIZER
As the final step in your skin care routine for wide-awake skin, you'll want to smooth on a moisturizer that'll revive your complexion. We know just the one! Formulated with imperial peony extracts and LHA, the L'Oréal Paris Age Perfect Rosy Tone Moisturizer for Mature, Dull Skin gently exfoliates dull, sallow skin and revives skin's natural rosy tone. This is especially ideal for those with mature skin, since as skin matures, its ability to renew surface cells slows down, resulting in a loss of its natural pink tone. Use this cream in the AM to help promote a younger-looking, smooth complexion despite lack of sleep. Gently smooth it onto your skin as the last step in your routine.
Next up: You don't have to rely on only your skin care routine to look more awake. There are always makeup products to save tired eyes, too. Here are Our Best Under-Eye Concealers for Banishing Dark Circles.
{ "@context": "https://schema.org/", "@type": "WebPage", "speakable": { "@type": "SpeakableSpecification", "cssSelector": ["speakable-content"] }, "url": "https://www.lorealparisusa.com/beauty-magazine/skin-care/skin-care-essentials/best-under-eye-brightener" }
Discover more tips & tricks
See all articles
Shop Featured Skin Care products
Discover More
{ "@context": "http://schema.org", "@type": "BreadcrumbList", "itemListElement": [ { "@type":"ListItem", "position": 1, "item": { "@id": "/", "name": "Home" } } , { "@type":"ListItem", "position": 2, "item": { "@id": "https://www.lorealparisusa.com/beauty-magazine", "name": "Beauty Magazine" } } , { "@type":"ListItem", "position": 3, "item": { "@id": "https://www.lorealparisusa.com/beauty-magazine/skin-care", "name": "Skin Care For Every Age" } } , { "@type":"ListItem", "position": 4, "item": { "@id": "https://www.lorealparisusa.com/beauty-magazine/skin-care/skin-care-essentials", "name": "Skin Care Essentials" } } , { "@type":"ListItem", "position": 5, "item": { "@id": "https://www.lorealparisusa.com/beauty-magazine/skin-care/skin-care-essentials/best-under-eye-brightener", "name": "best-under-eye-brightener" } } ] }