makeup trends
5 Looks That Make Us Want To Try Rainbow Eyebrows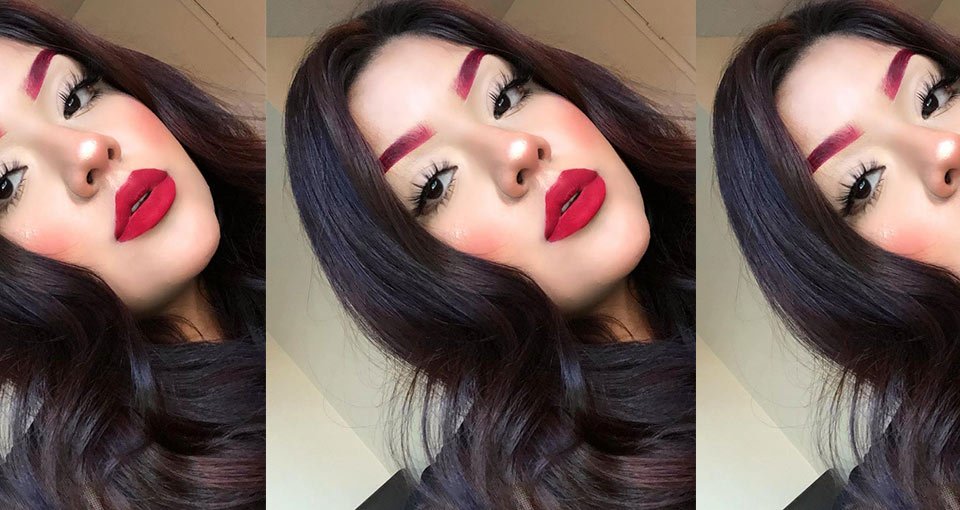 Several seasons later, the colorful rainbow eyebrow trend is still popular and we are obsessing over it. And with Find A Rainbow day quickly approaching, we now have another excuse to experiment with colorful brows and celebrate the day in style. While you may be hesitant to embrace a look like this after wearing the traditional beige and brown hues for so long, adding some color to your brows will help brighten up your eye makeup. You can also start with a more subtle look by using a lighter tint and gradually increase the color intensity to your liking. Check out some of our favorite rainbow eyebrow looks below for inspiration, and product picks you can use to get the same gorgeous colorful results.
Red Ombré Eyebrows
We absolutely love the look of red ombré colored brows and when paired with a matching red lip, you get a stunning combo. To try it out yourself, use super pigmented makeup products like liquid lipsticks or colorful liquid liners. Pick a shade from the L'Oréal Paris Brilliant Signature Shiny Lip Stain Lipstick line or the L'Oréal Paris Matte Signature Liquid Dip Eyeliner, Waterproof collection. Dip a flat angled eyebrow brush into the product, carve out your brows outline, and then fill it in.
Pink Eyebrows
Bubblegum pink eyebrows are pretty and add a fun, vibrant pop of color to your eyes. Reach for a colored mascara or colored gel liner to get the look. Start by tracing the outline of your brows with a colored eyebrow pencil and fill it in with a matching color gel formula. Complete the look by swiping on some pink eyeshadow and a matching lippie. Try the L'Oréal Paris Colour Riche Creamy Matte Lipstick, Rich Hydration in Aromatte-ic-Rose.
Lilac Eyebrows
If you've thought about dyeing your hair vanilla lilac, you should definitely consider giving your brows a lilac-colored tint, too. This pastel shade gives off a fresh and soft hue that gets us excited for spring. Try it out yourself by getting your eyebrows tinted in the soft hue. When paired with a matching mane color, you'll get a standout look that's sure to draw major attention.
Blue Eyebrows
Play up your eyebrows by dressing them up in blue. To get the look, dip an eyebrow brush into a shadow, like the L'Oréal Paris Colour Riche Monos Eyeshadow in Grand Bleu. Press the brush gently into your eyebrows to build up the pigment. Be sure to clean up any fallout after finishing up your brows using some concealer and tracing along the bottom of the brow.
Editor's Tip: To tone bright hues, apply some of your regular eyebrow product and blend it in for a natural and lighter finish.
Rainbow Colored Eyebrows
Our list would not be complete without featuring a full rainbow-colored eyebrow look—a style that will undoubtedly draw attention to your brows. Reach for a few eyeliner pencils or powders in different colors and fill in parts of your brows with different hues starting from the front of the brow, transitioning shades until you get to the tip. You can match them with identical rainbows on each brow or stretch the design across both brows as one full rainbow.
Photo Credit: Jackie Hernández, @jaquelinemuah
Next: Best Brow Products To Perfect Your Preferred Style
Discover more tips & tricks
Keep your skin happy
See all articles
Shop Featured products
Discover More