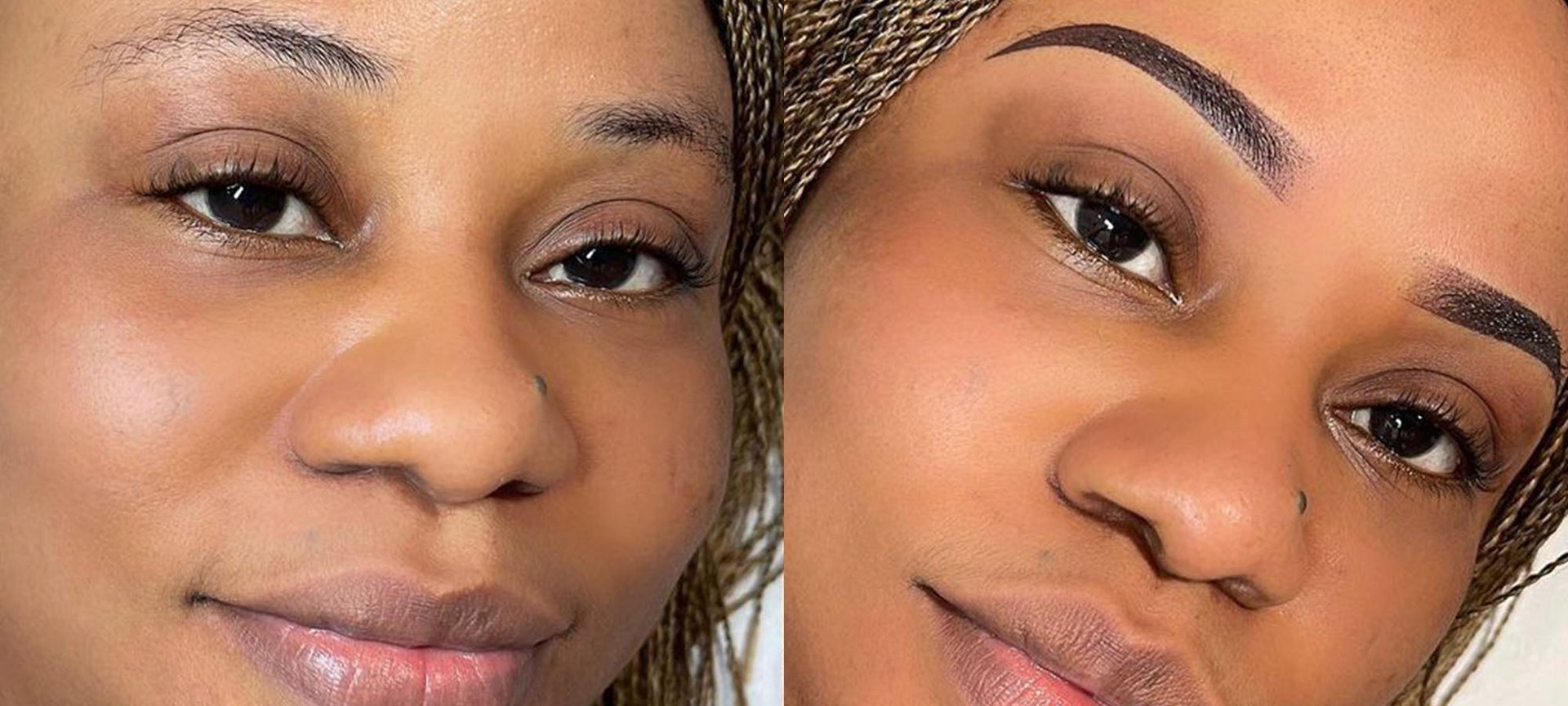 eye makeup
How To Get Ombré Powder Brows At Home
Get your brows in gradient shape.
A flawlessly sculpted pair of eyebrows has become an essential part of any beauty look. From procedures like threading to temporary eyebrow tattoos, there are many ways to get the perfect accentuated eyebrow style and shape. The latest brow trend that has been taking over the timeline is ombré powder brows. Contrary to the name, they aren't a fresh take on the colorful eyebrow trend. This newer semi-permanent makeup technique offers a longer-lasting solution to your eyebrow sculpting issues. Keep reading to learn more about ombré powder brows—including how to achieve a similar look at home using the magic of eyebrow makeup.

What Are Ombré Eyebrows?
Ombré powder eyebrows (also known as ombré shading or microshading) refers to a semi-permanent method of shading the brow to perfect their shape. Similar to microblading, the ombré brows technique uses a machine to create pixelated dots that create an airbrush-like, shaded brow look. To create the ombré effect, the shading starts very lightly at the front of the brow and gradually getting darker through the arch and tail. On average, a single ombré powder eyebrows session can last two to three years.
How To Create Ombré Brows With Makeup
If you aren't quite ready to commit to semi-permanent ombré brows k, you can create this trendy brow look using some of your favorite eyebrow makeup products, following these simple steps.
Step 1: Remove Any Makeup
Begin by making sure you're starting with clean, bare brows. Saturate a cotton pad with the L'Oréal Paris Micellar Cleansing Water Complete Cleanser Waterproof - All Skin Types and sweep it over your eyebrows to remove any traces of leftover makeup.

Step 2: Mark Your Shape
Using a nude eyeliner, draw small dots where the beginning, arch, and tail of your brows should be. Align the pencil so that it's parallel to the bridge of your nose to find the ideal starting point for your eyebrows. Then, angle the pencil so that it goes through your iris. This is where your arch should be. Finally, angle the pencil so that it's aligned with the outer corner of your eye. This is where the end of your brow should be.

Step 3: Fill In Your Brows
Using eyebrow powder and an angled brush, begin to fill in your eyebrows. Start by filling in your entire eyebrow with a very light hand. Then, build the color up at the middle and ends of your brow, so that the end is the darkest. Use your fingertip or a small tapered eyeshadow brush to blend out any harsh lines for a seamless, ombré brow look.

Step 4: Set Your Brows
To finish, coat your brows with a swipe of the L'Oréal Paris Unbelieva-brow Longwear Brow Topcoat, Waterproof Universal Transparent to lock in your look. Then, spritz on the L'Oréal Paris Infallible Pro-Spray and Set Make-Up Oil-Free Setting Spray to ensure your ombré brows don't budge.
Next:
7 Eyebrow Products For Your Best Eyebrows Ever

Written By: Lauren Paige Richeson, Photo Credit: AA Brows UK, IG/@aabrowsuk
{ "@context": "https://schema.org/", "@type": "WebPage", "speakable": { "@type": "SpeakableSpecification", "cssSelector": ["speakable-content"] }, "url": "https://www.lorealparisusa.com/beauty-magazine/makeup/eye-makeup/ombre-powder-brows" }
Discover more tips & tricks
Keep your skin happy
See all articles
Improve your routine
Show your new look more love:
makeup
{ "@context": "http://schema.org", "@type": "BreadcrumbList", "itemListElement": [ { "@type":"ListItem", "position": 1, "item": { "@id": "/", "name": "Home" } } , { "@type":"ListItem", "position": 2, "item": { "@id": "https://www.lorealparisusa.com/beauty-magazine", "name": "Beauty Magazine" } } , { "@type":"ListItem", "position": 3, "item": { "@id": "https://www.lorealparisusa.com/beauty-magazine/makeup", "name": "Makeup Tips For Every Look" } } , { "@type":"ListItem", "position": 4, "item": { "@id": "https://www.lorealparisusa.com/beauty-magazine/makeup/eye-makeup", "name": "Eye Makeup" } } , { "@type":"ListItem", "position": 5, "item": { "@id": "https://www.lorealparisusa.com/beauty-magazine/makeup/eye-makeup/ombre-powder-brows", "name": "ombre-powder-brows" } } ] }