makeup looks
9 Expert Tips For Applying Makeup On Combination Skin
January 22, 2021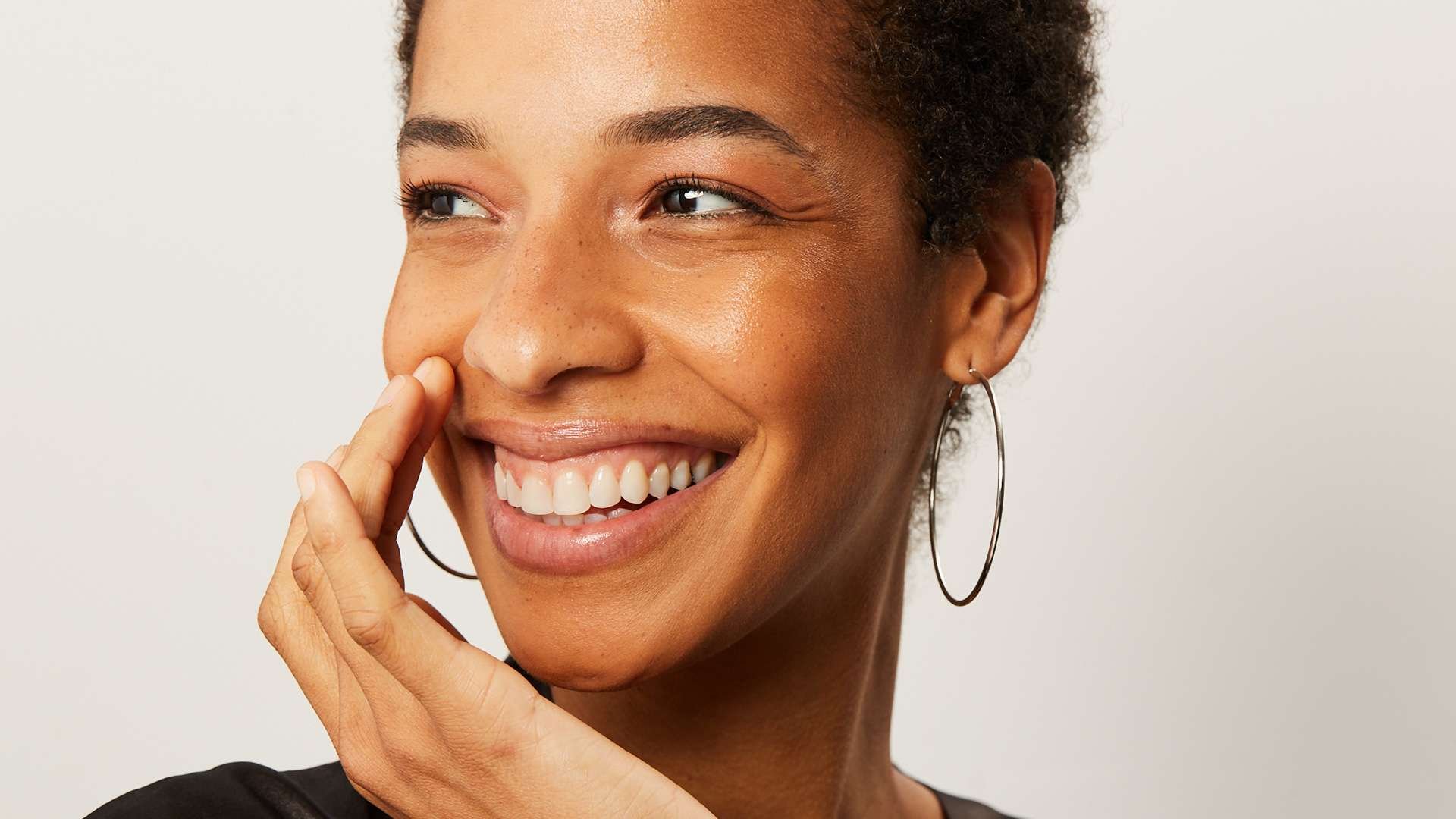 If you find that your face feels dry in some parts and oily in others, that may be a sign that you have combination skin. Putting together a makeup and skin care routine has its set of challenges, and needs to be tailored to suit your skin's specific needs. It may seem overwhelming at first (trying to mattify slick areas while trying to hydrate dry patches), but applying makeup to combo skin doesn't have to feel like an impossible mission. So relax and grab your brushes (and blenders), because we've rounded up nine expert makeup tips to help you get a fuss-free makeup look for your combination skin.
Tip #1: Always Cleanse Before Applying Any Makeup
Before applying any makeup, help ensure that your combination skin is hydrated and smooth by giving it a quick cleanse. Use a gentle cleansing option, like the L'Oréal Paris Micellar Cleansing Water Complete Cleanser Waterproof - All Skin Types, which purifies and mattifies. Just saturate a cotton pad with the micellar water and wipe it across your face.
Editors Tip: Try using a gentle face scrub a few times a week to take your skin care routine to the next level. We love the L'Oréal Paris Pure-Sugar Purify & Unclog Kiwi Scrub formulated with three pure sugars and real kiwi seeds. This face scrub works to unclog pores and gently polish away dull skin.
Tip #2: Apply Moisturizer Before Makeup For A Hydrated Glow
After cleansing, use a lightweight matte-finish moisturizer, like the L'Oréal Paris Hydra Genius Daily Liquid Care for Normal/Oily Skin, which is formulated with hyaluronic acid and aloe water to help provide long-lasting hydration to your dry areas without adding shine to your T-zone.
Tip #3: Prime Your Skin
Apply a primer, like the L'Oréal Paris Infallible Pro-Matte Lock Makeup Primer, which helps smooth lines, hide pores, and banish imperfections with a matte finish. Apply it dot by dot and blend it over your entire face or to targeted areas, including under your eyes to smooth over fine lines, on your nose and cheeks to minimize the appearance of pores and blemishes, and in your T-zone for a matte finish.
Tip #4: Color Correct
If you see redness or dullness on different areas of your face, try using the L'Oréal Paris True Match Color Correcting Crayons, which come in five pastel concealer shades: green to neutralize the look of redness, peach, bisque, and orange to disguise dark circles on a variety of skin tones, and yellow to mask discolorations. Use your shade of choice sparingly—a little goes a long way.
Tip #5: Use A Buildable Foundation
When you have combination skin, a buildable foundation, like the L'Oréal Paris Infallible Pro Matte Foundation, is ideal so that you can customize your coverage on different areas of your face. Use a damp makeup blender to bounce and blend the foundation onto your skin, building coverage as needed. If you prefer using a powder foundation, try the L'Oréal Paris Infallible Up to 24H Fresh Wear in a Powder, matte finish. It offers a full-coverage finish that won't dry out or fade thanks to its weightless, creamy formula. And it's great for all skin types—even combination skin—and won't clog pores.
Tip #6: Contour
Using the right contour techniques can highlight your best features, so pick two shades of the L'Oréal Paris Infallible Longwear Foundation Shaping Sticks—one that's two shades darker than your skin tone for contouring and one that's two shades lighter than your skin tone for highlighting. Use your makeup blender to apply the darker shade to the hollows of your cheeks for a chiseled look, and a different sponge to apply the lighter shade beneath your eyes, down the bridge of your nose, and in the center of your forehead and chin.
Tip #7: Apply Highlighter
Swirl some of the L'Oréal Paris Infallible Longwear Highlighter Shaping Sticks onto your cheekbones, swooping up towards your temples, and blend it in for a natural-looking glow. It's creamy formula will work perfect on the drier areas around the cheekbones while giving your face a desirable glow.
Tip #8: Accentuate Your Cheeks With Blush
There's nothing like adding a beautiful pop of color to your cheeks to help make your complexion look more radiant. And since the cheek area on combination skin tends to be on the drier side, grab a cream formula. Blend on some of the L'Oréal Paris Infallible Longwear Blush Shaping Sticks to create your perfect customized look, starting from the apples of your cheeks going up to your temples.
Editors Tip: Prefer using a powder formula? Opt for the L'Oréal Paris Age Perfect Makeup Radiant Satin Blush With Camellia Oil, which will help enhance your cheekbones with a natural and luminous flush of color without drying out your skin.
Tip #9: Warm Up the Face
Combo skin can sometimes have a dull appearance due to various causes, such as dead skin cell build-up and dehydration. So you'll want to add some warmth to your face to help bring in some color. For a sun-kissed touch, use a fluffy powder brush and apply some of the L'Oréal Paris Summer Belle Makeup Bronze Please! across your cheeks and forehead. And don't forget to finish off with some color on the lips using the L'Oréal Paris Colour Riche Shine Lipstick.
Next: Best Skin Care Routine for Combination Skin
Discover more tips & tricks
Keep your skin happy
See all articles
Shop Featured Skin Care products
Discover More