face makeup
Our Best Foundations For Combination Skin
Your combo skin will love these picks!
May 17, 2019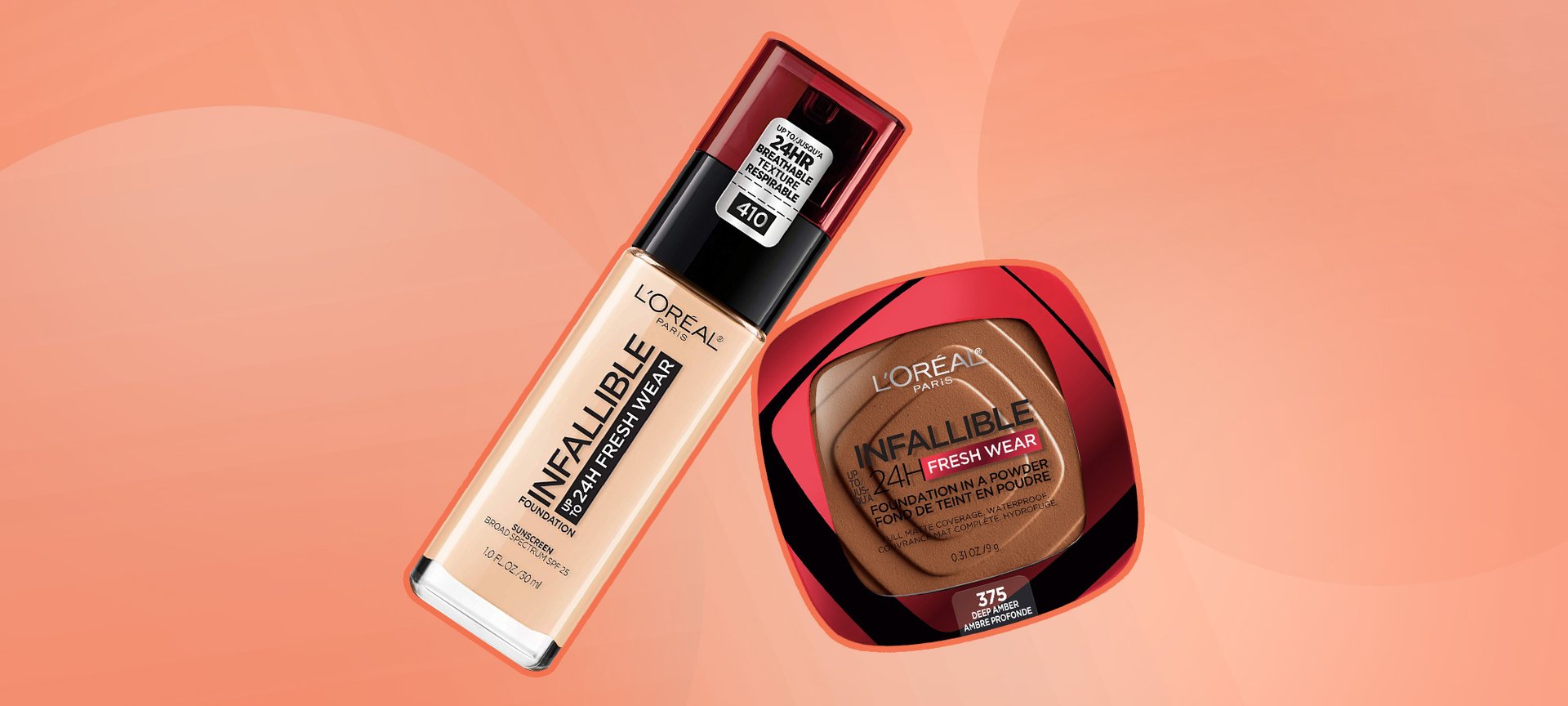 We've shared our best foundations for dry skin, as well as our best pick for oily skin, but if you're somewhere in between, don't worry—we've got you covered, too. If you have combination skin—partly dry and partly oily—finding a foundation that works with your skin type can be tricky. You don't want to use a mattifying formula on areas that tend to be dry and flakey, and you also don't want a dewy formula on areas that get oily throughout the day. Luckily, we have foundations for combination skin—and we're sharing what they are and why you'll love them, below.
When you have combination skin, you need a foundation that won't cling to dry patches and also won't increase excess oil that often occurs in your T-zone. That's why this foundation is great for all skin types, especially combination skin. The liquid formula has a lightweight, breathable texture that provides coverage without looking or feeling heavy on the skin. It's non-comedogenic—meaning it won't clog your pores—and it's formulated with oil-absorbers so that it remains resistant to sweat, water and transfer.
This option is also great for customization, as you can make it more glowy, or more matte depending on your preferences. In areas that are feeling a bit dry, apply a luminous primer like the L'Oréal Paris True Match Lumi Glotion Natural Glow Enhancer before foundation, or mix it in with your foundation to sheer it out and give it a more radiant finish. In more oily areas of your face, set the foundation with a matte loose setting powder like the L'Oréal Paris Infallible Pro-Sweep & Lock Loose Setting Face Powder.

While a powder foundation might not be top of mind when it comes to combination or dry skin, this powder foundation works beautifully for all skin types. Rather than emphasizing dryness as some powders can, this foundation blurs imperfections without looking cakey. It's non-comedogenic and resistant to water, heat and sweat, all while remaining weightless on the skin. Plus, it can be layered for full coverage with a matte finish.
Just like it's liquid counterpart, you can customize it by applying a glowy base underneath it on days when your skin feels more dry or you're looking for a more satin finish. Not only that, but it can also be used as a matte setting powder over other foundations.
Photo Credit: Sarah Duvivier
{ "@context": "https://schema.org/", "@type": "WebPage", "speakable": { "@type": "SpeakableSpecification", "cssSelector": ["speakable-content"] }, "url": "https://www.lorealparisusa.com/beauty-magazine/makeup/face-makeup/best-foundation-for-combination-skin" }
Discover more tips & tricks
Keep your skin happy
See all articles
Shop Featured Makeup products
Discover More
{ "@context": "http://schema.org", "@type": "BreadcrumbList", "itemListElement": [ { "@type":"ListItem", "position": 1, "item": { "@id": "/", "name": "Home" } } , { "@type":"ListItem", "position": 2, "item": { "@id": "https://www.lorealparisusa.com/beauty-magazine", "name": "Beauty Magazine" } } , { "@type":"ListItem", "position": 3, "item": { "@id": "https://www.lorealparisusa.com/beauty-magazine/makeup", "name": "Makeup Tips For Every Look" } } , { "@type":"ListItem", "position": 4, "item": { "@id": "https://www.lorealparisusa.com/beauty-magazine/makeup/face-makeup", "name": "Face Makeup" } } , { "@type":"ListItem", "position": 5, "item": { "@id": "https://www.lorealparisusa.com/beauty-magazine/makeup/face-makeup/best-foundation-for-combination-skin", "name": "best-foundation-for-combination-skin" } } ] }