lip makeup
6 Lipstick Hacks That Will Help You Get a Gorgeous-Looking Pout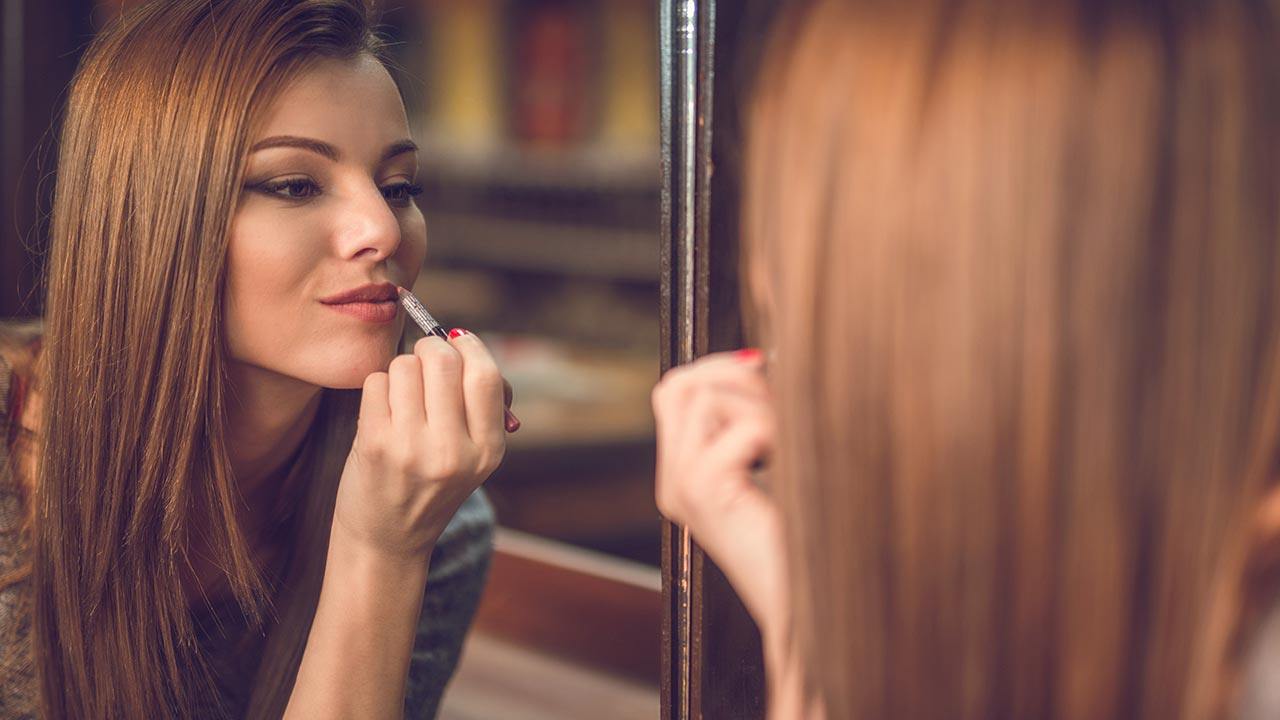 Are you a beauty diehard who always has a handful of colorful lipsticks in her purse? Well, it's time to start taking notes, because we're about to let you in on a few lipstick hacks that will help to give you a longer-lasting lipstick application. From prepping your pout by exfoliating to setting your color with translucent powder, these six lipstick hacks are worth adding to your makeup routine.
Lipstick Hack #1: Exfoliate and Moisturize Your Lips Before Applying Lipstick
Anytime you have a big event—or even if you just want to break out a bold color on a dreary day—exfoliating your lips can help to create a smooth base. So, use a lip scrub to help slough away dead skin cells on the surface of your lips. This can help to make your lips feel smoother, which in turn can help to make applying lipstick easier. But exfoliating on its own is not enough—make sure to follow up with a moisturizing lip balm afterwards before moving on to lipstick.  
Lipstick Hack #2: Use an Invisible Lip Liner
If you often find yourself worrying about feathering (a.k.a. your lipstick bleeding outside the lines), this next hack is for you. Before applying your lipstick, line your lips with an invisible wax liner. Invisible lip liners can help to grab onto color. This can help your color last longer and prevent it from feathering. No more having to check your mirror every few minutes to see if your lipstick has strayed? Sign us up! Start by lining the outside of your lips with the liner to fill in any fine lines. Next, fill in the rest of your lips with a lip liner in a shade that matches the lipstick color you'll be using. Doing this can help intensify the color and give you even longer wear. Try the L'Oréal Paris Colour Riche Lip Liner. Finish off with your lipstick and you're good to go!
Lipstick Hack #3: Blot and Set Your Lipstick with Translucent Powder
After exfoliating, moisturizing, and applying lip liner, it's time to apply your lipstick and set the look. Apply one coat of lipstick using a brush—this can help you to get deeper saturation, and it's more precise than applying lipstick directly from the tube. After you've applied the shade, gently blot your lips with a tissue. Repeat the process. Then, apply a final coat of lipstick and gently set a tissue against your lips. Follow up by dusting translucent powder onto your lips through the tissue with a powder brush.
Lipstick Hack #4: Pat and Smudge Your Lipstick
When it comes to bold lipstick shades, are you pretty timid? Well, you can dip your toes into the sea of vibrant hues by using the "pat-smudge" technique. It's an easy way to get a more natural look while still embracing color. Here's how to do it: Using your ring finger, gently pat on your lip color and smudge it slightly. Your ring finger has a more delicate touch compared to your other fingers, meaning that this will impart a light tint of color onto your lips. This method can also give you more control when it comes to the amount of color you actually want on your pout.
Lipstick Hack #5: Prime Your Lips with Concealer
It's no secret that concealer and foundation create a great base for the rest of your makeup, and that goes for lipstick, too. Use a makeup sponge, like the L'Oréal Paris Infallible Blend Artist Concealer Blender, to apply concealer onto your lips. Or, use the L'Oréal Paris Infallible Blend Artist Foundation Blender to apply a little bit of foundation onto your lips. Then, take a lip brush and apply the lip color of your choice on top.
Lipstick Hack #6: Drink from a Straw
OK, we know this might sound a little silly—but it's totally worth doing! When you're drinking any sort of cold beverage during the day, remember to drink through a straw. This is an easy way to help keep your lipstick in place (i.e. on your lips) instead of on your water bottle.
Discover more tips & tricks
Keep your skin happy
See all articles
Shop Featured Makeup products
Discover More