face makeup
How To Use Highlighter When You Have Oily Skin
Look glowy, not greasy.
March 05, 2018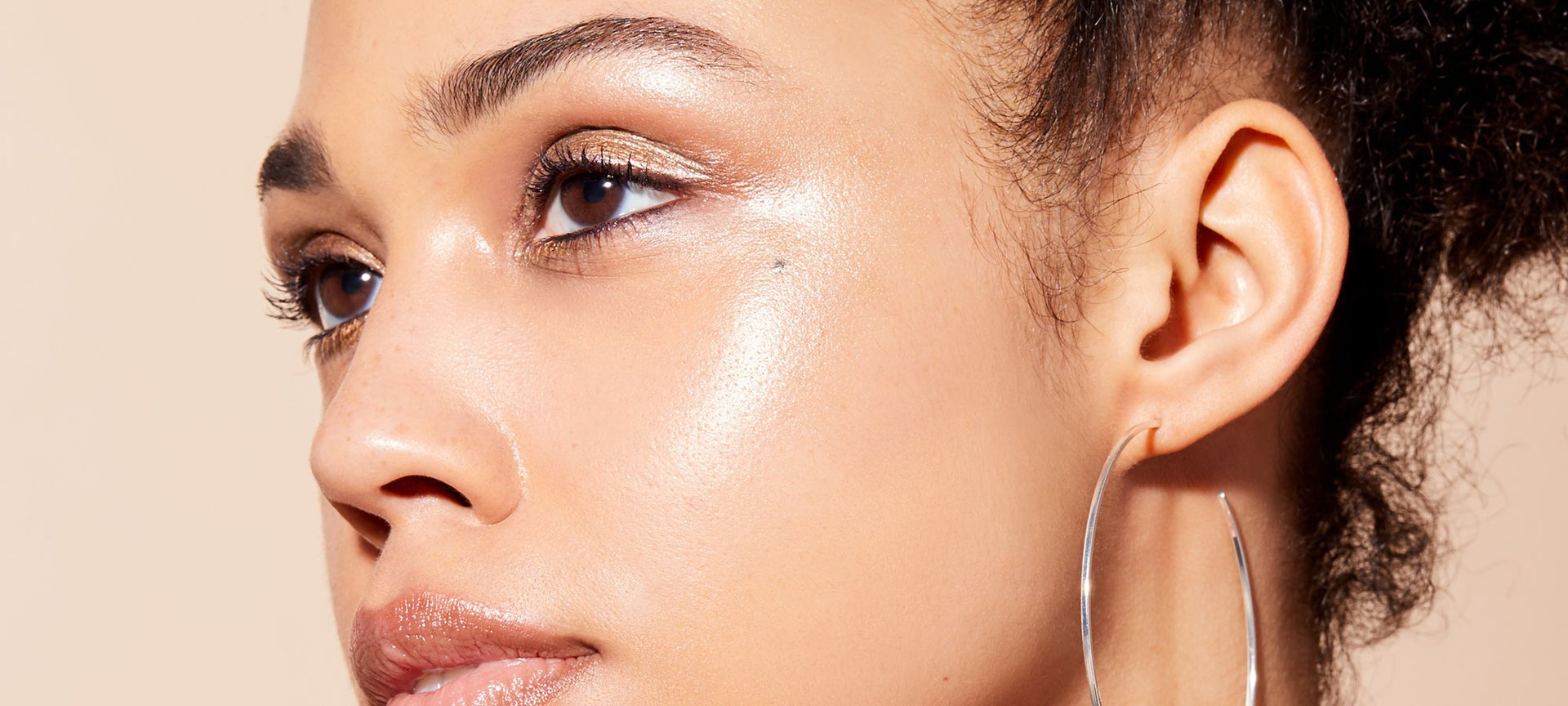 One of the best makeup products you can use to add a touch of glow to your skin is highlighter. When you have oily skin, though, you're already dealing with a shiny-looking complexion, so you may be skipping out on this glow-getting must-have. But you don't have to forgo it from fear of appearing slick and greasy. It's all about applying highlighter the right way (and finding the best highlighter for your skin type). The process starts with your skin care routine and makeup prep. Keep reading to learn exactly how to use highlighter when you have oily skin.
STEP 1: Exfoliate First
If you have oily skin, start by exfoliating before moving on to makeup. The L'Oréal Paris Pure-Clay Exfoliate & Refining Face Mask is enhanced with red algae extract to help refine the skin in just ten minutes. It removes dead cells, dirt and oil from the skin and addresses deeply clogged pores to reveal a smooth, polished complexion.
STEP 2: Use A Matte Moisturizer
Yes, you do need to use moisturizer even if you have oily skin, since you have to replenish what's been lost during the cleansing process. If you don't, your skin could produce even more oil, leaving you looking shinier. Just be sure to pick one with a matte finish, like the L'Oréal Paris Hydra Genius Daily Liquid Care for Normal/Oily Skin, which is formulated with hyaluronic acid and aloe vera water for long-lasting hydration. Apply it all over your face when you're done exfoliating.
STEP 3: Apply Primer
One of the best ways to prep oily skin for makeup is by applying a primer. Look for a matte primer for your skin type, like the L'Oréal Paris Infallible Pro Matte Lock Makeup Primer, which helps smooth skin for better makeup application, blurs the look of imperfections, and keeps the appearance of shine at bay. Apply it all over your face or to areas that tend to look the shiniest, like your T-zone.
STEP 4: Opt for Matte Foundation and Concealer
Before you add your highlighter, grab the right face products first. Reach for a matte foundation, like the L'Oréal Paris Infallible Pro Matte Foundation or the L'Oréal Paris Infallible Up to 24H Fresh Wear in a powder, matte finish. For a seamless finish with your liquid formula, blend it into your face using the L'Oréal Paris Infallible Blend Artist Foundation Blender. Cover any imperfections, like dark circles, with a concealer, like the L'Oréal Paris Infallible Full Wear Concealer Waterproof, Full Coverage which has a matte finish that lasts for up to 24 hours.
STEP 5: Add Powder Highlighter
Finally, the moment you've been waiting for: how to apply highlighter to oily skin. When you have oily skin, a teeny-tiny amount of highlighter should be all that you need to create the appearance of glowing—not shiny—skin. You may find that a powder highlighter works best for your skin type. Try the L'Oréal Paris True Match Lumi Glow Nude Highlighter Palette or the L'Oréal Paris True Match Lumi Shimmerista Highlighting Powder to achieve a multi-dimensional glow that looks as natural or intense as you desire. Dust your highlighter of choice onto the high points of your face with a light hand (you can always add more), and you're good to go.
Once you're ready to take off your makeup, reach for a micellar water. This no-rinse facial cleanser is a convenient way to remove makeup, even on those nights when you're feeling super-lazy. Saturate a cotton pad with the L'Oréal Paris Micellar Cleansing Water Complete Cleanser Waterproof – All Skin Types, then wipe the pad across your face to remove your highlighter and the rest of your makeup.
Next: 16 Makeup Products Everyone With Oily Skin Needs
Written by: Shalwah Evans, Photo Credit: Chaunte Vaughn
Discover more tips & tricks
Keep your skin happy
See all articles
Shop Featured Skin Care products
Discover More