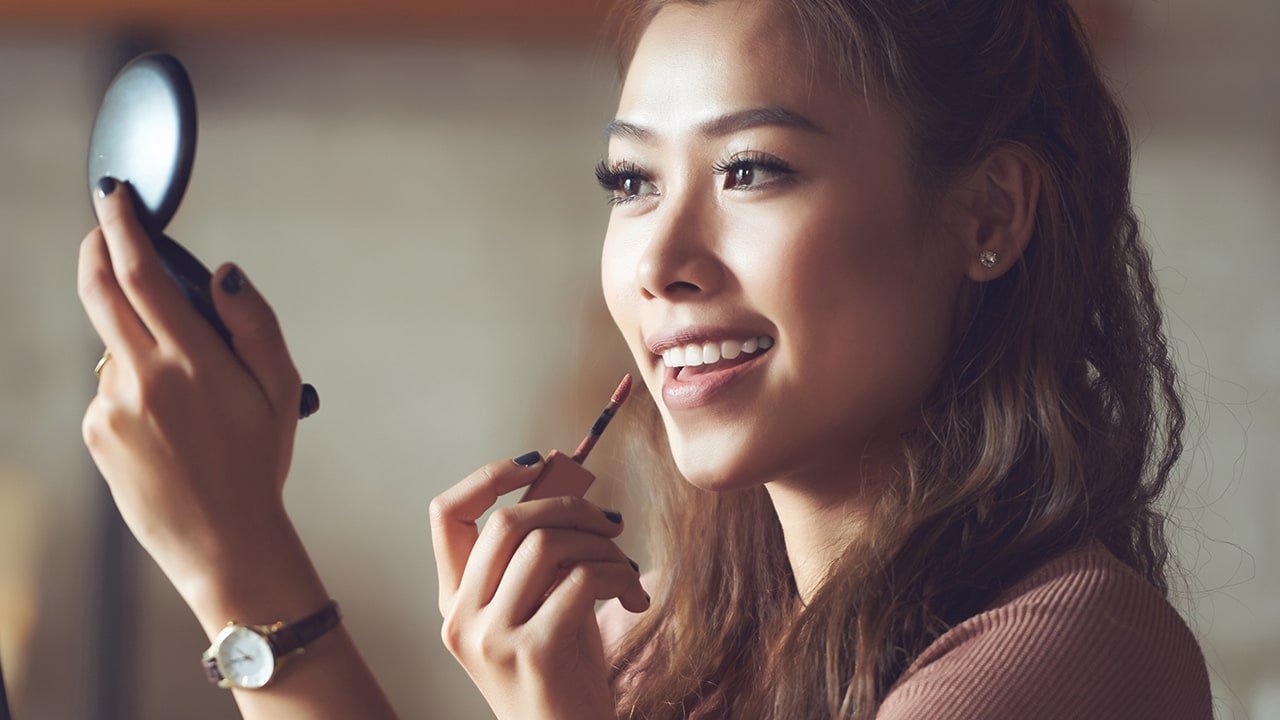 lip makeup
How to Apply Lipstick and Prevent Bleeding
Ah, lipstick. Let us count the ways we love you. From jazzing up the most basic outfit to pulling an entire makeup look together, lipstick is hands down one of our favorite items in our makeup bag. With such a wide array of lipstick hues out there—from burgundy to fuchsia to tangerine to everywhere in between—it's certainly possible to rock a different shade every day of the week. But putting on lipstick can be tricky—sometimes, you may notice that your lip color bleeds outside the slides and doesn't stay in place all day long. And unless you want to have to check your mirror every two seconds to see if your color has migrated, then we can probably agree that long-lasting lipstick and the proper application technique are a must for any and every beauty look. Below, learn how to apply lipstick and prevent bleeding with eight easy tips.
ANTI-LIPSTICK BLEEDING TIP #1: EXFOLIATE AND MOISTURIZE YOUR POUT
Before we talk about how to put on lipstick, we need to talk about how to prep your lips for your lip color. Sure, you can swipe your lipstick on without any prep work, but how good will it look? For a lip look that lasts and looks great, you'll want to take a little time to exfoliate your lips before applying any color. Dead skin cells can build up on the surface of your lips and you'll want to slough them off with a gentle lip scrub, then follow up with a moisturizing lip balm to help keep your pout hydrated. This can help ensure that you have a smooth, even canvas on which to work when applying your lipstick.
Need a lip scrub rec? The L'Oréal Paris Pure-Sugar Nourish & Soften Cocoa Scrub can be used on both your face and lips. You can use it up to three times a week to leave the skin on your lips looking more refined and feeling softer and smoother. The buttery-soft scrub is made with three pure sugars, coconut oil, cocoa, and rich cocoa butter for nourished, healthy-looking lips.
Editor's note: For an in-depth tutorial on using a lip scrub, read our article, How to Use a Lip Scrub Before Applying Lipstick.
As for your lip balm, using a moisturizing balm with sheer coverage will give you the perfect base for your lipstick. The L'Oréal Paris Colour Riche Glossy Balm in Lovely Mocha is a neutral tinted lip balm. The balm will smooth your lips and keep them soft and subtle for hours on end. If you're applying a lipstick color similar to one of the other five shades in the line, feel free to use that as your base.
ANTI-LIPSTICK BLEEDING TIP #2: USE LIP LINER
Lip liner just might be the makeup product you didn't know you needed—until now, that is. Not only can lip liner make your lip color last longer, but it can also help stop feathering and bleeding. Start by lining the outside of your lips with the lip liner to help fill in any fine lines. Then, fill in the rest of your lips with a lip liner in a shade that matches your lipstick before actually applying your lipstick to prevent any lipstick bleeding. Here are our best lip liners to use to help prevent feathering:
L'Oréal Paris Colour Riche Lip Liner: This liner comes in 12 shades making it easy to find one close to your lip color of choice. In addition to keeping your lipstick from bleeding, this lip liner has a creamy formula that will create definition on your lips.
L'Oréal Paris Colour Riche Matte Lip Liner: This liner comes in eight shades, ranging from nude to red. The matte finish of its creamy formula is ideal when paired with a matte lipstick.
L'Oréal Paris Infallible Never Fail Lipliner: With eight shades to choose from, this liner will keep your lipstick from feathering while also leaving your lips soft and smooth for hours. The liner has a built-in sharpener for added convenience.
Editor's note: Can't find a lip liner that matches your lipstick? Look for an invisible lip liner! A clear pencil can work just as well for preventing lipstick bleeding.
ANTI-LIPSTICK BLEEDING TIP #3: PRIME YOUR LIPS WITH CONCEALER
You already use concealer on your face to help create a smooth base—and it turns out you can do the same for your lips, too! If you don't have a lip primer handy, just reach for your go-to concealer and apply a tiny bit to your lips using a makeup blender. Then, take a lip brush and apply your lip color of choice on top.
ANTI-LIPSTICK BLEEDING TIP #4: CHOOSE A LONG-LASTING LIPSTICK
This may seem like a no-brainer, but it's worth repeating! If you want to help ensure your lip look stays in place for as long as possible, opt for a long-wear formula. Here are our best long-wearing lipsticks.
L'Oréal Paris Rouge Signature, Lasting Matte Liquid Lipstick: This long-lasting lipstick will give you bold, luscious color that feels lightweight on the lips. The revolutionary formula feels like a lip stain while giving you the color impact of a matte lipstick.
L'Oréal Paris Infallible Pro-Matte Les Macarons Scented Liquid Lipstick: With notes of almond, vanilla, and cream, this matte liquid lipstick line smells good enough to eat! What's more, the matte formula provides all day, full coverage for your pout.
L'Oréal Paris Infallible Pro Matte Les Chocolats Scented Liquid Lipstick: Calling all chocolate-lovers: this liquid lipstick comes with a huge bonus—an indulgent chocolate aroma! The matte longwear lipstick is formulated for all-day wear with full coverage that feels light for all-day comfort.
L'Oréal Paris Infallible Pro-Matte Liquid Lipstick: Liquid lipstick is your best friend when it comes to preventing lipstick bleeding while having all-day color. This matte liquid lipstick lasts for hours while giving you full coverage color.
Editor's note: While it's a definite plus to have long-lasting color, it can be a little tricky to remove. Read our article, How to Remove Liquid Lipstick, to find out the best way to remove your lipstick at the end of the day!
ANTI-LIPSTICK BLEEDING TIP #5: BLOT AND SET YOUR LIPSTICK WITH TRANSLUCENT POWDER
This is the key part of how to apply lipstick that you may have never been told about before! After you're done priming your lips with either lip liner or concealer, apply one coat of lipstick using a brush (this allows for more precision than applying directly from the tube), then gently blot your lips with a tissue. Repeat the process again. After applying a second, final coat of lipstick, blot again with your tissue. Then, using a powder brush, apply a translucent powder onto your lips through the tissue to help set your lips. Try the L'Oréal Paris Infallible Pro-Sweep & Lock Loose Setting Face Powder for locking in your lip look.
Editor's note: If you want more detailed steps on how to properly apply your lipstick, different types of lipstick, and the best lipstick shades for your skin tone, check out our article, The Ultimate Guide to Lipstick.
ANTI-LIPSTICK BLEEDING TIP #6: PAT AND SMUDGE YOUR LIPSTICK
Want a natural look? If just a hint of color is what you're after, the "pat-smudge" technique is an easy way to apply your lipstick and get a more natural look that won't move all over your face. Use your ring finger to gently pat on your lip color on and smudge it slightly. (The reason why you should use your ring finger is because it has a more delicate touch compared to your other fingers, FYI.) This method can also give you more control over how much color you actually put on our lips. Try the L'Oréal Paris Colour Riche Lipcolour.
Editor's note: If you love the idea of a natural-looking lip, head over to our article, How to Create a Lived-in Lip Look.
ANTI-LIPSTICK BLEEDING TIP #7: APPLY A SETTING SPRAY
Once you have your lips prepped and your lipstick of choice applied to perfection, set your color with a makeup setting spray. The L'Oréal Paris Infallible Pro-Spray & Set Makeup Extender Setting Spray will prevent any lipstick bleeding by locking in your makeup for a "just applied" look that will last the whole day! The lightweight, oil-free formula will keep your color from smudging or setting into fine lines (and it'll keep the rest of your makeup in place too). To apply, shake well, hold the bottle 8-10 inches from your face, close your eyes, and spray four to six times in an "X" and "T" motion.
ANTI-LIPSTICK BLEEDING TIP #8: DRINK FROM A STRAW
As our departing gift to you, we're letting you in on a lipstick hack that you should definitely consider using as part of your daily makeup routine. We know how funny this is going to sound, but trust us it really works! Whenever you wear lipstick, always drink your beverages through a straw (ideally a paper straw in an effort to make your beauty routine more sustainable)—that way your color will stay where it's supposed to be—on your lips!
Now that you're ready to conquer lipstick bleeding and rock your lipstick color of choice whenever and however long that you please, check out our article, The Best Orange Lipstick for Every Skin Tone, to get inspired for your next lip look.
Discover more tips & tricks
Keep your skin happy
See all articles
Shop Featured Skin Care products
Discover More