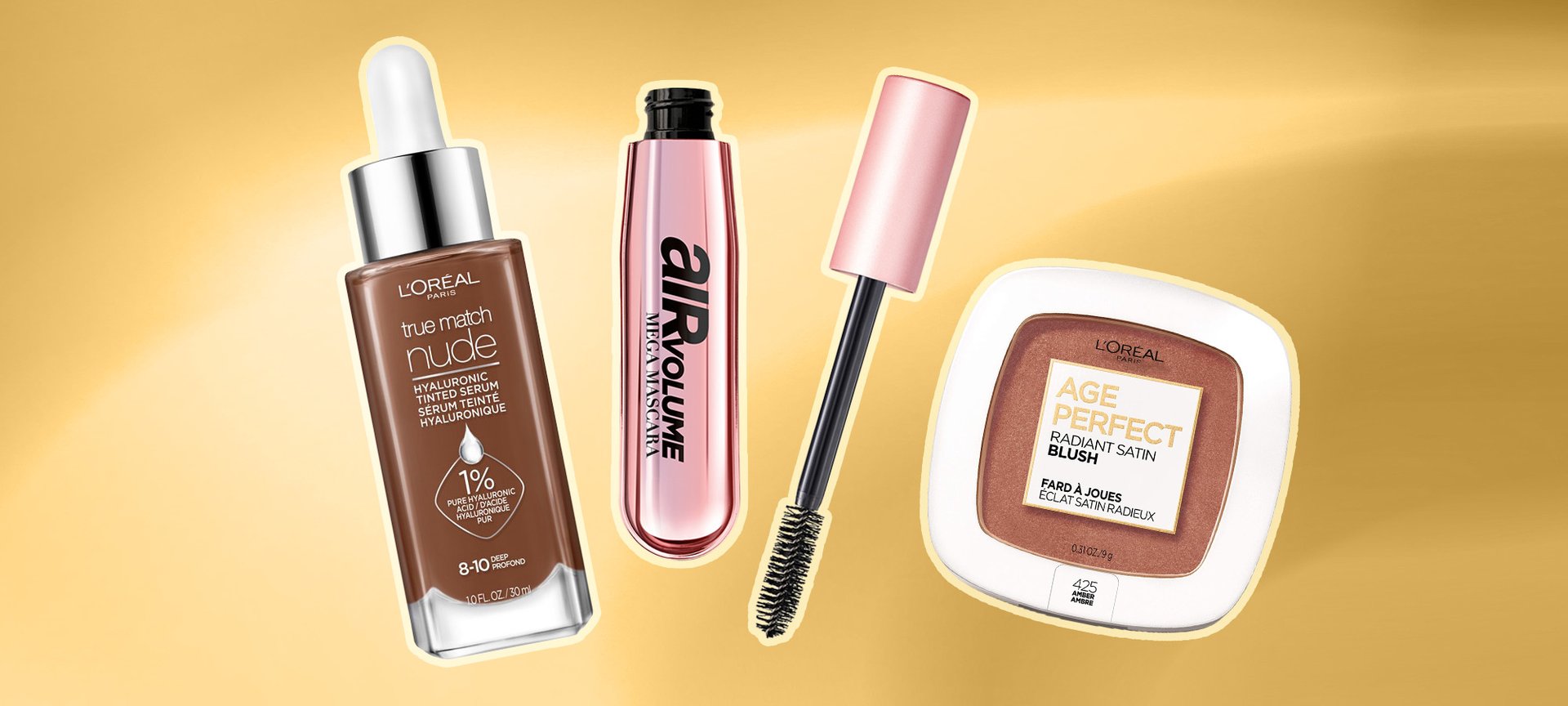 makeup trends
Refresh Your Makeup Bag With These Fall Must-Haves
A little makeup refresh never hurt anyone!
With the arrival of each new season, it's always fun to switch up your makeup routine to adapt to the changing weather, current events and shifting preferences. In order to do that, you'll want to know what makeup products一both new items and beloved staples一you should add you to your makeup bag. So here, we're sharing our picks for the best fall makeup products to snag to give your makeup bag the refresh it needs. The bonus: it's all makeup you can find easily at the drugstore.
While summer tends to favor dewy skin, matte complexions often seem to be the go-to when the fall rolls around. If you want to sport matte skin with flawless coverage, this incredible powder foundation is for you. In addition to having a formula that can go from medium to full-coverage, it feels lightweight on the skin and looks smooth. Plus, with up to 24 hour lasting power, you won't have to worry about your makeup fading or smudging throughout the day.
There are no rules when it comes to makeup, so if you want to hang onto your summer glow this fall, more power to you! Opting for a tinted serum is a great way to embrace skinimalism and sport a natural, glowy look. Not only is this tinted serum formulated with 1 percent hyaluronic acid which helps to hydrate the skin, but it also contains luminous mineral pigments that add even more radiance to your complexion.
If the fall season is bringing you back to school or back into the office, both of which can require late nights, you might have some dark circles that you're looking to brighten. This eye cream and concealer hybrid hydrates the delicate under-eye area while providing natural-looking coverage that blends seamlessly into the skin.
If you're noticing that you're losing your summer tan, warming up your cheeks with blush can add some vibrancy back into your skin. This blush formula is great because it's pigmented, blendable, and contains fine shimmer and camellia oil that add a bit of luminosity to the skin. it comes in gorgeous neutral shades as well as bright, poppy hues.
The fall season is full of deep, sultry makeup looks, and smudging some eyeliner at your lash line or creating winged liner is the perfect way to achieve one. This long-lasting, creamy eyeliner glides onto your skin and waterline easily, and it comes in a variety of shades so you can fully customize your makeup look.
The key to defining and enhancing your eyes is gorgeous, full eyelashes. This mascara adds mega volume to your lashes (hence the name) without weighing them down or making them appear clumpy or droopy. It's easily layered to create a dramatic lash look, and it's not a pain to remove at the end of the day like other mascaras can be.
In keeping with the matte theme that tends to trend during the cooler seasons, matte lips often make a comeback in the fall. However, gone are the days when we're willing to sacrifice comfort for a matte look. With this lipstick, you'll get a semi-matte, satin finish and intense color payoff without drying out your pout. If you want to make it even more matte, simply dust a bit of translucent powder on top of the lipstick. Plus, this gorgeous formula comes in twelve stunning nude shades that are flattering no matter what makeup look you're rocking.
Next: How To Use True Match Tinted Serum As Makeup, According To A Makeup Artist
Written by: Alyssa Kaplan, Photo Credit: Sarah Duvivier
{ "@context": "https://schema.org/", "@type": "WebPage", "speakable": { "@type": "SpeakableSpecification", "cssSelector": ["speakable-content"] }, "url": "https://www.lorealparisusa.com/beauty-magazine/makeup/makeup-trends/fall-makeup-must-haves" }
Discover more tips & tricks
Keep your skin happy
See all articles
Improve your routine
Show your new look more love:
makeup
{ "@context": "http://schema.org", "@type": "BreadcrumbList", "itemListElement": [ { "@type":"ListItem", "position": 1, "item": { "@id": "/", "name": "Home" } } , { "@type":"ListItem", "position": 2, "item": { "@id": "https://www.lorealparisusa.com/beauty-magazine", "name": "Beauty Magazine" } } , { "@type":"ListItem", "position": 3, "item": { "@id": "https://www.lorealparisusa.com/beauty-magazine/makeup", "name": "Makeup Tips For Every Look" } } , { "@type":"ListItem", "position": 4, "item": { "@id": "https://www.lorealparisusa.com/beauty-magazine/makeup/makeup-trends", "name": "Makeup Trends" } } , { "@type":"ListItem", "position": 5, "item": { "@id": "https://www.lorealparisusa.com/beauty-magazine/makeup/makeup-trends/fall-makeup-must-haves", "name": "fall-makeup-must-haves" } } ] }