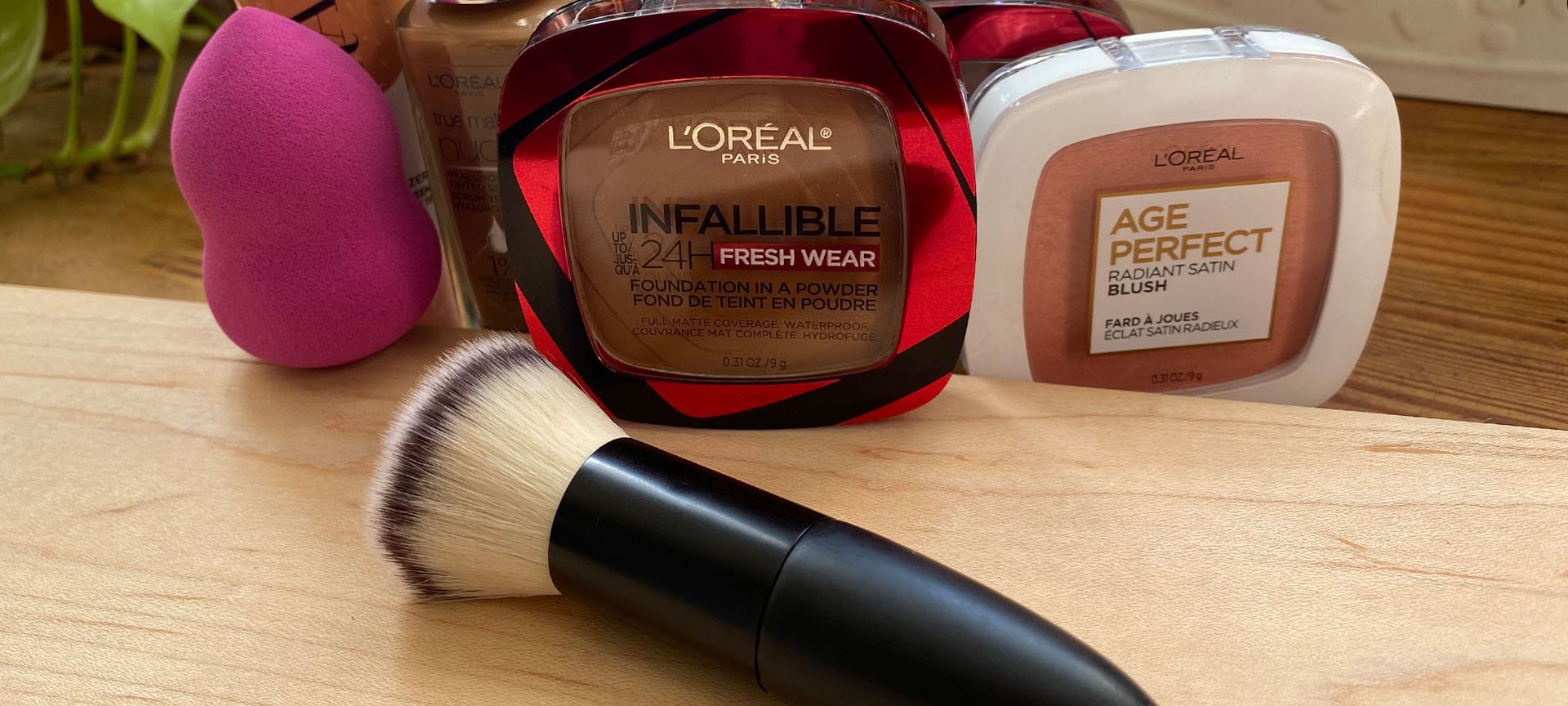 face makeup
How Do You Use A Kabuki Brush?
Make the most out of this face makeup essential.
There are certain makeup brushes almost everyone owns, like a flat foundation brush and an eyeshadow shader, while there are others that you might not even understand what they do. Take the kabuki brush, for instance. Many people have simply never heard of this face makeup essential and others have but don't quite understand how to use it. If you want to make applying makeup easier and take your beauty look to the next level the kabuki brush is one beauty tool to know about. So we're sharing the lowdown on this must-have tool so that you can pull it out of your makeup bag and put it to use with confidence.
What Is A Kabuki Brush?
Named after the Japanese drama theaters where they were used to help create elaborate makeup, the traditional kabuki brush has a short handle and dense bristles with a rounded shape. The brushes are primarily used to apply powder products seamlessly as the bristles help dust on just enough product without making your face look cakey or overdone. While face powders, namely loose powders, are the name of the game when it comes to the kabuki brush, you can also use them to apply liquid foundation, just don't switch back and forth during the same makeup session.
Editor's tip:The kabuki brush has evolved in form over time. While a traditional kabuki brush is perfectly rounded, new versions are available in different shapes, including angled, dome, and flat, which you can choose depending on your beauty needs.
How To Use A Kabuki Brush
Now that you're better equipped to identify a kabuki brush, it's time to learn how to put this beauty staple to work. Below, we're giving you the rundown on how to use four different types of kabuki brushes in your makeup routine.
1. Round Kabuki Brush
If you want your beauty look to last from day to night, you'll need to lock your makeup in with a setting powder. This is where your classic round kabuki brush comes into play. When you're ready to set your makeup, simply dip the brush into the L'Oréal Paris Infallible Pro-Sweep & Lock Loose Setting Face Powder, and dust all over your skin with light strokes.
2. Angled Kabuki Brush
If skinimalism-inspired makeup just won't cut it for every occasion and you still love a good contour here and there, then it would be wise to add an angled kabuki brush to your arsenal. Perfect for any powder contour products, this tool makes precise application easy so you can sculpt your face to your heart's desire. Sweep your powders onto the skin in key spots, including your cheekbones, the sides of your nose, and your temples and buff them in.
3. Dome Kabuki Brush
A domed kabuki brush can be thought of as a smaller take on your traditional kabuki. Since it still has a rounded head shape, this brush is ideal for applying highlighter, blush, and bronzer. Just like the other kabuki brushes, all you need to do is dip your tool into your compact and brush on your powder. Use soft sweeping motions with this shape brush.
You can also use a domed kabuki to apply setting powder in hard to reach spots, like the under-eye area and sides of the nose.
4. Flat Top Kabuki Brush
Known to pair well with everything from liquid foundations to face powders, the flat top kabuki brush is a multifunctional tool that takes makeup application to the next level. Use the brush to stipple and buff liquid foundation, like the L'Oréal Paris Infallible 24 Hour Fresh Wear Foundation, Lightweight, onto your skin for seamless coverage.
If you're using a powder, like the L'Oréal Paris Infallible Up to 24H Fresh Wear Foundation in a Powder, simply dip your brush into the product and press onto your skin. Sweep away excess for a flawless finish. It's just that easy!

How To Care For Your Kabuki Brush
Kabuki brushes might work miracles for your makeup, but they don't have magical self-cleaning powers — you still need to wash them regularly like you do your other brushes. Per the American Academy of Dermatology, dirty makeup brushes are a breeding ground for bacteria. So, to protect your skin and keep your makeup brushes bacteria-free, they recommend washing your brushes at least every seven days.
Check out our article, How To Properly Clean Makeup Brushes and Blenders for step-by-step instructions.
Next: How to Use a Fan Makeup Brush
Edited and Photographed by: Shalwah Evans
Discover more tips & tricks
Keep your skin happy
See all articles
Shop Featured Makeup products
Discover More