face makeup
6 Tips For Getting a Natural-Looking Foundation Finish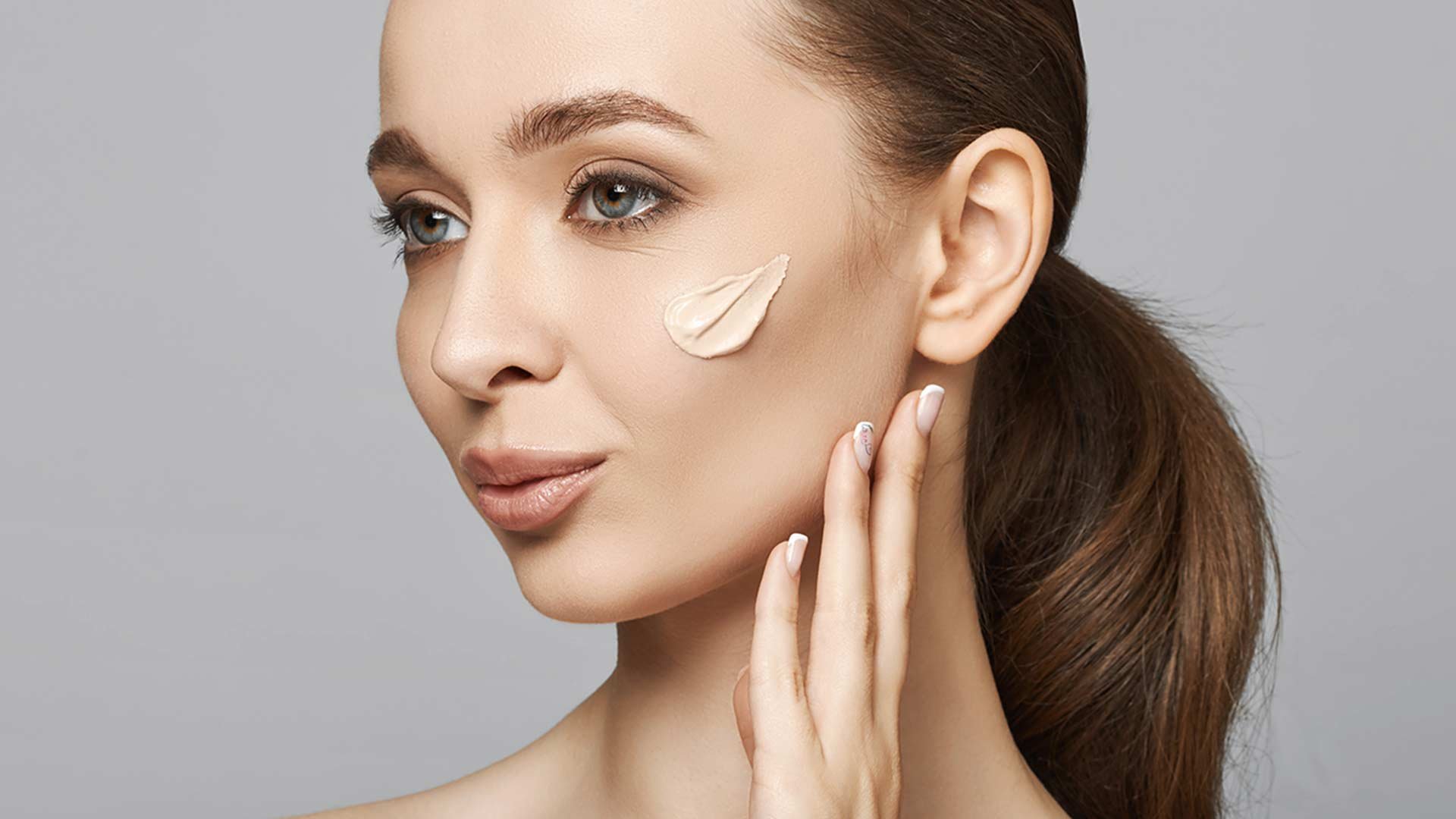 There's no denying a full face of makeup is stunning in its own way, but there are times you may want to opt for a subtler look. Maybe you're running errands or simply want a slight boost for your work-from-home calls. Whatever your reasoning, a natural-looking foundation finish is the answer. Of course, achieving this can be easier said than done. If you're not sure where to start, we've taken it upon ourselves to pull together six tips to keep in mind for your next makeup look.
Tip #1: Prep Your Skin
You may think that the only thing involved when creating the appearance of natural-looking foundation is your makeup products, but that isn't the case. Your skin-care routine—specifically how well you prep your complexion prior to applying foundation—can make all the difference. To cut to the chase, you'll want to exfoliate. While this isn't a step you need to take part in each day, neglecting to exfoliate on a weekly basis can lead to a buildup of impurities and dead skin cells, which can cause your makeup to appear patchy, uneven, and unnatural. Avoid this by using a face scrub, like our L'Oréal Paris Pure-Sugar Nourish & Soften Cocoa Scrub, up to three times per week for smooth, soft, expertly prepared skin.
Tip #2: Use The Right Tools
Certain makeup brushes and tools can actually absorb your foundation formula, causing you to layer on more product in an effort to get coverage. This can lead to the appearance of cakey foundation, which is the opposite of what you want if you're after a natural foundation finish. To steer clear of this all too easy mishap, use a makeup sponge to apply your foundation. We recommend our L'Oréal Paris Infallible Blend Artist Foundation Blender. You can even dampen the sponge to make the application process that much more seamless.
Tip #3: Remember, Less Is More
On the note of proper application, it's important not to apply too much foundation. It may be tempting to pile on as much as you can in the hopes of covering every blemish and imperfection, but this won't leave you with a natural finish. Instead, apply as little product as possible to get your desired covered. You can always apply a bit of concealer to areas that need extra camouflaging.
Tip #4: Opt For Buildable Formulas
Like we mentioned, certain areas of your face may call for a bit more coverage. Even if you're going for a natural foundation finish, you can still cover your imperfections—it's all about doing so in a way that leaves people guessing if you're wearing foundation or simply have perfect skin. The secret is to use a lightweight, buildable formula, like our L'Oréal Paris Infallible 24 Hour Fresh Wear Foundation, Lightweight. This way, you can build the coverage where needed while leaving it light in other areas. No one will be able to tell!
Tip #5: Try Powder Foundation
Alternatively, you can also use a powder foundation. While not always true, face powders tend to offer less coverage than liquid formulas, making them a popular natural-looking foundation option. They're also a prime choice for those who have oily skin, as they'll help keep shine at bay. Give the L'Oréal Paris True Match Powder a try. If you have mature skin, opt for the L'Oréal Paris Age Perfect Makeup Creamy Powder Foundation with Minerals instead. Its creamy powder formula won't settle into fine lines and wrinkles.
Tip #6: Use a Dewy Setting Spray
Your natural skin doesn't have a perfectly matte finish. Rather, it probably has some shine here and there. To give your skin that fresh, natural look, use a setting spray with a dewy finish. Spritz on the L'Oréal Paris True Match Lumi Shake & Glow Dew Mist as the last step in your routine for an extra dose of radiance and hydration.
Next up: Now that you've mastered the skills required to rock a natural-looking foundation finish, perhaps you'd like to embrace an all-over natural appearance. Here's How To Create a Natural Makeup Look.
Discover more tips & tricks
Keep your skin happy
See all articles
Shop Featured Skin Care products
Discover More