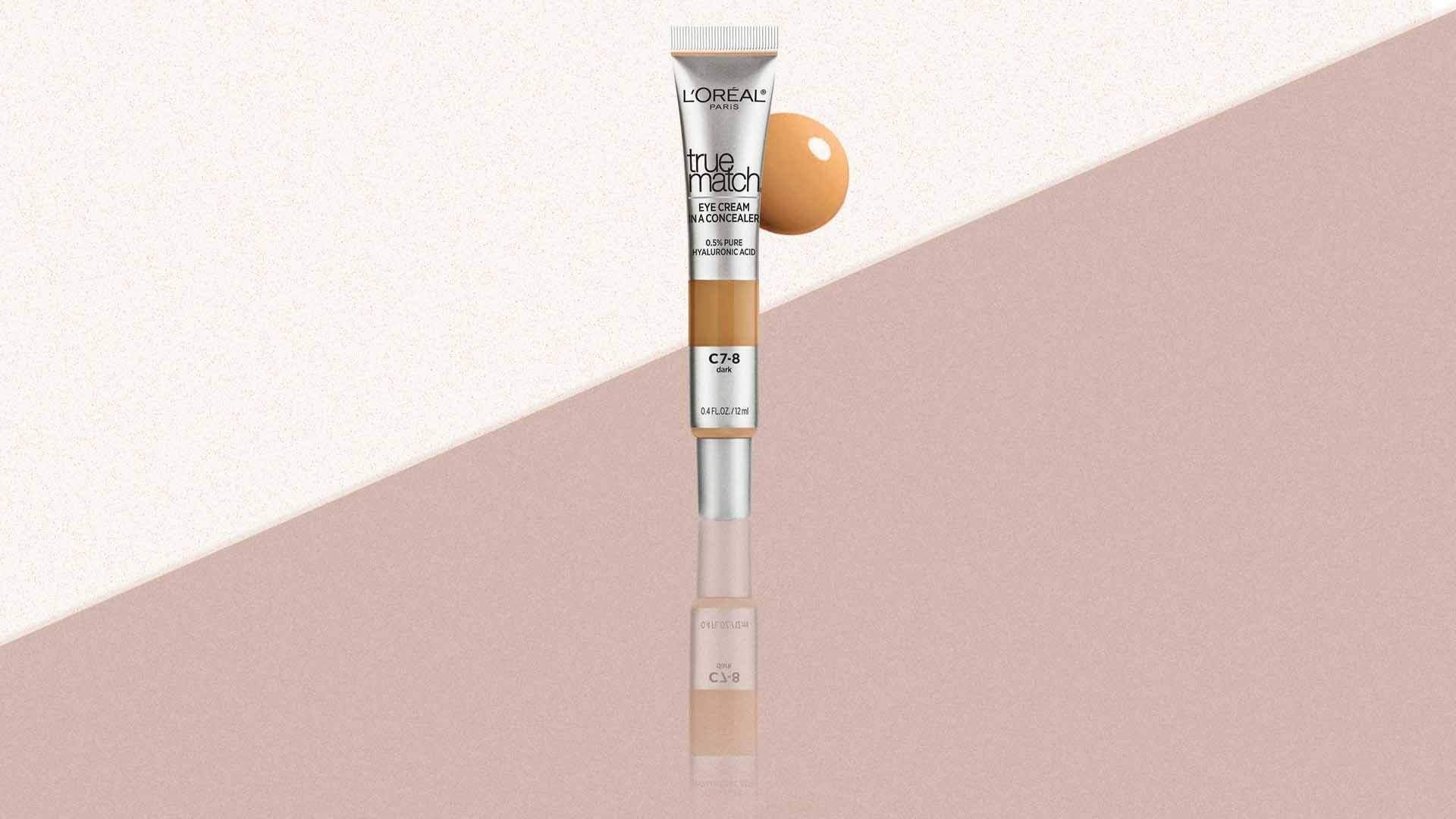 face makeup
This Concealer-Eye Cream Hybrid Is a Must-Try
Whether you're a makeup novice or veteran, you likely know the importance of using concealer in your routine. After all, this beauty staple comes in handy to give your eyes a bright and youthful look. However, when it comes to locking down the right formula that can take care of all your needs, not too many live up to the standard. That's why adding a concealer-eye cream to your makeup bag is a safe bet.
A concealer-eye cream goes the extra mile to cover up imperfections with ease. And once you pair it with your go-to essentials, you'll be able to craft a flawless look. If you're down to explore the wonders of this hybrid makeup product, we're here to show you the way. Ahead, we're sharing everything you need to know about concealer-eye cream, including our best pick for your beauty look.
WHAT IS CONCEALER-EYE CREAM?
As the name suggests, concealer-eye cream is a makeup product designed to be used on your eye area. The sole purpose of this essential is to address common skin care concerns like dark circles, puffiness, and hydration while providing the benefits of traditional concealers that you love. In other words, it works double-duty to minimize the look of aging and whip your eye area into tip-top shape. We also dig that this offering works in your favor to pare down your routine. Typically, you can find a concealer-eye cream in liquid, cream, or serum formulas to suit your needs.
CONCEALER-EYE CREAM VS. TRADITIONAL CONCEALER: WHAT IS THE DIFFERENCE?
Now that you have a concealer-eye cream in mind, you may be wondering if it's worth leaving your traditional offering behind. The truth is, it's all up to you. Like we mentioned, a concealer-eye cream goes a long way in masking signs of aging to give your eyes a fresh and youthful look. Not to mention, this staple combines the power of eye cream and concealer in one and gives your eyes the bonus of hydration. In turn, this helps your makeup sport a bright and luminous appearance that will go the distance. Now that's what we call a win-win.
On the other hand, traditional concealers are a bit more basic with their benefits. They can help cover imperfections and achieve a bright-eyed look. Depending on the formula, you can provide your under-eye area with hydration. However, it won't provide the same effects as the hybrid product.
OUR BEST CONCEALER-EYE CREAM
If you're steering toward adding a concealer-eye cream to your makeup collection, it's only right that you lock down the best offering. Allow us to introduce you to our go-to pick, the L'Oréal Paris True Match Eye Cream in a Concealer, 0.5% Hyaluronic Acid. This ingenious hybrid find provides instant dark circle coverage with the care of an eye cream to give your eyes some extra TLC. It's formulated with hyaluronic acid and provides your eyes with all day hydration. After one week's use, your eyes will sport a fresh and less puffy look. Plus, you'll be able to choose from 14 shades to match your skin tone.
HOW TO USE OUR BEST CONCEALER-EYE CREAM
Now that you have all the deets on our best concealer-eye cream, it's time to make some magic happen. Transform your makeup look with our step-by-step routine below.
STEP #1: LAYER ON PRIMER
Before you get ready to create a stunning masterpiece, it's important to set the stage with a makeup primer. This essential helps to prep your face and give you a smooth, even canvas to work with. Start things off on the right note by smoothing on a layer of the L'Oréal Paris Infallible Pro-Glow Lock Makeup Primer all over your face.
STEP #2: PERFECT YOUR COMPLEXION
Next, you'll need to create a flawless visage with the help of foundation. And if you want your makeup look to go the distance, it's best to rely on a long-lasting formula to get the job done. This is where the L'Oréal Paris Infallible 24 Hour Fresh Wear Foundation, Lightweight, comes into play. Squeeze a small amount of foundation onto the tip of the L'Oréal Paris Infallible Blend Artist Foundation Blender and blend onto your skin with rolling and dabbing motions until even.
STEP #3: APPLY THE CONCEALER-EYE CREAM
Now it's time for the concealer-eye cream to shine. Apply a small amount of the product onto your under-eye area and use a makeup sponge to blend it onto your skin. If a bright-eyed look is what you're after, be sure to apply the concealer in an upside-down triangle shape to make it happen. If you prefer, you can also rely on a makeup brush or your fingers to achieve a seamless finish.
STEP #4: SWEEP ON BRONZER
Since your complexion is intact, it's time to focus on warming up your face a bit. Apply the L'Oréal Paris True Match Lumi Bronze It Bronzer to the hollows of your cheeks and temples to score a sun-kissed glow.
STEP #5: BLUSH IT UP
Bring on the definition! Reach for a neutral blush to define your cheekbones. Sweep the L'Oréal Paris True Match Blush onto your cheeks to score a natural flush of color.
STEP #6: COLOR YOUR LIDS
Amp up your makeup look with a touch of eyeshadow. Apply the L'Oréal Paris Brilliant Eyes Shimmer Liquid Eye Shadow Makeup in Rose Gem all over your lid for a shimmery touch.
STEP #7: PUMP UP YOUR LASHES
Take your eye makeup game to the next level with a few coats of volumizing mascara. Layer your lashes with the L'Oréal Paris Air Volume Mega Mascara, Lightweight Mega Volume Washable in Blackest Black for weightless lashes with a dramatic impact.
Discover more tips & tricks
Keep your skin happy
See all articles
Shop Featured Makeup products
Discover More