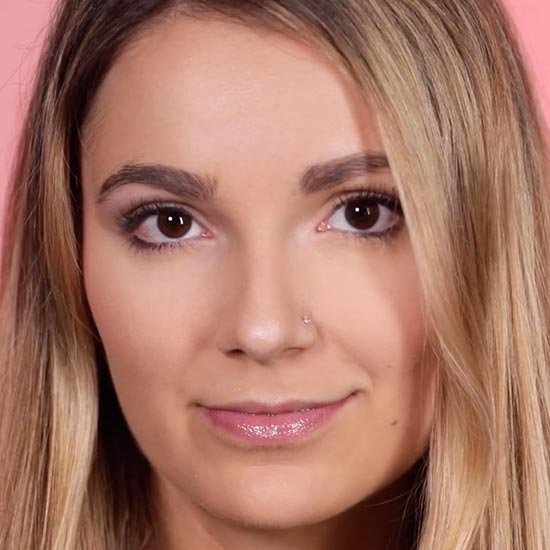 face makeup
What Is Baking Makeup and How To Do It Like The Pros
There's no denying that makeup comes in handy to accentuate your gorgeous features. And while you likely already know all about contouring and the wonders of highlighter, baking powder makeup is another method you should master. Baking powder makeup is a technique used to create a flawless-looking complexion. While it's been around for quite a while, beauty gurus on YouTube and Instagram have been championing this technique as of late. Professional makeup artists are fans of baking makeup, too.
If you want to know why all this hype for baking powder makeup exists, we're here to help. All you need is concealer, face powder, and a few other makeup essentials to get the ball rolling. Of course, if you hadn't heard of this trendy technique before now, you surely don't know how to do it. That's why we're sharing not only what baking powder makeup is, but how you can bake your face for the ultimate selfie-ready look.
WHAT IS BAKING MAKEUP?
Before jumping straight into our step-by-step tutorial, it's important to understand what baking powder makeup actually is. Really, it's all about layering different face makeup products (like concealer and setting powder) onto targeted areas to set your makeup for a flawless finish—no creasing allowed. Think of how your favorite celebs look so picture-perfect while strutting down the red carpet—they might just have baking their makeup (and a team of pro makeup artists, of course) to thank for it. If you want to give baking powder makeup a go on your own, you can make it happen with a few tips and essentials. Speaking of which…
WHAT YOU NEED TO BAKE YOUR MAKEUP
As with baking tasty treats, this technique requires gathering all of your supplies in advance. But, instead of measuring out your flour and sugar, collect the following makeup products and beauty tools.
Baking Makeup Essential #1: Eye Cream
Baking your makeup requires packing lots of powder under your eyes—which can be a total disaster if you have dry skin there. That's why you'll need to moisturize your under-eye area with an eye cream, like the L'Oréal Paris Revitalift Triple Power™ Eye Treatment. It's formulated with Pro-Retinol, vitamin C, and hyaluronic acid, to reduce wrinkles, de-puff, and brighten your eyes.
Baking Makeup Essential #2: Liquid Foundation
As with most face makeup techniques, foundation is a must. And in this case, it's important to leave powder foundations behind. A liquid will be less likely to look cakey and overdone. Opt for one with a matte finish, like the L'Oréal Paris Infallible Pro-Matte Foundation.
Baking Makeup Essential #3: Liquid Concealer
To cover up imperfections like dark circles and brighten the look of your under-eye area, keep your makeup bag stocked with liquid concealer. The L'Oréal Paris Infallible Full Wear Concealer Waterproof, Full Coverage is a fabulous option.
Baking Makeup Essential #4: Loose, Translucent Face Powder
A loose powder is the most important part of baking your makeup. Just keep in mind that pressed or tinted powder won't do the trick. Play it safe and use the L'Oréal Paris Infallible Pro-Sweep & Lock Loose Setting Face Powder.
Baking Makeup Essentials #5: Makeup Blender and a Fluffy Powder Brush
A makeup blender, like the L'Oréal Paris Infallible Blend Artist Foundation Blender can help you apply concealer, foundation, and powder more smoothly for a creaseless finish. It's also smart to keep a fluffy powder brush handy to sweep away excess loose powder. Not to mention, you can also use a foundation brush to score seamless coverage.
HOW TO BAKE MAKEUP
Now that you have your essentials on hand, it's time to learn the art of baking powder makeup. Follow along with the video above and these steps.
Step #1: Moisturize Around Your Eyes
Don't break out your face makeup just yet; first, a little bit of skin care is necessary. Start by placing dots of the eye cream in half-moon shapes underneath your eyes. Then, use your fingertips to gently pat—not rub—it in to help it absorb. Give it a minute to soak into your skin, and you're free to move on to step number two.
Step #2: Apply Liquid Foundation
Concealer and powder may be the bedrocks of baking makeup, but it's important to create an even base with a liquid foundation before applying them. Squeeze the product onto a makeup blender and apply it onto your skin in rolling and dabbing motions for even coverage.
Step #3: Create Triangles Using Concealer
Use a liquid concealer to draw an upside-down triangle underneath each eye. You want to extend the concealer just beyond the corners of your eyes and down to the apples of your cheeks.
Step #4: Blend Your Concealer
Take a makeup blender and gently buff and bounce your concealer out. Be sure to gently diffuse any harsh lines while maintaining the same shape that you applied it in.
Step #5: Press Translucent Face Powder Overtop
Like we mentioned above, loose setting powder is the only way to bake your makeup like a pro. Pour a generous amount of translucent, loose setting powder into the lid and dip the same makeup blender you previously used into the product. Press it directly on top of your concealed under-eye area.
Step #6: Bake Your Makeup
Now it's the moment you've been waiting for—it's time to master baking powder makeup. Let the loose powder sit on top of your concealer for a few minutes. During this time, feel free to shape your eyebrows using the L'Oréal Paris Unbelieva-Brow Longwear Waterproof Brow Gel. Use the doe foot applicator to fill in any sparse areas and the angled brush to outline your eyebrow and define your arch. Finish up by using the spoolie comb to blend.
Step #7: Dust Off the Powder
When your few minutes of waiting are up, use your fluffy makeup brush to lightly dust off the excess setting powder that's still on your face to seal the deal.
HOW TO COMPLETE YOUR MAKEUP LOOK
Baking powder makeup is typically a technique reserved for when you're wearing a full face of makeup, so don't step away from your vanity—there's more to do. While it's most often used under the eyes, there are other areas that can benefit from the method. Here's how to round out your makeup look:
Step #1: Contour Your Cheekbones
Contouring goes hand-in-hand with baking powder makeup. After your face is baked, you'll want to sculpt your cheekbones to perfection. Since you've already applied powder, follow suit with a contour or bronzing powder to avoid ruining your makeup look. After all, applying too much translucent powder can lead to a cakey finish. Dip a contour brush into the L'Oréal Paris True Match™ Lumi Bronze It Bronzer and apply it beneath your cheekbones, down the sides of your nose, on your temples, and along your jawline to define your face.
Editor's note: Try baking next to the spots where you contoured—pressing powder onto the sides of your nose and beneath your cheekbones—to make your contours look extra sharp.
Step #2: Add Blush
If you don't want your face to fall flat, blush is a must. Sweep your perfect shade of the L'Oréal Paris True Match Blush onto the apples of your cheeks for a natural, flushed look.
Step #3: Use a Powder Illuminator
We recommend matte foundation for makeup baking, but you don't have to keep your face completely shine- and shimmer-free. To get your glow on, apply the L'Oréal Paris True Match™ Lumi Shimmerista Highlighting Powder to the highpoints of your face including the bridge of the nose, cheekbones, and cupid's bow.
Step #4: Line Your Eyes with Liquid and Pencil Eyeliner
For this look, don't limit yourself to just one eyeliner. First, use the L'Oréal Paris Le Liner Signature Easy-Glide Mechanical Eyeliner, Waterproof, to create a cat eye. (Here are 7 Hacks For The Perfect Cat Eye, just in case you need a little help.)
Once you've lined your upper lash line—and added a wing— tightline your eyes with the L'Oréal Paris Infallible Pro-Last Waterproof, Up to 24HR Pencil Eyeliner in Black. Gently pull up on your eyelids and fill in the space just below your lashes to give the appearance of thicker lashes—before you even apply mascara.
Step #5: Coat Your Lashes
You knew this was coming; put the finishing touch on your eye makeup by sweeping a few coats of the L'Oréal Paris Air Volume Mega Mascara, Lightweight Mega Volume Washable onto your lashes. And don't forget to coat your bottom lashes, too!
Step #6: Apply a Liquid Lipstick
It may be a coincidence, but there seems to be quite an overlap between people who love baking powder makeup and people who are obsessed with liquid lipsticks. So, you can see where this is going—finish your look with a long-lasting, liquid lip. The color is up to you. If you prefer rounding out the rest of your makeup with something subtle, try the L'Oréal Paris Rouge Signature Matte Lip Stain in I Empower.
If you're interested in rocking a bold hue, we've got you covered. Try the L'Oréal Paris L'Oréal Paris Rouge Signature Matte Lip Stain in I Rebel for a vibrant purple shade.
Once you've mastered how to bake makeup, there's no harm in expanding your skills with another trendy technique. Just head on over to our tutorial, How To Contour Your Body, and you'll be a pro at that in no time, too!
Discover more tips & tricks
Keep your skin happy
See all articles
Shop Featured Skin Care products
Discover More