eye makeup
How to Rock This Season's Crystal Eyeliner Trend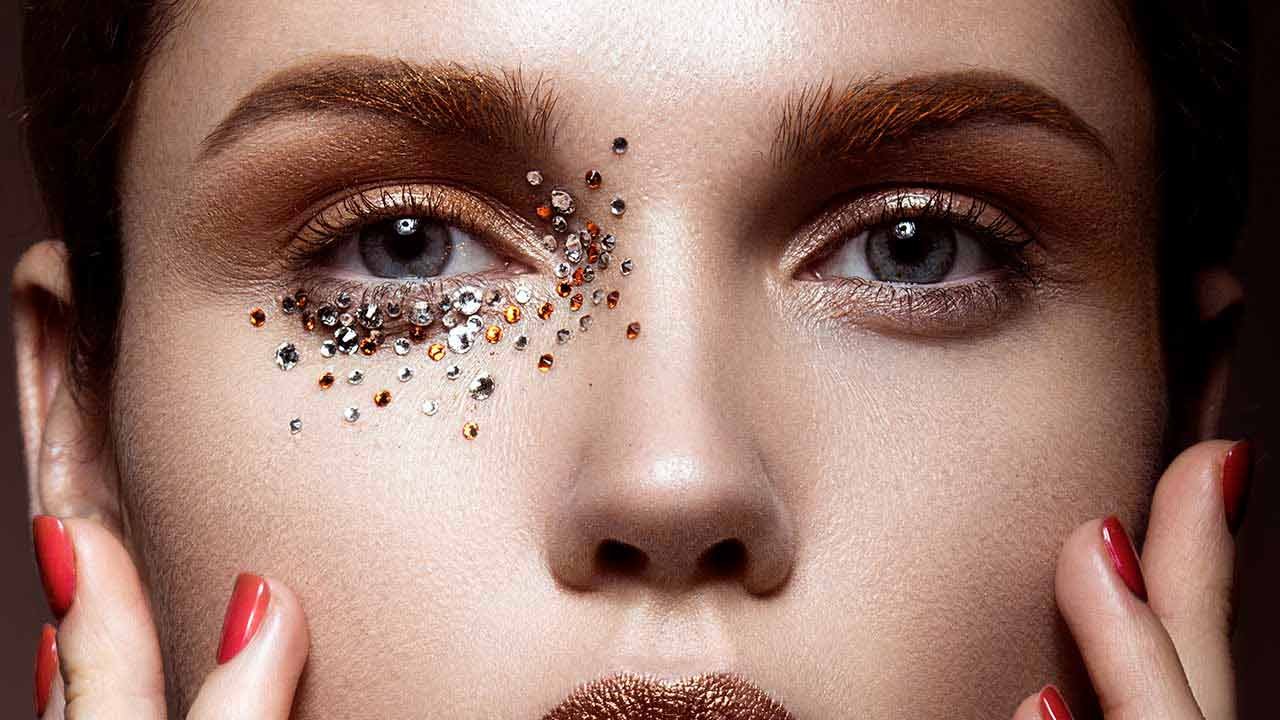 If you're like us, you're always on the prowl for ways to switch up your beauty look. And, if you adore the way eyeliner and mascara bring attention front and center to your eyes, you'll be thrilled to learn about the new crystal eyeliner trend. The eye-catching makeup look features tiny crystals along your lower lash line for an instantly glam appeal—even when paired with a no makeup makeup look—which just so happens to be one of our favorite ways to wear it.
Since working with crystals is different than wielding a liquid or pencil eyeliner, here, we walk you through the eye makeup process. And, since we believe in approaching beauty from every angle, we won't stop there. So, we'll teach you how to perfect the rest of your face makeup to match your new favorite eye makeup trend. Ready for your beauty makeover? Follow along!
How to Achieve the Season's Crystal Eyeliner Trend
Follow our step-by-step tutorial for crystal eyeliner.
Step 1: Prime Your Lids
Anytime you're creating an eye makeup look that you want to last, it's absolutely vital to start the process with primer. Not only can primer help even out skin for smoother eye makeup application, it can also help your eye makeup wear evenly throughout the day. All you have to do is blend a tiny dab of primer onto each lid and move on to the next step.
Step 2: Coat your Lids in Shimmer
This eye makeup look is all about showcasing crystal under-eye accents. That means that it's best to keep your lids low key to keep attention where it belongs. To do just that, use a fluffy eye shadow brush to dust some of the L'Oréal Paris Infallible Crushed Foils Metallic Eye Shadow from your lash line up just past your crease. Using a fluffy brush, as opposed to a dense one, will help you create the ultra-sheer shimmer coverage you're craving, whereas denser brushes can sometimes overdo it.
Step 3: Line Your Lids
Since you love eyeliner, we won't make you skip out on it altogether. Just bypass your lower lash line and focus all the extra definition on your upper lids. Since crystals are ultra-shimmery, you have one of two options. You can rock a sharp kitten tip to give your lid look a little drama or you can stick with shimmery trend with a rose gold number. Think about it and choose from the L'Oréal Paris Voluminous Lash Paradise Liquid Eyeliner in Rose Gold and Black to bring this part of your eye makeup look to life.
Step 4: Prime and Boost Your Lashes
Since your lower lash line will be low key save for a perfectly placed crystal front and center, it's imperative to give your lashes a little extra va-va-voom for a truly head-turning look. The L'Oréal Paris Voluminous Lash Paradise Mascara Primer/ Base and L'Oréal Paris Voluminous Lash Paradise Mystic Black will do just the trick. Start with a coat or two of the primer and follow it up with a few coats of mascara for a flirty flutter.
Step 5: Complete Your Statement Eye with Crystals
Now comes the main attraction. You'll need a pack of crystals—you can find ones with adhesive backs (they're often made for festivals) or you can add a touch of makeup glitter glue on the back of an adhesive-free crystal for placement purposes. Once you have your crystals picked out, it's time to place them. Take a note from the celebs on the red carpet and keep it simple with one medium-sized small crystal in the center of each lower lash lines. Press it into place and take a peek at just how stunning you look.
The Best Face Makeup to Pair with the Crystal Eyeliner Trend
Now that your eye makeup is complete, it's time to tie the rest of your look together.
Step 1: Prime Your Face
You know the drill. Figure out what kind of face makeup look you're going for—matte of dewy—and blend a dab of the L'Oréal Paris Infallible Pro-Glow Lock Makeup Primer or L'Oréal Paris Infallible Pro-Matte Lock Makeup Primer from forehead to chin.
Step 2: Apply Foundation
Next, use the corresponding foundation for your primer—the L'Oréal Paris Infallible Pro-Glow Foundation or the L'Oréal Paris Infallible Pro-Matte Foundation—and use the L'Oréal Paris Infallible Blend Artist Foundation Blender to stipple it into place. Seriously, we'll say it loud for the people in the back—stipple, don't rub. When you rub your makeup into place it can be super-difficult to create even coverage. Stippling, on the other hand, can help create an airbrushed effect.
Step 3: Touch Up with Concealer
To really make your crystal eyeliner pop, blend a few dots of the L'Oréal Paris True Match™Super-Blendable Multi-Use Concealer under your eyes. Use the L'Oréal Paris Infallible Blend Artist Concealer Blender to blend it all out, as the edges will help get into tight corners for even, natural-looking coverage.
Step 4: Contour
Give your cheeks a little chisel action with a few quick swipes of the L'Oréal Paris Infallible Longwear Foundation Shaping Sticks in the hollows of your cheeks. Be sure to choose a shade that's 2-3 shades darker than your normal skin tone depending on how dramatic you want your contour to appear. Once you draw the color on, use the L'Oréal Paris Infallible Blend Artist Contour Blender to blend everything in.
Step 5: Set Your Face Makeup Base
Dust your face with the L'Oréal Paris Infallible Pro-Sweep & Lock Loose Setting Powder to set your look and continue with the last face makeup product ahead.
Step 6: Highlight
You want to apply highlighter after setting your makeup look since all the other products you used were creamy-based, and powder could accidentally cake into it. So, once your face is set, use a fluffy angled highlighter brush to dust on one of the L'Oréal Paris Infallible Crushed Foils Metallic Highlighters. Apply it on your cheekbones and the tip of your nose for a well-lit look.
Step 7: Seal Your Look with a Kiss
Stick to the shimmer trend with a sheer coat of the L'Oréal Paris Infallible Crushed Foils Metallic Lipstick in Burnished and be on you way.
Love crystal eyeliner but want to learn ways to rock the classic product? Check out our article, Anything but Ordinary: 6 Modern Takes on Winged Eyeliner .
Discover more tips & tricks
Keep your skin happy
See all articles
Shop Featured Makeup products
Discover More