eye makeup
6 Cool Ways To Wear Winged Eyeliner
April 12, 2019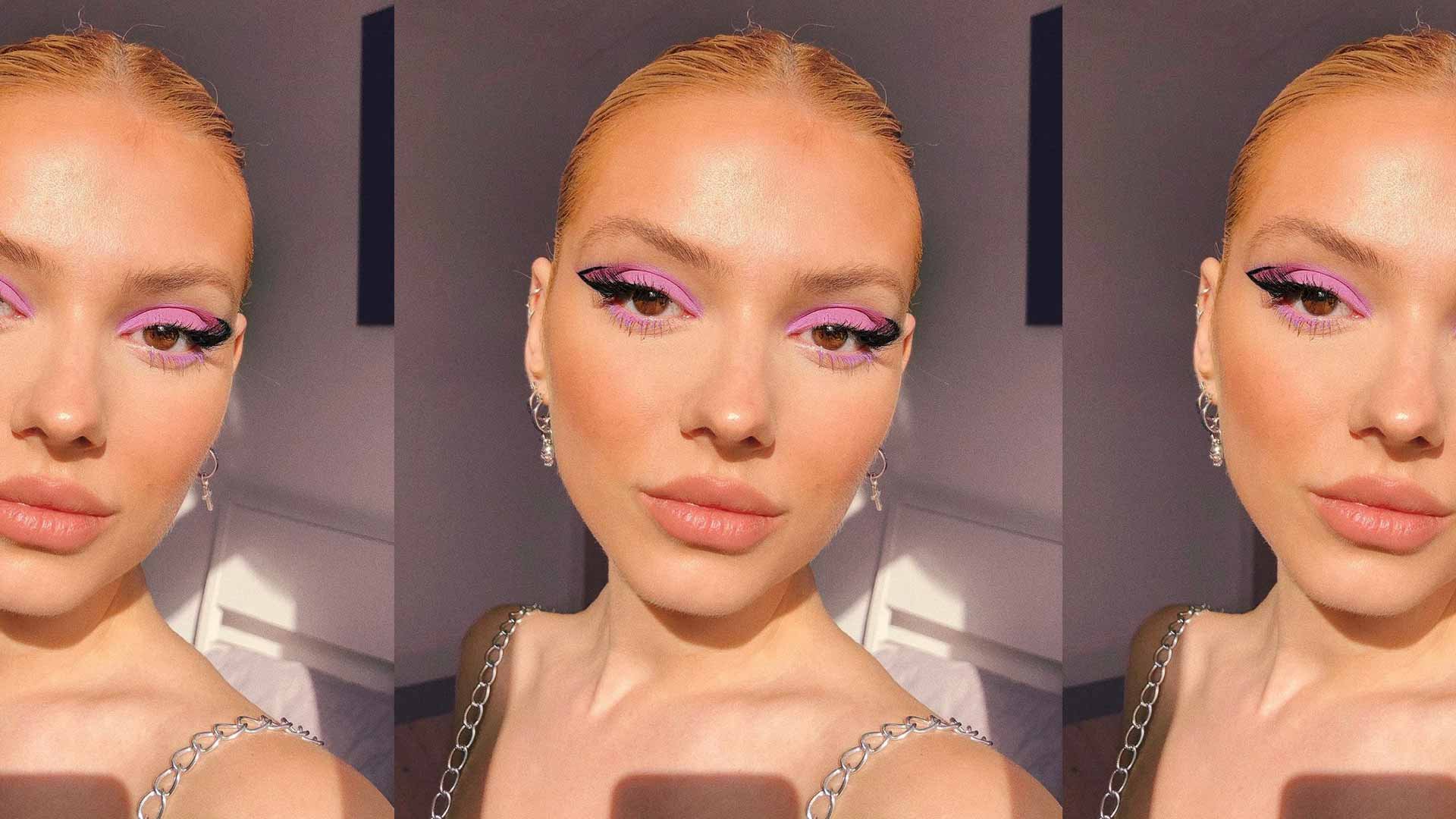 It's no secret that winged eyeliner is a great add-on to eye makeup looks. Seen on runways and red carpets alike (as well as all over our social media feeds), it's safe to say that classic winged eyeliner is a makeup look that's here to stay. And if you're looking for ways to jazz up your classic winged liner, there are many new takes you can try. Ready to be inspired? Keep reading to check out six different winged eyeliner looks and learn how to recreate them on yourself. Plus, we're also sharing tips for mastering the winged eyeliner technique since even at its most basic, it can be tricky.
Look #1: Graphic Winged Eyeliner
A great way to up the ante on a classic winged liner is to make it a bit more graphic. Reach for a bold, colorful shade from the L'Oréal Paris Infallible Pro-Last Waterproof, Up to 24HR Pencil Eyeliner line and draw a line starting from the inner corner near the lower lashline line, extending it up and across your cease, ending with a flicked-out wing at the out corner. Then, trace another line across your top lash line and connect it to the top wing. Finish up by swiping on a few coats of a colorful mascara, like the L'Oréal Paris Voluminous Original Washable Bold Eye Mascara, for an eye-catching look.
Editor's Tip: Winged eyeliner looks are all about creating a super-sleek line so you'll want to make sure your hand is steady while holding the eyeliner. Place your arm on a sturdy surface to help keep your hand steady and prevent any mishaps.
Look #2: Layered Winged Eyeliner
Jazz up your classic eyeliner routine by going for a double-winged eyeliner look. Use the L'Oréal Paris Matte Signature Liquid Dip Eyeliner, Waterproof, and draw on your normal winged liner. Follow up by using a different shade to trace along your first wing to create a second line. Swipe on a few coats of a volumizing mascara like the L'Oréal Paris Air Volume Mega Mascara, Lightweight Mega Volume Washable, and you've got a gorgeous double-winged look!
Editor's Tip: To create an identical set of perfectly framed wings, be sure to look straight ahead when applying your eyeliner. If you apply your eyeliner through half-closed lids, your lines are more likely to come out mismatched.
Look #3: Negative Space Winged Eyeliner
If you've been searching for the ultimate show-stopping eyeliner look, try this negative space winged eyeliner look. Grab the L'Oréal Paris Le Liner Signature Easy-Glide Mechanical Eyeliner, Waterproof, and trace along the top lashes, extending the line past the outer corners. Bring the line back to just before the crease without filling in the negative space. You can also line the inside of your bottom waterline to create a more defined eye makeup look.
Look #4: Dotted Winged Eyeliner
This all-too-easy liner look is the perfect way to add considerable style to an otherwise simple makeup look. The best part? You can customize it however you'd like. For this look, use the L'Oréal Paris Infallible The Super Slim Liquid Eyeliner and draw a line across your crease, ending with a flick at the outer corner. Then, draw another line to connect that flick to the bottom of your eyelid near the lash line. To complete the look, grab a different shade and paint on evenly spaced dots along the winged eyeliner. Make it extra fun and use glitter or makeup gems to create the dots.
Look #5: Reverse Cat Eye Winged Eyeliner
This reverse cat eye puts a gorgeous spin on a classic look that you'll most definitely want to add to your makeup repertoire. Reach for the L'Oréal Paris Infallible Pro-Last Waterproof, Up to 24HR Pencil Eyeliner, and trace a curved cat eye along your upper lash line. Next, create an inverted wing that extends from the outer corner and across your lower lash line, all the way towards the inner corner. Coat your top and bottom lashes with a few generous swipes of the L'Oréal Paris Air Volume Mega Mascara, Lightweight Mega Volume Washable, and you're all set!
Look #6: Two-Toned All-Over Winged Eyeliner
Maybe a basic black-winged liner style just isn't cutting it for you. If that's the case, it's time to get familiar with two-toned looks. Reach for two eyeliners in different colors or shades (like light and dark pink). Start by lining your entire crease in one shade and then line your lower lash line. Finish up by connecting both lines at the out corner of your eyes to create a flicked wing.
Editor's Tip: If you experience any accidents, like smudging your eyeliner or creating a wing that's too thick, there's no need to start over. Just grab a cotton swab and dip it into a little bit of the L'Oréal Paris Micellar Cleansing Water Complete Cleanser Waterproof - All Skin Types and gently massage it over the liner to remove any mistakes.
Photo Credit: Photo: Danielle Marcan, @daniellemarcan
{ "@context": "https://schema.org/", "@type": "WebPage", "speakable": { "@type": "SpeakableSpecification", "cssSelector": ["speakable-content"] }, "url": "https://www.lorealparisusa.com/beauty-magazine/makeup/eye-makeup/modern-takes-on-cat-eye" }
Discover more tips & tricks
Keep your skin happy
See all articles
Shop Featured products
Discover More
{ "@context": "http://schema.org", "@type": "BreadcrumbList", "itemListElement": [ { "@type":"ListItem", "position": 1, "item": { "@id": "/", "name": "Home" } } , { "@type":"ListItem", "position": 2, "item": { "@id": "https://www.lorealparisusa.com/beauty-magazine", "name": "Beauty Magazine" } } , { "@type":"ListItem", "position": 3, "item": { "@id": "https://www.lorealparisusa.com/beauty-magazine/makeup", "name": "Makeup Tips For Every Look" } } , { "@type":"ListItem", "position": 4, "item": { "@id": "https://www.lorealparisusa.com/beauty-magazine/makeup/eye-makeup", "name": "Eye Makeup" } } , { "@type":"ListItem", "position": 5, "item": { "@id": "https://www.lorealparisusa.com/beauty-magazine/makeup/eye-makeup/modern-takes-on-cat-eye", "name": "modern-takes-on-cat-eye" } } ] }