eye makeup
Festival Makeup Spotlight: How to Do Glitter Brows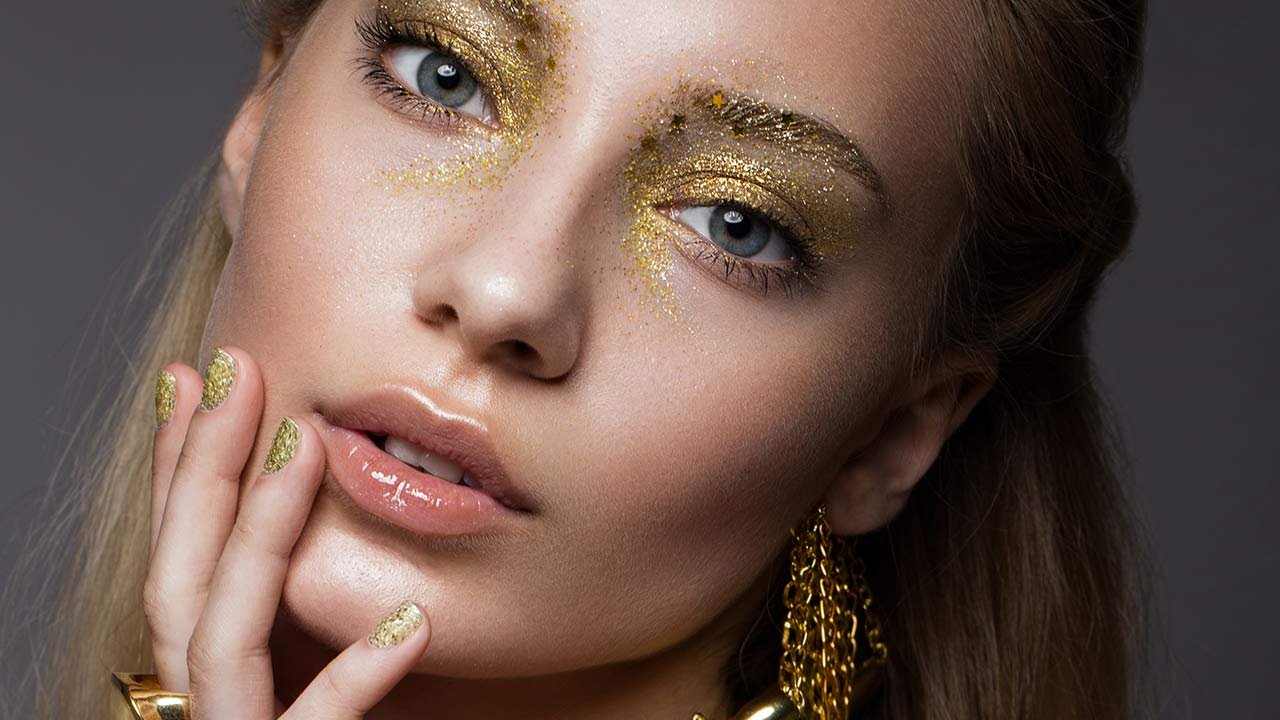 Glitter is just about everywhere: on shoes, handbags, dresses, lips, and eyelids—so, it's no wonder then that this sparkly fashion and beauty trend has worked its way up to brows. The look, which started popping up here and there on social media last spring, has become one of the most popular festival makeup trends for spring and summer 2019. As you probably know, brows can make or break your entire makeup look. So, whether your perfect idea of festival makeup is understated—if you can call any glitzy makeup look understated—glimmering glitter brows or ombré glitter brows, we've got you covered with two full tutorials below.
FESTIVAL MAKEUP IDEA #1: GLIMMERING GLITTER BROWS
If you want to get in on the glitter trend in a (nearly) work-friendly way, try this neutral glitter brow tutorial. In just the right light you'll shine like a star!
What you'll need:
Angled brush
Spoolie
Glitter base
Neutral loose glitter
Tissue
L'Oréal Paris Infallible Full Wear Concealer Waterproof, Full Coverage
Get the look by following these simple steps:
Step 1: Brush your brows into place
Depending on your desired brow shape, either smooth your brows out or rough them up a bit.
Step 2: Apply your glitter base
When applying the glitter glue (not the kind you use for crafts), you want to work in small sections so that it doesn't dry before you add your glitter.
Step 3: Apply glitter with your angled brush
Dip your brush into the neutral glitter of your choice (we love the way champagne and rose gold look) and press it onto your brows where you just placed the glue. You may want to hold a tissue beneath your brows to catch any loose flecks.
Step 4: Continue to glitter and glue
Like we said, you want to work in small sections all the way to the end of your brow so that the loose glitter will have the best chance of sticking in place.
Step 5: Repeat on the other side
Once you finish your first brow, complete the same process on the other one.
Step 6: Comb glitter for full coverage
While the glue is still tacky, use your spoolie to comb through for fully glimmering brows.
Step 7: Conceal your brows
Adding a little bit of concealer underneath your brows can help them look crisper. You can even line the tops of your brows to help make your glittery work of art stand out.
FESTIVAL MAKEUP IDEA #2: OMBRÉ GLITTER BROWS
Let's be real: Who doesn't love a little ombré action? What started out as a hair color trend has now made its way over to the makeup world—and we can't say we're mad about it.
What you'll need:
Angled brush
Spoolie
Glitter base (lash glue will do the trick!)
Light loose glitter
Medium loose glitter
Dark loose glitter
Tape
L'Oréal Paris True Match™ Super-Blendable Multi-Use Concealer
Get the look by following these simple steps:
Step 1: Brush brows into place
However you want them to look, use your spoolie to get the job done.
Step 2: Apply a thin layer of glue to the beginning of your brow
Work in sections because, as you know, the glue can dry quickly.
Step 3: Start by applying the lightest glitter
Start at the beginning of your brow and work about a third of the way inward. Remember to apply light layers of glitter because if you apply too thickly, you'll be left with lots of fallout.
Step 4: Keep working down your brow
Once you reach a third of the way in, switch to your medium shade of glitter. You'll want to apply this glitter to the middle of your brow and overlap it slightly with your first glitter to help the two blend together seamlessly.
Step 5: Use your darkest glitter
Next, it's time for your darkest glitter. Apply this shade to the end of your brow and make sure to overlap the medium and dark glitters where they meet.
Step 6: Fill in any spots without glitter
If you notice any barren spots, add a touch more glue and a bit more glitter to achieve the sparkly brows of your dreams.
Step 7: Clean off any glitter that isn't where it should be
You don't need stray specks of glitter all over your face. If there's glitter anywhere you don't want it, use a piece of regular old adhesive tape to pick it up.
Step 8: Conceal your brows to create crisp, clean lines
You know the drill: Grab your go-to concealer and blend it out above and below your brows.
Now that you know two ways to get a glitter eyebrow makeup look, you may be wondering how to remove it when all is said and done. Here's How to Remove Glitter Eye Makeup.
Discover more tips & tricks
Keep your skin happy
See all articles
Shop Featured Makeup products
Discover More