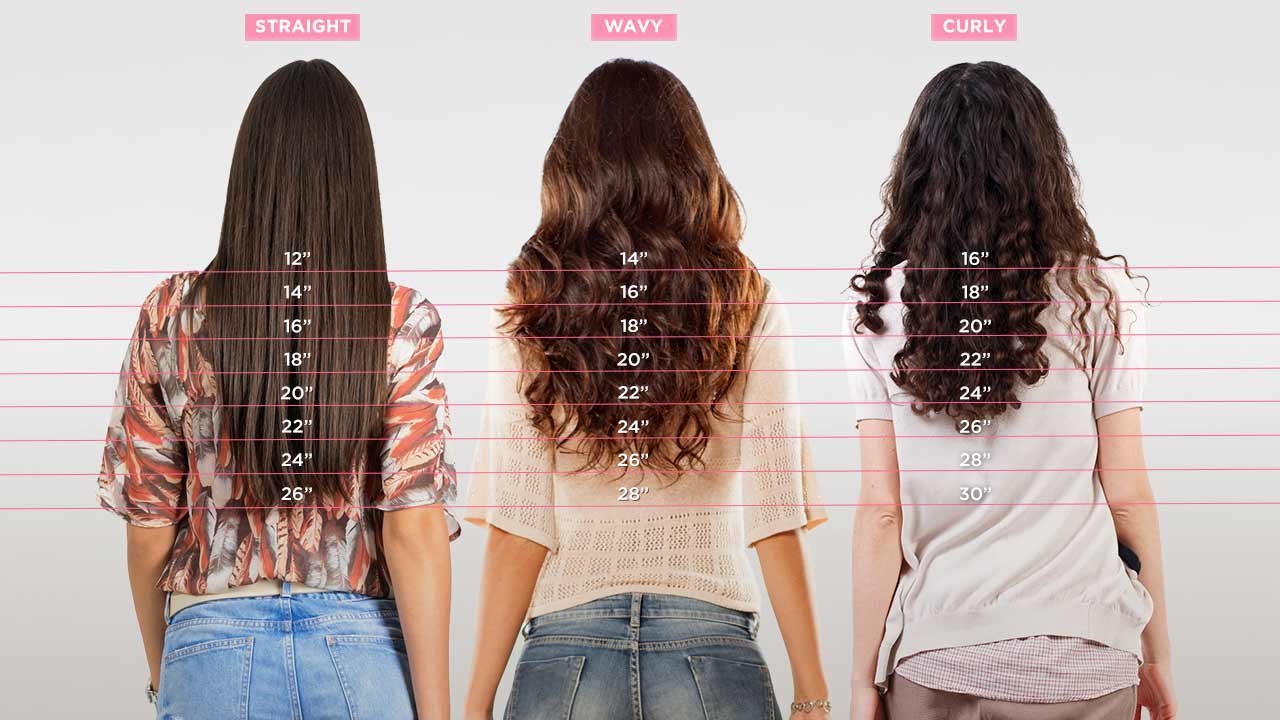 long hairstyles
Our Hair Length Chart: Understanding Hair Length and Type
It's safe to say that we've all had a moment where we've dreamed of long, luscious, princess locks. And while you may have looked into every tip and trick for growing your hair faster, the truth is growing your hair out is easier said than done—especially when you take your hair type into consideration. Yes, your hair type plays a huge role in your hair length—or at least how long it appears to be. Want to learn more? Keep reading for the details on our hair length chart so you can understand everything there is to know about hair length and type.
UNDERSTANDING HAIR LENGTH AND TYPE
Let's dive right into it: like we mentioned above, your hair type directly influences how long your hair appears. There's simple logic behind this—think of a long piece of ribbon. If you hold that ribbon straight, you'll easily see its length in its entirety. However, if you roll, ball, or fold that same ribbon, it'll appear shorter, even though the actual length of the ribbon hasn't changed. The same concept can be applied to your hair.
If you have straight hair…your hair will appear its actual length. This is because there are no kinks or bends in your mane, resulting in strands that hang long. For example, if you have 12 inches of length, your hair will likely fall just past your shoulders.
If you have wavy hair…your hair may appear a tad shorter than it actually is. This is because you have a bit of a bend to your hair texture. So, if you have 12 inches of length, you'll generally have a shoulder-length mane.
If you have curly hair…your hair will appear an inch or two shorter than it actually is since you have tighter kinks and coils throughout your mane. This means if you have 12 inches of length, your hair will fall about an inch or two above your shoulders.
HOW TO USE A HAIR LENGTH CHART
Our hair length chart displays what we explained above in an easy to understand visual. You can utilize a hair length chart to get an idea of how a certain hair length will look with your hair texture. This way, when you get a haircut and say you want a certain number of inches cut, you'll have a better idea of what that will actually look like. No more bad haircut surprises!
Editor's note: When else can knowing your hair length be important? If you want to donate your hair, you'll need to know your length then, too! Most charities through which you can donate have a specific hair donation length. This is commonly between eight and 14 inches but may vary.
3 QUESTIONS TO ASK YOURSELF BEFORE CUTTING YOUR HAIR
Now that you know more about hair length and type and using a hair length chart, you're more prepared to make the chop. With that said, getting a good cut goes beyond understanding your length. To really prep before your next haircut, ask yourself the following three questions.
QUESTION #1: HAVE YOU TESTED OUT THE LENGTH?
While a trendy lob may seem like the perfect way to switch up your beauty look, it's important to know what to expect. Have you rocked the haircut before or have you ever had your hair a similar length? If not, consider trying on a wig or using a hair changing app to see what you really think of that length before you head to the salon.
QUESTION #2: WHAT IS YOUR HAIR TEXTURE?
By now you know that your texture plays a role in how long your mane appears, so you likely realize that not all haircuts and hairstyles are suited to every hair type. For example, if you have curly hair, the style that looks best on your friend with wavy strands may not work for you. Instead of simply following what's trendy or what your friends are doing, try one of The 21 Best Haircuts for Curly Hair.
QUESTION #3: WHAT'S YOUR FACE SHAPE?
Your hair type isn't the only important thing to keep in mind when considering a chop—your face shape also plays a role! Certain haircuts are more flattering on round faces than square faces, and so on. Curious as to what your haircut match is? Here are The Best Haircuts for Every Face Shape.
WHAT TO KNOW BEFORE BUYING HAIR EXTENSIONS
So, what about adding length to your mane? Well, when it comes to hair extensions, the same rule of thumb about hair length and type applies. This means those 24-inch curly hair extensions you're thinking about purchasing will likely look a few inches shorter than they are. Keep that in mind during your quest for long hair!
Editor's note: Still curious about adding hair extensions to your mane? Head over to our article, 5 Tips for Styling Hair Extensions, for some styling tips and tricks.
Speaking of long hair, here are 30 Pretty Hairstyles and Haircuts for Long Hair.
Discover more tips & tricks
Keep your skin happy
See all articles
Improve your routine
Show your new look more love:
makeup