hair color tutorials
Halloween Hair: How to Get a Candy Corn-Inspired Color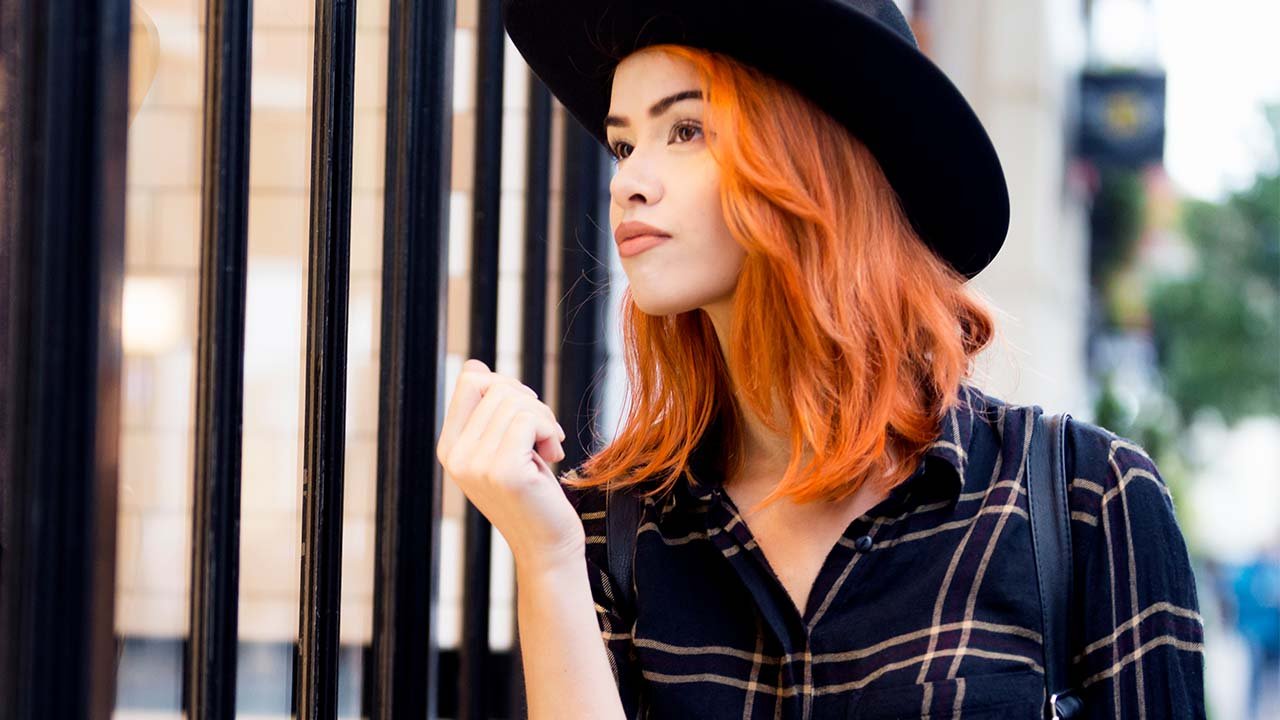 Dyeing your hair to look like your favorite candies isn't exactly a new hair color trend, but it's never been better suited to a season than it is to fall. Think about it. Fall means Halloween, and Halloween means candy. Can't argue with that. More specifically, it's practically impossible to get through autumn without consuming at least a few handfuls of candy corn. To satisfy your sweet tooth, turn your tresses into a beautiful ombré that looks just like the yellow, orange, and white candy that's so popular for Halloween. Keep reading to learn how to get—and take care of—a candy corn-inspired hair color.
STEP 1: PREPARE INSPIRATION PICTURES
When you say candy corn, it would be hard for anyone to not know precisely what you want, but it never hurts to provide visuals as inspiration. Besides showing up to your appointment (or the hair color aisle at your local beauty store) with a bag of the sweet treats inspiring your dye job, look for pictures that match the mane you have in mind. When you know how you want your color to look, it's time to move onto the next step.
STEP 2: DECIDE TO DIY OR SEEK OUT A COLORIST
Before you color your hair, it's important to decide how you're going to achieve your new shade—or shades, in this case. You may want to do it totally DIY, but for some, it'll be better to make a trip to a salon. If you're starting with strands that are very dark, it's best to put your hair in the hands of a coloring pro. A trained colorist should be better equipped to help you achieve the exact candy corn colors you want while minimizing damage since this look will require bleaching. Plus, candy corn hair features multiple shades and a pro colorist will be able to expertly place the hues to create a custom look that's unique to you.
For those who want to change their shade completely solo, try using the L'Oréal Paris Colorista Bleach and orange, peach, and yellow semi-permanent hair dyes. If you have blonde, bleached, or highlighted hair, you can skip the bleach and move directly to the color.
STEP 3: SWITCH TO A SYSTEM OF HAIR CARE PRODUCTS FORMULATED FOR COLOR-TREATED HAIR
After you've dyed your hair, it's a good idea to swap out your regular shampoo and conditioner for ones that are safe for color-treated hair, as your hair will now have different needs. Take care of your candy corn color with the L'Oréal Paris EverPure Repair & Defend Shampoo, L'Oréal Paris Hair EverPure Repair and Defend Conditioner, and L'Oréal Paris EverPure Repair Remedy Balm. Once or twice a week, swap out the conditioner for the hair mask.
Bonus tip: Turn down the dial in the shower, as hot water can strip your strands of essential oils, which can make it feel drier and look duller.
STEP 4: TRY AIR DRIED HAIRSTYLES
This Halloween season, embrace your hair's natural texture by styling it sans heat. When your hair is damp, apply the L'Oréal Paris Advanced Hairstyle AIR DRY IT Wave Swept Spray, then let your hair air dry to create definition and shape. You can also apply a dime-sized amount of the L'Oréal Paris Studio Line Overworked Hair Putty to dry hair for a messy, carefree style.
STEP 5: TOUCH UP YOUR COLOR
Candy corn-inspired hair isn't exactly the most low-maintenance hair color out there. Once your roots start to show, you'll need to touch up your color if you'd like to rock this shade after Halloween ends. Book an appointment with your colorist in advance—or keep your bathroom stocked with dye—so that you can ensure your candy corn hair color looks fresh. If you'd rather move along to rocking a different shade in November, read our article, Your Guide to Hair Color Removal.
Candy corn hair isn't the only rainbow hair color we're loving these days. For more inspiration, check out our articles on some of the most popular hair colors of the moment, including What's the Deal with Denim Hair? Here's How to Get the Look, How to Get Unicorn Hair, and How to Get a Mermaid Hair Color.
Discover more tips & tricks
Keep your skin happy
See all articles
Shop Featured Hair Color products
Discover More