hair color trends
Delicious Hair Color? Red Velvet Hair Is Exactly That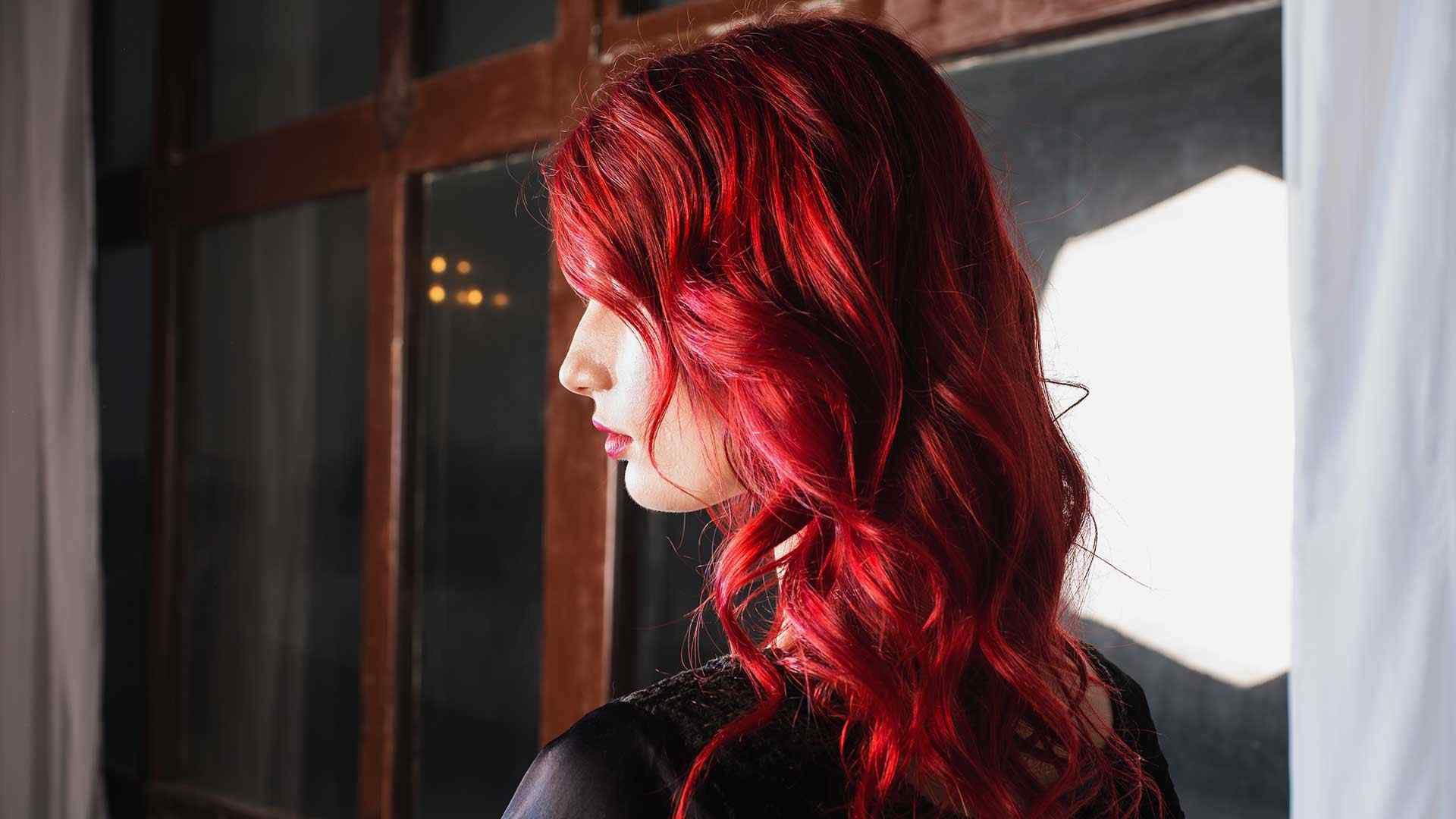 Satisfying your sweet tooth with a slice of cake can be the perfect snack break. And if you fancy a dessert that's as decadent as it is delightful, red velvet cake may be one of your favorites. Not only is it rich and delicious, but it's also equally pleasing to the eye. So, it's no surprise that red velvet hair has become one of the most popular hair color trends. After all, food-inspired hair color is always a style win. Red velvet hair is a new-fashioned take on auburn hair that gives your mane a warm feel with the right amount of dimension. If you're game to revamp your beauty look with a trendy hue, you've come to the right place. Keep reading to learn everything you need to know about bringing a red velvet hair transformation to life.
WHAT IS RED VELVET HAIR?
As the name suggests, red velvet hair is all about flaunting a vibrant red hue. However, this hair color offers a bit more than the daring bright shade you may be used to. Red velvet hair color boasts a gorgeous blend of red, violet, burgundy, and maroon tones that come together for the ultimate level of dimension. This dessert-inspired shade has become a hot commodity because you can customize it to suit warm or cool undertones. In other words, it's a universal pick that everyone can rock.
HOW TO GET RED VELVET HAIR COLOR?
If you're down for a red velvet hair makeover, there are plenty of ways you can achieve the shade. As we mentioned, red velvet hair can be customized to complement your skin tone. This is where a colorist can come in and work some magic. You both will be able to decide which shade suits your style and the look you're going for. Plus, if you're starting with a dark base color, you may need to add hair bleach into the equation to bring your desired hue to life. A colorist can make it happen without the fuss.
You can also get the ball rolling with a DIY hair coloring session. All you need is the right at-home hair coloring kit to transform your strands. Pick your potion below.
For those who want a temporary red velvet hair color…try the L'Oréal Paris Colorista Hair Makeup Temporary 1-Day Hair Color Spray in Red. This option washes out in one shampoo, so you don't have to worry about a full commitment.
To get a semi-permanent red velvet hair color...try the L'Oréal Paris Colorista Semi-Permanent Hair Color in Bright Red or Burgundy if you want to experiment with the shade for a bit longer.
If you want a permanent red velvet hair color…try the L'Oréal Paris Féria in Power Reds - Deep Auburn/Red Velvet or Power Reds - Medium Auburn/Cherry Crush.
HOW TO CARE FOR RED VELVET HAIR
Congratulations on your new red velvet hair! We bet it looks stunning on you. Now that you're working with dessert-colored strands, it's essential to keep your 'do in mint condition. Here are a few hair-care tips to help you stay ahead of the game.
TIP #1: USE A COLOR-SAFE HAIR SYSTEM
First and foremost, you'll need to kick things off by revamping your hair regimen. Swap out your go-tos for a system that is safe for color-treated hair. Try the L'Oréal Paris Elvive Color Vibrancy Protecting Shampoo and L'Oréal Paris Elvive Color Vibrancy Protecting Conditioner to keep your red velvet hair color shiny and radiant.
Once or twice a week, use the L'Oréal Paris Elvive Color Vibrancy Repair and Protect Balm in place of the conditioner for extra hydration. Leave the hair mask on for three to five minutes after shampooing, then rinse out.
TIP #2: LEAVE HOT WATER BEHIND
You may have made it a habit to wash your strands with hot water, but it's not the best temperature for your red velvet hair. Super-hot H2O is known to strip the natural oils from your hair, which can leave you with dry, dull-looking strands. Always turn down the dial to keep your newly colored mane in shape.
TIP #3: SKIP THE HEAT
Heat-styling tools come in handy to style your locks, but that doesn't mean that they have to be a permanent fixture in your routine. Consistent heat usage can cause damage to your strands, and therefore lead to your color fading. Switch things up and opt for heat-free styling products to show your mane some extra love. Apply a generous amount of the L'Oréal Paris Advanced Hairstyle CURVE IT Elastic Curl Mousse to damp hair, scrunch, and let dry. Once complete, you can enjoy soft and bouncy curls.
However, if you do decide to rely on your hot tools from time to time, you'll need to use a heat protectant to help shield your strands. Spritz on the L'Oréal Paris Advanced Hairstyle SLEEK IT Iron Straight Heatspray before applying heat. This offering provides up to 450-degree heat protection, calms frizz, and seals in shine.
TIP #4: MAKE TOUCH-UPS YOUR BFF
No matter how diligent you are with taking care of your red velvet hair color, it will eventually fade. Be sure to book an appointment with your hairdresser or pick up a few boxes of your decadent red hair color to help your strands look as good as new.
You can also give your mane a quick fix if you can't make it to the salon. Grab a root cover-up spray like the L'Oréal Paris Magic Root Cover Up in Red. Spray it directly onto regrowth and lightly through the rest of your hair to blend in the color.
Discover more tips & tricks
Keep your skin happy
See all articles
Shop Featured Hair Care products
Discover More