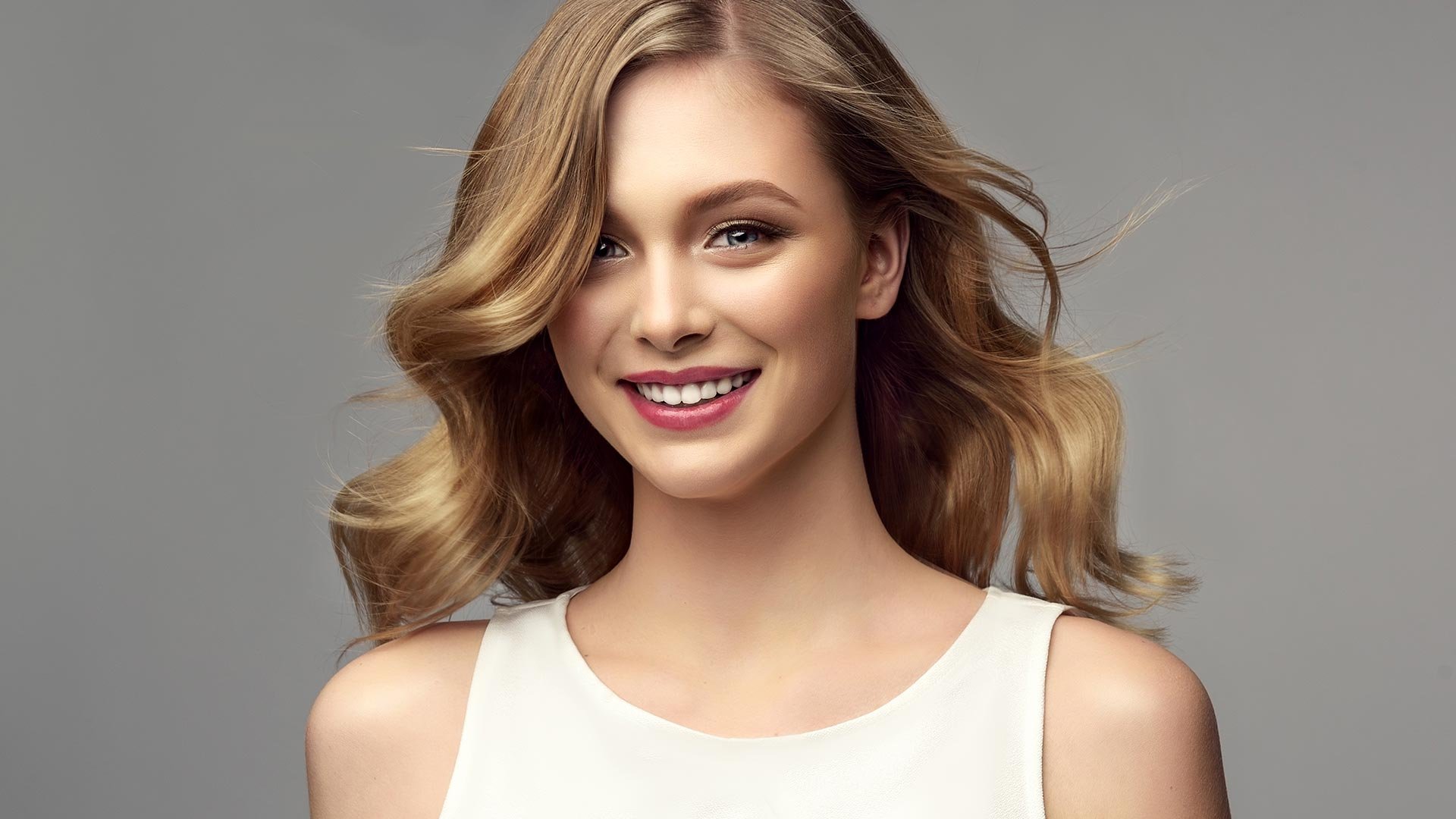 hair color trends
Brownish-Blonde Hair Is The Mane Makeover That Will Turn Heads
As the chilly season approaches, you may be looking for a way to shake things up in the beauty department and a new hair color is the perfect place to start. While you may be obsessed with bright, sun-kissed strands when it's beach season, revamp your look with brownish-blonde hair color this fall. This brunette-meets-blonde option is a fabulous pick that allows you to go deeper in tone while maintaining a tinge of lightness. Not to mention, A-listers and beauty gurus alike are totally smitten with the trend.
If you're game to give your mane a multi-colored makeover, you've come to the right place. Follow along as we give you the full scoop on brownish-blonde hair color, as well as hair-care tips to keep your hue looking radiant.
WHAT IS BROWNISH-BLONDE HAIR?
As the name suggests, brownish-blonde hair color is a combination of brunette and blonde tones. While brownish-blonde hair is similar to the bronde trend, this hair color incorporates more brown hues into the mix. The result is a darker look that's full of contrast and dimension. Since these classic hair colors can create everything from warm tones to cool shades, the sky's the limit for your locks. Basically, it's an ideal pick for anyone that loves the idea of rich and vibrant hair color.
HOW TO GET A BROWNISH-BLONDE HAIR COLOR
If you're new to the hair color world and want to see what brownish-blonde hair is all about, we recommend booking an appointment at the salon. As we mentioned, there are many variations to this hair color, and a colorist can help you decide on the right hue for you. Plus, if you decide that you want to incorporate highlights into the mix, it can take a bit of skill to achieve. So, be sure to bring a few inspiration photos along with you for reference.
On the other hand, if you love the idea of DIY hair color, you can take matters into your own hands. Grab a box of the L'Oréal Paris Excellence Créme Permanent Triple Protection Hair Color in Neutral Dark Blonde, Dark Beige Blonde, or Dark Golden Blonde to bring your look to life. Keep in mind, if you're starting with a dark base, you may need to use hair bleach to lighten your strands to achieve a beautiful brownish-blonde hue.
11 BROWNISH-BLONDE HAIR COLOR IDEAS YOU SHOULD TRY
Now that you're more educated on brownish-blonde hair color, it's time to find your match. Below, we're sharing 11 of our favorite brownish-blonde hair color ideas to spice up your strands.
#1. MUSHROOM BLONDE HAIR
Why we love it: Mushroom blonde hair offers an ashy mix of brunette and blonde tones that emulate the look of the tasty dish. It's a chic way to add a cool touch to your look without the drama.
How to get the look: Click through to our article, We've Found Your Next Hair Color and It's Mushroom Blonde, for all the details.
#2. DARK BROWN HAIR WITH BLONDE HIGHLIGHTS
Why we love it: You can count on dark brown hair with blonde highlights to give your locks warmth and contrast. It's ideal for anyone that loves a sun-kissed look.
How to get the look: Visit our article, How To Get Dark Brown Hair With Blonde Highlights, to spruce up your 'do.
#3. BLONDE ROAST HAIR
Why we love it: Blonde roast hair is a coffee-inspired trend that leaves you with a cool-toned masterpiece. Since brown and blonde shades are expertly weaved throughout the length of your hair, you'll be able to flaunt locks with a natural-looking dimension.
How to get the look: Check out our article, Warm Up With a Blonde Roast Hair Color This Winter, to get the full scoop.
#4. DARK BLONDE BALAYAGE
Why we love it: Low maintenance hair color is easy to manage, and dark blonde balayage is no exception. This highlighting technique is all about painting specific areas throughout your mane to highlight your features.
How to get the look: The balayage technique is one that should be left to your colorist, as it is an art.
#5. DARK BLONDE OMBRÈ ON BROWN HAIR
Why we love it: This variation is another way to explore brownish-blonde hair color without the fuss. We love that this pick allows you to transition from dark to light hues for a gorgeous blend of color.
How to DIY the look: All you need is a box of the L'Oréal Paris Colorista Bleach in Ombre Bleach to lighten your strands so you can get the look at home.
#6. DARK BRONDE
Why we love it: You can play it safe by sticking to the classics. This hair color features a mix of brown and dark blonde hues that can be customized to complement your undertones perfectly.
How to get the look: It's best suited for a colorist to handle since it involves blending brown and blonde shades to complement your skin tone.
#7. DARK BLONDE SOMBRÈ
Why we love it: It's a soft and subtle hue that starts with dark brownish-blonde roots and switches to lighter ends for the ultimate two-toned look. We also dig that you can test the waters before experimenting with a bold ombré spin.
How to get the look: Take some inspiration photos with you and consult with a colorist.
#8. CHESTNUT BROWN HAIR WITH DARK BLONDE HIGHLIGHTS
Why we love it: This combination allows you to add extra oomph to your natural hue for a head-turning look. You can flirt with depth and dimension without leaving your starting base color behind.
How to get the look: Highlights are all about bleaching sections of your hair, so it'll be wise to book an appointment with a professional colorist.
#9. DIRTY BLONDE
Why we love it: It's a brown-meets-blonde hue that typically looks amazing on all skin tones. We also love that it's low maintenance and a perfect match for natural brunettes and blondes.
How to get the look: For inspiration, check out our article, 15 Dirty Blonde Hair Color Ideas You'll Love.
#10. CHOCOLATE CHIP COOKIE HAIR
Why we love it: Not only does this color remind us of the delicious snack, it offers a gorgeous gradual shift of brown hues to blonde, golden tones.
How to get the look: Since this hair color involves a mix of brunette and golden blonde shades, it's best to head to the salon.
#11. TOASTED COCONUT HAIR
Why we love it: A toasted coconut hair color is just what you need to rock a gradient of pretty hues. It provides your mane with dark roots that blend into a lighter tone for the ultimate level of depth and dimension.
How to get the look: Learn how to get this trendy color by reading our article, How To Get Toasted Coconut Hair.
HOW TO TAKE CARE OF BROWNISH-BLONDE HAIR
Now that you're working with brownish-blonde hair color, you'll have to put in some extra work to keep your newly colored mane in shape. The key is to follow the right hair-care and styling tips, so your locks can look and feel their best. Try the four tips below in your hair-care routine.
TIP #1: REACH FOR A COLOR-TREATED HAIR-CARE SYSTEM
It's time to bid your go-to shampoo, conditioner, and hair mask farewell. You'll need to reach for a hair-care system that's formulated with color-treated hair in mind. Try the L'Oréal Paris Elvive Color Vibrancy Protecting Shampoo, L'Oréal Paris Elvive Color Vibrancy Protecting Conditioner, and L'Oréal Paris Elvive Color Vibrancy Repair and Protect Balm. This trio keeps your strands shiny while protecting and shielding your hair color from fading. Be sure to swap the hair mask for your conditioner once or twice a week for extra TLC.
TIP #2: WASH WITH LUKEWARM WATER
Showering with hot water feels amazing on your skin, but it's not the best option for your brownish-blonde hair. Simply put, super-hot H2O strips the natural oils from your hair, leaving you with dry and dull locks. Therefore, you should always make sure to rinse with lukewarm water for healthy-looking strands.
TIP #3: PUT YOUR NATURAL TEXTURE ON FULL DISPLAY
Instead of reaching for your heat-styling tools, let heat-free styling products take the lead. Not only is this a smart way to give your strands a break from the heat, but you'll also be able to show off your gorgeous texture. Apply a generous amount of the L'Oréal Paris Advanced Hairstyle CURVE IT Elastic Curl Mousse to your strands, scrunch, and let it air dry. Once complete, you'll have soft and bouncy curls to play with.
TIP #4: ALWAYS USE HEAT PROTECTANT
We understand that some hairstyles call for hot tools, but you still need to protect your strands. Spritz on a heat protectant, like the L'Oréal Paris Advanced Hairstyle SLEEK IT Iron Straight Heatspray, before using your heat tools. This beauty staple provides up to 450-degree heat protection, seals in shine, and calms frizz.
Discover more tips & tricks
Keep your skin happy
See all articles
Shop Featured Hair Care products
Discover More