hair color application
Is It Safe to Dye Your Hair While Pregnant?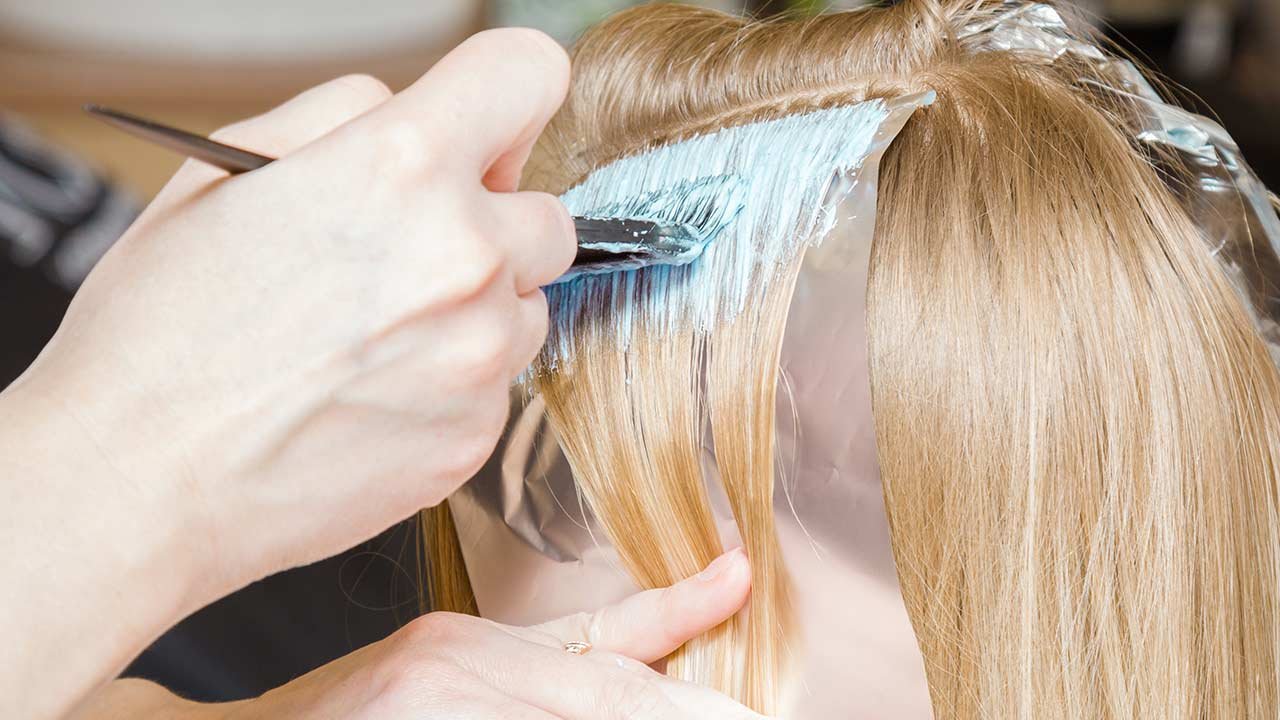 Between baby shower beauty looks and pregnancy skin care routines, there are a handful of modifications that need to be made to your beauty routine when you have a little bundle of joy on the way. Aside from the aforementioned, your hair—and more specifically, your hair color—routine may need some sharpening up. Dyeing your hair while pregnant is a common concern many moms-to-be face, and we're here to help. So, is it safe to dye your hair while pregnant? Keep reading to find out.
IS IT SAFE TO DYE YOUR HAIR WHILE PREGNANT?
According to the Mayo Clinic, your skin only absorbs a limited amount of hair dye and other hair grooming and styling products, with these chemicals generally not posing a threat to a developing baby. That being said, infected or irritated skin can lead to more chemicals being absorbed as well as if there's a break in the skin. Still, more research needs to be done to conclude that there are no adverse effects caused by coloring hair during pregnancy, making it important to take precautions. Below, we've provided some helpful tips to keep in mind if you choose to dye your hair while pregnant.
Pregnancy Hair Dye Tip #1: Follow directions. It's important to follow on-pack directions whenever you decide to color your hair at home, but even more so when pregnant. Pay special attention to how the product should be applied—and how long. Leave your hair dye on only as long as stipulated to err on the side of caution and be sure to apply the hair dye in a well-ventilated area.
Pregnancy Hair Dye Tip #2: Cover up. When applying hair dye, pop on a pair of gloves. This is true whether you're getting your hair done at home or if you're a hairdresser coloring a client's hair while pregnant, according to a study from the National Center for Biotechnology Information (NCBI), as wearing gloves helps protect your skin from absorbing the product.
Pregnancy Hair Dye Tip #3: Rinse thoroughly. After using hair dye, make sure to rinse your strands and scalp thoroughly to avoid any residue being left behind.
Pregnancy Hair Dye Tip #4: Limit your coloring sessions. Whether you have grown out roots or notice your strands getting a little brassy, it's best to minimize the number of times you dye your strands during pregnancy. The NCBI study found that receiving hair treatments three to four times during pregnancy does not appear to increase the risk of adverse effects on the fetus for the average pregnant woman.
Pregnancy Hair Dye Tip #5: Cut back your hours. Is hairdressing your profession? An NCBI study suggests hairdressers work for less than 35 hours per week to minimize prolonged exposure to hair dyes, in addition to following the previously mentioned tips.
Editor's note: If you have any pregnancy- or health-related concerns, it's always best to consult your doctor.
5 WAYS TO GO LONGER BETWEEN COLORING SESSIONS
If you've decided to forgo coloring your hair while pregnant, it may still be tempting to touch-up your roots when they start to show. Thankfully, there are alternatives for hiding bad roots that don't require coloring your hair. We've compiled a list of our top tips for expanding the time between coloring sessions.
Tip #1: Use temporary root touch-up. Notice your roots growing in? Don't sweat it! To extend how long you can go between appointments, turn to a temporary root touch-up spray. This can be applied directly to your roots, sitting on top of your strands without penetration (just as makeup sits on your face) and washes out in just one shampoo.
Tip #2: Or temporary hair color. Temporary hair color can also be used to prolong coloring sessions. Washing out in just one shampoo, consider using hair makeup or a hair color spray to do the job.
Tip #3: Try a new part. Currently rocking a middle part? While we love the look, swap your symmetrical 'do for a deep side part, which will help disguise grown-out roots in a pinch!
Tip #4: Put your hair up. Aside from your part, your hairstyle can also help camouflage hair in need of a touch up. More specifically, an updo or ponytail will be best for doing so.
Tip #5: Turn to accessories. For a super quick fix, pop on a hat or hair accessory (did we mention headbands are seriously in at the moment?) to put off a hair coloring session. It doesn't get easier than that!
Next up: Let's talk hair post-pregnancy. Head over to our article, This is How to Handle Postpartum Hair Loss.
Discover more tips & tricks
Keep your skin happy
See all articles
Improve your routine
Show your new look more love:
makeup