hairstyle trends
Step Up Your Hair Game With The Step Cutting Technique
October 16, 2020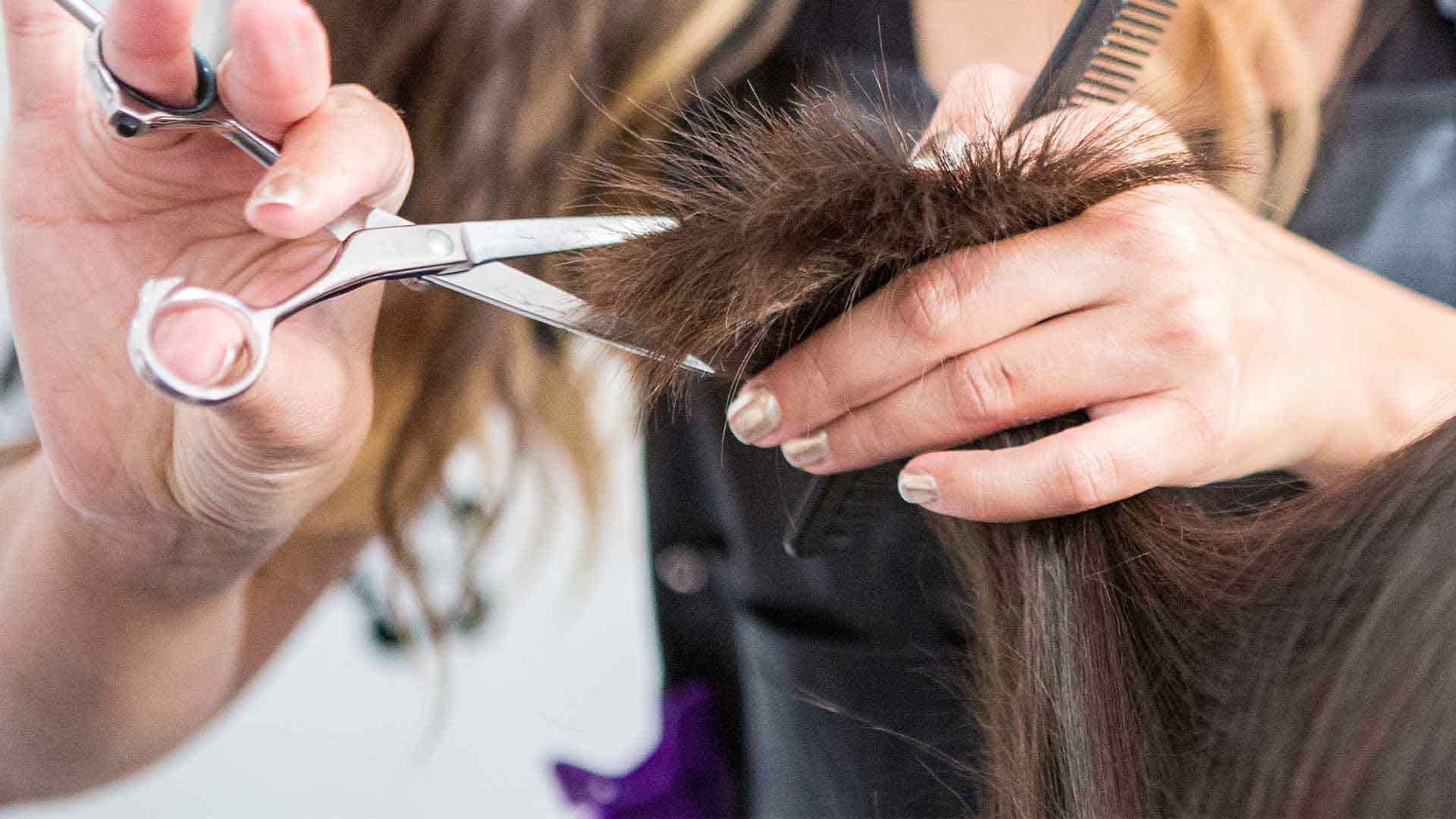 Let's be real, chances are, you aren't a haircut pro. We mean, that's why you go to the salon. And while you may not know the in's and outs of how to cut your hair, doing your share of research before booking your next chop is never a bad idea. That said, if you're here, you may have come across the technique known as step cutting in your research and wanted to know more. While bangs and layers are commonly-known haircut terms, we don't blame you if you're a bit clueless when it comes to the step cut. Fortunately for you, that's where we come in. Ahead, we share all the details on the step haircut so you can determine if it's a technique worth asking for at your next hair appointment.
What Is Step Cutting?
We're sure you're wondering what exactly step cutting is. This haircutting technique is all about creating body, bounce, and movement throughout your mane. Essentially, your hairdresser will be cutting your hair to create the illusion of cascading steps. It's the perfect way to totally revamp your mane, which is probably why the step cut, sometimes called a graduated cut, has become one of the hottest haircutting options at the moment. While we don't advise cutting your own hair, knowing the process behind your chosen haircut is always a smart idea. This technique involves leaving space between each layer rather than having a series of continuous layers, allowing each length to stand out.
Which Is Better: A Step Cut Or Traditional Layered Cut?
While neither option is better, there are a few factors that can help you determine whether a step haircut or a continuously layered cut is the best choice for you. Here are three to take note of.
Factor #1. The style of movement you want. Both standard layers and step cuts are known for creating movement throughout your hair, but the two do so in different ways. Traditional layers blend seamlessly into your mane, creating subtler dimension. On the other hand, step cutting creates a precise, defined separation between each layer—or step. This means that these layers will stand out.
Factor #2. The type of hair that you have. If you're wondering if a step cut is good for thin hair, we have good news. Like we mentioned earlier, step cutting can add volume and bounce to your mane. Because of the space between each layer, it's a great option for giving thin hair a denser appearance. As for those with curly hair, a step cut is also a pretty option. Due to the technique, the cut helps to emphasize your curly texture.
Factor #3. Your hairstyle preferences. We'll dive a bit deeper into this in a minute, but if you find yourself constantly weaving your hair into braids and updos, a step cut may not be the best option for you. With so many layers, it can be easy to have pieces of hair fall out and end up astray. That said, if you love wearing your hair down, rocking a voluminous ponytail, or playing with half-up hairstyles, a step cut will add beautiful, cascading body to your 'do.
How To Style a Step Cut
There are so many gorgeous hairstyles to rock with a step haircut, but one quick Google search will give you a hint at the most popular option: voluminous curls. After all, we can't imagine a better match for a haircut that's full of volume and bounce. Fortunately, styling your strands is easy. Here's what to do.
Step #1. Prep Your Strands
Before you reach for any heat-styling tools, make sure to prep your strands with heat protectant. Spritz the L'Oréal Paris Advanced Hairstyle BLOW DRY IT Quick Dry Primer Spray throughout your mane to do just that.
Step #2. Curl Your Hair
Next, reach for a wide-barrel curling iron to create large, loose curls throughout your hair. After you've curled your locks, use your fingers to comb through your strands and loosen the look up a little.
Step #3. Seal The Deal
To keep your cascading, voluminous curls intact (and add even more volume into the mix), mist our L'Oréal Paris Elnett Satin Hairspray Extra Strong Hold Volume over your mane. So pretty!
Next up: Speaking of haircuts, find the answer to a popular cut query in our article, How Often Should You Cut Your Hair?
{ "@context": "https://schema.org/", "@type": "WebPage", "speakable": { "@type": "SpeakableSpecification", "cssSelector": ["speakable-content"] }, "url": "https://www.lorealparisusa.com/beauty-magazine/hair-style/hairstyle-trends/step-cutting-for-layered-hair" }
Discover more tips & tricks
Keep your skin happy
See all articles
Shop Featured Hair Style products
Discover More
{ "@context": "http://schema.org", "@type": "BreadcrumbList", "itemListElement": [ { "@type":"ListItem", "position": 1, "item": { "@id": "/", "name": "Home" } } , { "@type":"ListItem", "position": 2, "item": { "@id": "https://www.lorealparisusa.com/beauty-magazine", "name": "Beauty Magazine" } } , { "@type":"ListItem", "position": 3, "item": { "@id": "https://www.lorealparisusa.com/beauty-magazine/hair-style", "name": "Find Your Next Hot Look" } } , { "@type":"ListItem", "position": 4, "item": { "@id": "https://www.lorealparisusa.com/beauty-magazine/hair-style/hairstyle-trends", "name": "Hairstyle Trends" } } , { "@type":"ListItem", "position": 5, "item": { "@id": "https://www.lorealparisusa.com/beauty-magazine/hair-style/hairstyle-trends/step-cutting-for-layered-hair", "name": "step-cutting-for-layered-hair" } } ] }