all hair types
4 Volumizing Hair Products to Bring Flat Hair Back to Life
January 19, 2021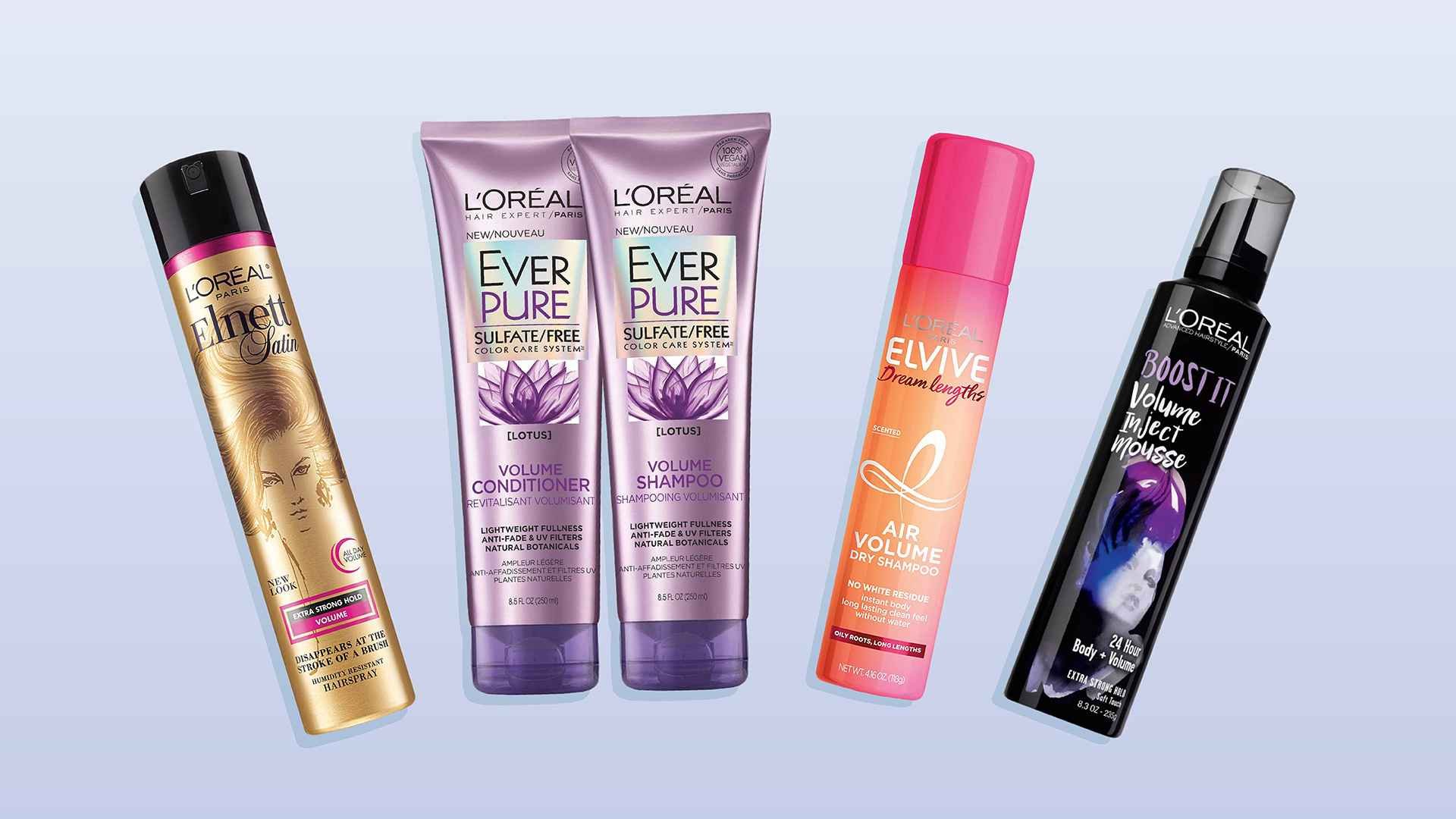 When it comes to hair, we all often want what we can't have — those with thick hair may want to have sleeker hair. And if you're born with flat or fine-textured hair you may know the struggle when it comes to trying to make it look fuller. If you've ever experienced flat hair after wearing a hat or sleeping on your hair without wrapping it up properly at night, then you understand, too. Luckily, you can fix that by having the best volumizing hair products in your beauty arsenal.
From shampoos to hairsprays, different volumizing products can help you achieve the look you desire by thickening the hair and creating a better hold so that your strands won't fall flat. Ahead, check out some of the best drugstore products for creating volume with thin, fine or flat hair.
This waterless shampoo will help keep your hair fresh between washes and add volume to limp hair. It works to instantly absorb oils, which will eliminate the scalp build-up that's weighing down your strands– thus creating volume. Dry shampoo is also great for adding texture (helpful for bone straight hair) and giving your hair the body it needs.
Editors Tip: For mega volume, make sure to apply a generous amount of dry shampoo all over your hair. Spray it directly at the roots and let it settle into the hair for about five minutes. Then grab a round brush and a blow dryer. Starting at the roots and working the dryer out towards the ends, use the brush to hold your hair firm and keep moving down your strands with the blow dryer.
The best way to prep your hair and add volume would be by starting with a shampoo and conditioner formulated to add body. Try adding this combo into your next wash routine. Together, this volume-boosting duo will condition and revive fine, flat hair that lacks shape. Its formula also includes Lotus flower, a known ingredient for repairing damaged hair fibers. Your hair will look and feel healthier.
Editors Tip: Focus conditioner on your ends to avoid weighing down your roots and counteracting the volume you've created.
This lightweight mousse gives hair a lasting volume injection and doubles as a heat protectant. The formula works as an extra strong hold spray for 24 hours and won't leave your hair feeling super stiff. It's also infused with thickening agents, to give the hair a bouncy and voluminous boost. Keep in mind that hair mousse will not give the same results on all hair types. For curly hair, it will add lift to your curls, and with straight hair, you'll see more body and movement.
Editors Tip: Always start with clean and damp hair for the best results. Check out this video for a quick tutorial on how to use this product on straight and curly hair.
If you're looking to style your hair with curls and don't want them to fall flat throughout the day, look for a hairspray that targets volume, like the L'Oréal Paris Elnett Satin Extra Strong Hold Volume. This hairspray has a long-lasting hold and satin touch (which leaves your hair super soft) so you won't have to worry about using too much and making your hair feel hard and crunchy. It has a micro-diffuser spray nozzle which allows the product to mist onto the hair lightly and infuse as soon as you brush it into the hair. It will also help protect your hair against humidity.
Editors Tip: Make sure to hold the can 12 inches away from your hair. This will allow for an even airy coating of product. Spraying it too close can add too much product and weigh down the hair.
Next: 20 Ways to Make Flat Hair Look More Voluminous
Discover more tips & tricks
Keep your skin happy
See all articles
Shop Featured Hair Care products
Discover More