frizzy hair
Frizz Fighting 101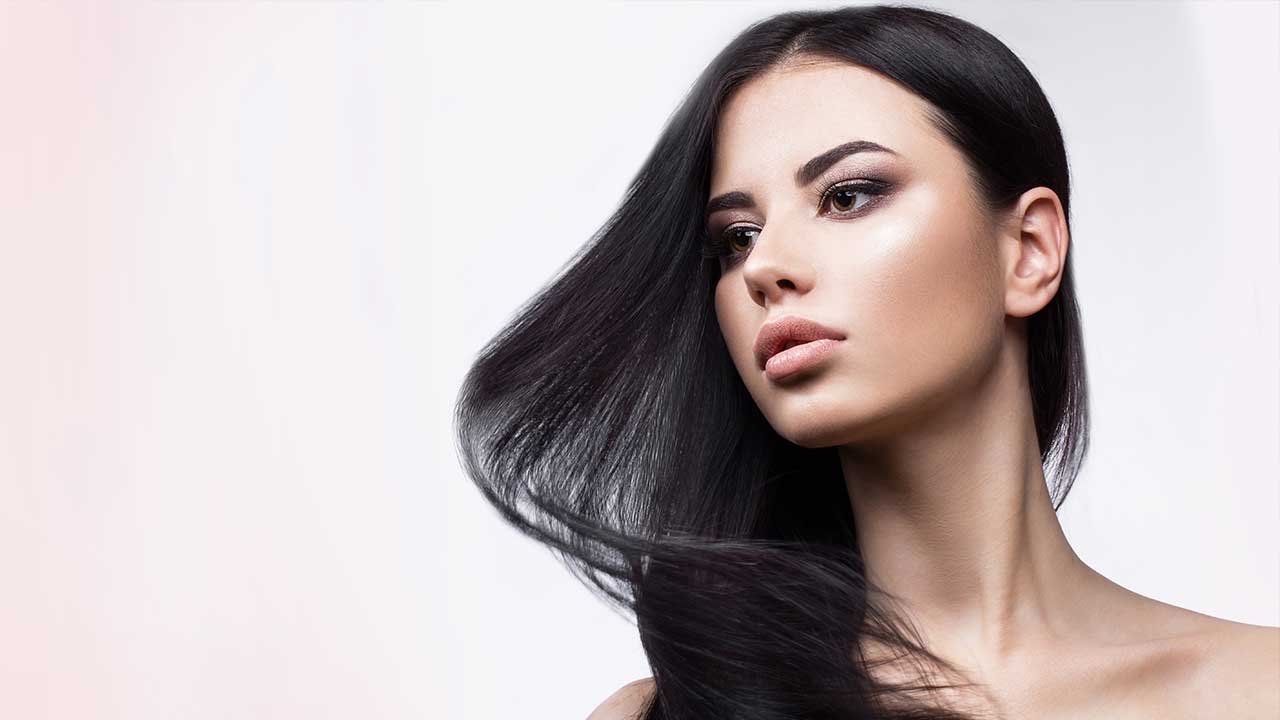 How to Have a Good Hair Day, Every Day
Glossy, smooth, frizz-free. These are the hallmarks of any sleek hair look. Learn how to tame frizz, from flyaways to strands subject to the horrors of humidity, and rock a perfectly smooth style with staying power.
Take Back Your Hair
Why does frizz happen? The culprit is most likely overly porous hair cuticles. Lacking adequate hydration levels, compromised strands exchange moisture with the surrounding air. The hair shaft swells and the result isn't pretty. Hence, a humid day is a bad hair day. The key is to lock down the hair's capacity to frizz by restoring its natural barrier. With a few essential tips, you can take back control of your hair, whatever the weather.
Seal the Fate of Frizz
Your secret weapon in the fight against frizz is an ingredient called oleo-keratin. Formulas with this compound help deliver essential restorative nutrients to distressed tresses, helping to seal strands and block out humidity. The polishing oils reduce frizz and aid in detangling.
Smooth Moves
Too-frequent washing can leave hair even more prone to unruliness by stripping away natural oils. Be sure to use a smoothing shampoo like L'Oreal Paris Hair Expert™Smooth Intense™Polishing Shampoo. This gentle yet effective cleanser, with oleo-keratin, calms stressed-out strands.

Follow with a generous dose of L'Oreal Paris Hair Expert™ Smooth Intense™ Polishing Conditioner. Remember, the idea is to quench thirsty hair with moisture so it doesn't seek it from the environment. Let it really coat your hair. Leave it on for at least five minutes, enough time for proteins to penetrate the cuticle. (Hint: Don't rub wet hair too vigorously with a towel. You want to reduce friction as much as possible.)
A Photo Finish
Serums provide essential protection against any kind of heat styling, from blow-outs to flat irons, so this next step is a must. Smooth Hair Expert™Smooth Intense™ Xtreme Straight Crème through your damp hair, for heat protection up to 450 degrees. Use a wide-tooth comb to evenly distribute, paying special attention to your ends.

For a speedy blow-dry, start with a flat padded brush and dry your hair straight down until it's just damp. Next, switch to a chubby round brush with natural bristles. With the brush underneath, dry each section by pulling hair away from the roots to the ends in a slight arc.
Finish by putting flyaways and strays in their place with Hair Expert™ Smooth Intense™ Anti-Frizz Serum. Rub a small dollop between palms and rub together. Wherever needed, press and hold hair down with your hands for a few seconds. Enjoy your sleek new look, complete with 72 hours of frizz control.
*When using system of shampoo, conditioner and serum or cream vs. non-conditioning shampoo.
Discover more tips & tricks
Keep your skin happy
See all articles
Shop Featured products
Discover More