dry hair
Care for Dry Hair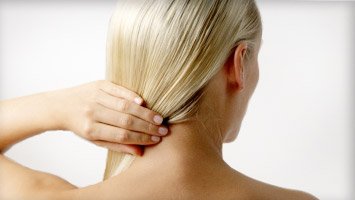 Beat the Weather
Heat evaporates moisture, causing hair to dry out. To protect your locks, wear a hat when you are out in sun or use a conditioner with built-in UV filters. In the cold months wool hats, scarves and indoor heating can cause static and frizz making a dry hair situation worse. To preserve moisture turn to products specially formulated for dry or damaged hair like EverCurl HydraCharge shampoos and conditioners.
Wash It In
EverCrème Deep Nourish shampoos and conditioners contain natural moisturizing ingredients like Omega-3 & 6 that infuse moisture back into dehydrated strands, igniting shine. Make the most of the natural oils that your scalp produces and comb hair all the way through, spreading oils from the shafts to the ends.
Cool Off
If your hair is dry, heat styling will only make it more so. It's best to keep curling or straightening irons to a minimum and if you must blow dry, set the drier on the lowest setting and direct the heat down your strands to protect the cuticles and prevent breakage. Go easy on styling products that contain alcohol, which can be drying.
Beware of Over Processing
Excessive bleaching, chemical treatments and perms can cause hair to become dry and brittle. Damaged hair can break further when processed. So make sure you remedy dryness with proper products like EverCurl HydraCharge shampoos and conditioners before your next treatment.
Live It Up
Drinking plenty of water, eating foods containing essential fatty acids like avocado and fish oil supplements will help reduce dryness in your hair. Adding a filter to your shower can help eliminate chlorine and heavy metals found in the water and reduce dryness. Sleeping on silk or satin pillows can also help. These fabrics are smoother than cotton and are less abrasive to hair.
Discover more tips & tricks
Keep your skin happy
See all articles
Shop Featured Hair Care products
Discover More