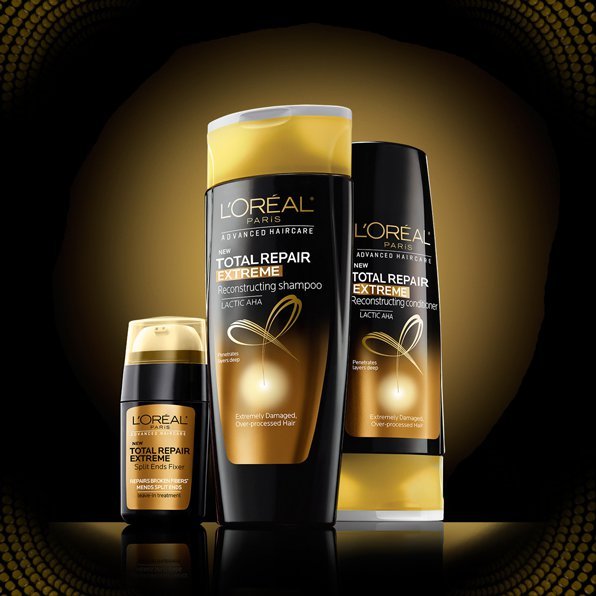 damaged hair
5 Tips for Winter Damage Control
We may look forward to pumpkin spice lattes and eggnog under the mistletoe in the winter, but one thing that's not nearly as fun is the severely dry hair that often blows in with the snow flurries. For hair that stays smooth and hydrated no matter the barometer reading, try incorporating these damage-reducing tips into your routine.
1. Don't cut ends, help repair them. The longer split ends are allowed to remain, the worse they can become, gradually working their way up the hair shaft until damage becomes extreme. While getting regular trims helps keep hair healthy, using a treatment like L'Oréal Paris Total Repair Extreme Split Ends Fixer helps seal splits temporarily at home. The dual-action formula, which blends a reconstructive gel with a resurfacing serum together, penetrates deep into damp, freshly washed hair to mend together ends.
2. Switch to a deep-conditioning routine. Using more moisture-rich hair products in the winter can help negate some of the season's harsh effects. L'Oréal Paris Advanced Haircare Total Repair Extreme Shampoo & Conditioner are boosted with a combination of Lactic AHA and Ceramide that instantly penetrate the hair to help repair over-processed hair. Rotate in the Total Repair Extreme Emergency Recovery Mask weekly as an even deeper treatment that leaves hair soft, supple and reconstructed. It works in just three minutes after you shampoo and condition.
3. Use heat tools to your advantage. With New Year's Eve around the corner, many of us will be reaching for hot tools to achieve the fun styles we love—but don't fret about damage when you can easily protect. The Total Repair Extreme Shampoo and Conditioner are specifically formulated to reconstruct the strength of hair to restore softness from root to tip. By adding the Emergency Recovery Mask as a rich weekly treatment, you'll have a complete haircare system that works to protect and replenish as you use your favorite tools to get that perfect party look.
4. Protect your strands during beauty sleep. Believe it or not, your cotton pillowcase may exacerbate your winter dryness. Cotton is super absorbent, and actually pulls moisture out of your hair as your head lays on your pillow for several hours overnight. Strands also cling to cotton as you shift and turn, pulling and potentially roughing up the hair shaft. Switch to silk or satin pillowcases for softer glide, or try tying a silk scarf around hair at night retro-style to protect it as you slumber.
5. Use wool wisely. A popular fabric in the winter due to its natural heat-retentive qualities, wool is often found in our favorite coats, scarves and hats. But if your hair is long enough to rub against your coat and accessories, the rough texture can actually agitate and dry out ends and even cause them to split with tension. Try tucking your hair inside your coat to prevent chafing, or put on smoother fabric blends like leather and cashmere to protect your hair. Another option is to pin your strands up with a barrette or claw clip when traveling between destinations.
There's no need to settle for hair that looks good for only a couple of seasons. By using L'Oréal Paris Advanced Haircare Total Repair Extreme haircare system regularly, you can enjoy shiny, hydrated hair year-round.
Discover more tips & tricks
Keep your skin happy
See all articles
Shop Featured Hair Care products
Discover More