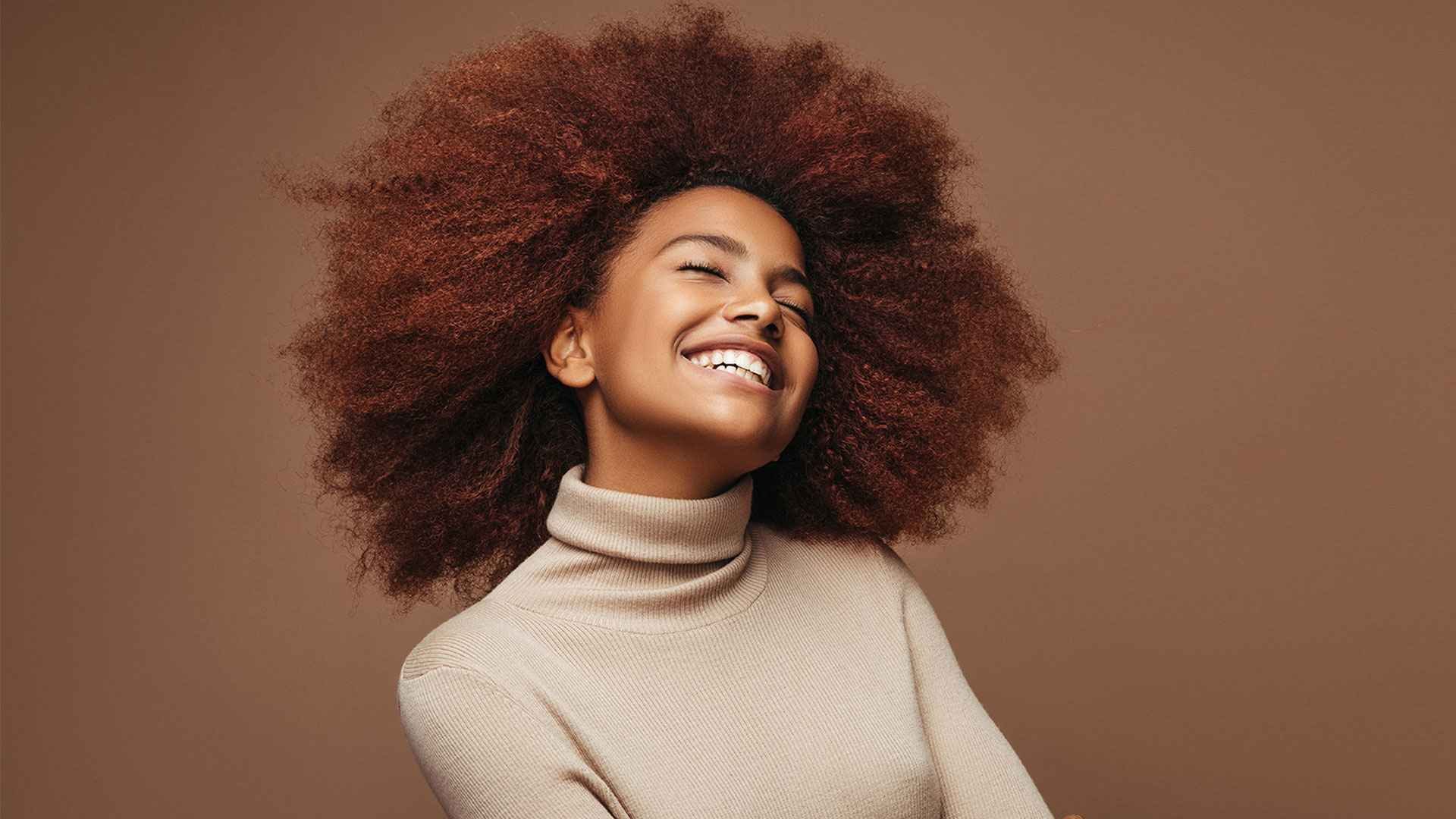 all hair types
6 Tips On How To Care For Natural Hair During The Winter
Whether you're a natural hair novice or veteran, it may come as a surprise that your mane is more susceptible to dryness in the winter. The cold and dry air zaps moisture out of your hair, which can leave you tackling breakage, frizz, and dryness. If you find yourself struggling to maintain hydration, you'll need to seek out an alternative method, such as swapping out your essentials for products that can give your strands TLC. This is where a winter hair-care routine for natural hair comes in. Using nourishing picks, such as deep conditioners and pre-poos, in your regimen can boost your strands with moisture and keep your hair in shape. Ahead, we're giving you the lowdown on the six best tips for your winter natural hair-care regimen, along with product recs to help your mane look and feel its best.
#1: USE A NOURISHING HAIR-CARE SYSTEM
One of the easiest ways to give your natural hair the moisture it needs is to reach for a nourishing hair-care system. Try the L'Oréal Paris EverPure Moisture Shampoo and L'Oréal Paris EverPure Moisture Conditioner. This sulfate-free duo works to replenish your strands with hydration, leaving you with a soft and luminous-looking mane.
#2: GIVE THE LOC METHOD A TRY
There's no denying that natural hair needs as much hydration as it can get, so it's wise to take your routine up a notch to retain moisture. And the LOC method is the perfect way to get the job done. LOC stands for liquid (or leave-in conditioner), oil, and cream. As the name suggests, this natural hair technique consists of combining water or a water-based product, hair oil, and a hair cream to give your mane long-lasting hydration. Click through to our article, LOC Method: Moisturizing Hair Care For Natural Hair, for more information.
#3: MAKE DEEP CONDITIONING YOUR BFF
When it comes to taking care of your natural hair during the winter, using a deep conditioner in your routine is an absolute must. This hair-care staple is a step up from a traditional conditioner, which works to provide your strands with a more thorough conditioning. Consider giving the L'Oréal Paris Elvive Extraordinary Oil Rapid Reviver Deep Conditioner a try. It's formulated with conditioning serum, as well as camellia and sunflower oils, to hydrate. Expect silkier, softer hair. To use it, apply to wet hair after shampooing and leave on for one minute. Rinse well. Be sure to pair it with the L'Oréal Paris Elvive Extraordinary Oil Shampoo and L'Oréal Paris Elvive Extraordinary Oil Conditioner to transform your mane.
#4: ADD A PRE-POO TO YOUR ROUTINE
Since it can be difficult to get and maintain moisture during the chilly season, opting for a pre-poo treatment can make the process a bit easier. Pre-poo treatments provide your mane with an extra layer of nourishment on wash days and gives your strands additional moisture. This is where the L'Oréal Paris EverPure Repair Remedy Balm comes into play. This hair mask is formulated with acai palm and an antioxidant complex. It helps to deeply penetrate your mane to promote stronger and healthier hair. Apply a dollop to dry strands and distribute evenly from root to ends. Cover your hair with a plastic cap and leave on for 10 to 15 minutes. Rinse thoroughly with lukewarm water.
Editor's note: If you love the idea of using a pre-poo in your routine, there are plenty of options to consider. Visit our article, This Is Why You Should Pre-Poo (and What Should You Use), to get some pointers.
#5: INVEST IN A HAIR STEAMER
Another smart way to introduce lasting moisture to your mane is with the help of a hair steamer. This popular tool is designed to provide your strands with moist heat to open up your hair cuticle. As a result, this allows your mane to better absorb your hair-care products, leaving you with deeply hydrated locks.
While hair steamers come in various shapes and sizes, the handheld steamer has become a popular choice. This smaller variation of the tool makes it easy for you to get steam into your strands and target specific areas of your mane that need more moisture. Plus, you can skip the salon steaming appointment, since handheld steamers can be used in the comfort of your home. Click through to your article, This Is What You Need To Know About Hair Steamers, for more information.
#6: DON'T SHY AWAY FROM HOT OIL TREATMENTS
The idea of using hot oil in your mane may be the last thing on your mind, but you'd be surprised with how it can rejuvenate your strands. As you may have guessed, this treatment is all about slathering your roots and strands with hot oil. It helps to reduce damage, combat aggressors, and infuse your mane with long-lasting moisture. All you have to do is follow the instructions on the packaging to get desired results. Check out our article, The Benefits of Hot Oil Treatments, to learn more.
Discover more tips & tricks
Keep your skin happy
See all articles
Shop Featured Hair Care products
Discover More