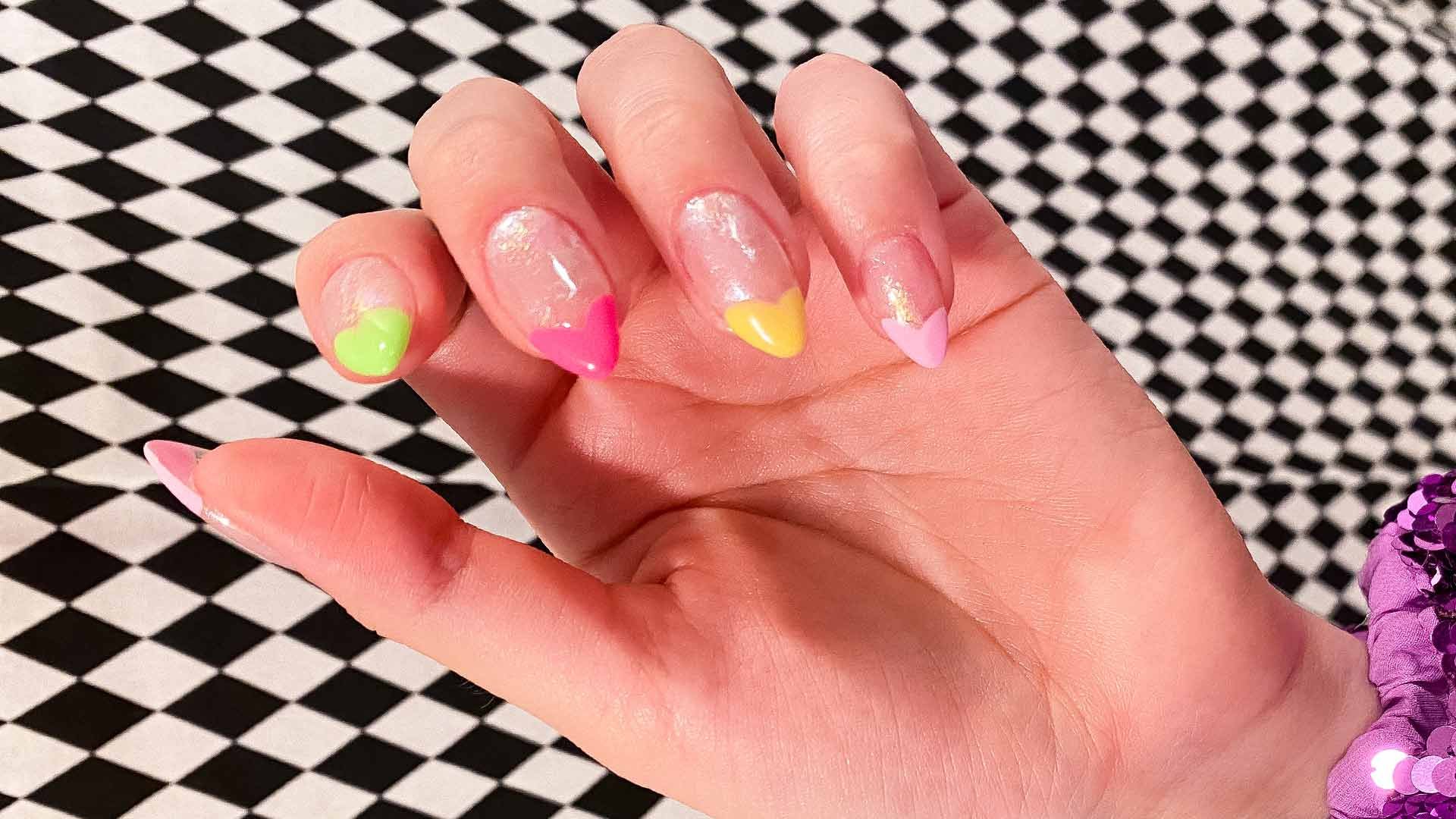 beauty trends
10 Modern French Nail Designs To Mix Things Up
As far as nail looks go, it doesn't get much more foolproof than a classic French manicure. However, even the most tried-and-true nail designs need an upgrade now and then. Thus, the modern French manicure was born. It seems as though every time we log into our social media accounts, we're introduced to new French manicure designs—and we can't get enough! If you're as obsessed with this style as we are, read on for some French manicure nail designs with a twist, to help you switch things up while remaining loyal to what you know.
1. Bedazzled French Nails
If you like to add glitz and glam to your beauty look, we have a feeling you'll love rocking bedazzled French nails. As you can probably guess, this nail look involves decorating your French mani with nail gems or rhinestones. It's great for special occasions, festivals, or when you simply just want your nails to sparkle.
2. Black And White French Nails
One of our favorite French manicure ideas includes a timeless black and white design. And it seems that the beauty world agrees because it's having quite the moment on our Instagram feeds. The trend involves using just the two shades and creating different patterns and designs across the tips of your nails. It's a great way to play up a classic French manicure while staying true to the essence of the original style.
3. Double Corner French Nails
For those who prefer a more minimalist take on the French manicure, try going for a double corner french design. This trend calls for a thin line of polish applied in a half-moon shape at both the top and bottom of the nail. You can leave the base of your nail nude or opt for a light pink shade if you desire more color.
4. Floral French Nails
Nothing says spring like floral nails. And the tip of a French manicure is an interesting space to work with, which is why we're obsessed with incorporating floral designs into the look. Instead of hand painting on mini flowers, try using floral nail stickers and gems instead. The end result will leave you with a stunning French manicure that is sure to garner plenty of compliments.
Editor's Note: Taking care of your nails is important, and it goes together with caring for your hands, too. Complete your manicure each time by massaging your hands with the L'Oréal Paris Age Perfect Hydra Nutrition Manuka Honey All Over Balm - Face, Neck, Chest and Hands for soft, hydrated, and nourished skin.


5. Two-Tone French Nails
The two-tone nail design is all about pairing things together, and there are lots of fun ways to play around with this look. We also love that you get to incorporate as many colors as you want with this design. Try picking out contrasting colors for the nail tip and the base, or you can even try using different textures. Check out a few online tutorials to find a look that will suit you best.
6. Metallic Tips
Want to branch out from traditional French manicure colors? That's where metallic tips come in. This French mani involves painting the tips of your nails in a metallic shade of polish, like gold, silver, or copper. You can even go for a metallic cobalt blue. The contrast between your shimmering tips and the neutral base creates the perfect amount of interest for those who prefer a subtle yet out-of-the-box nail look.
7. Double Lined French Nails
When it comes to French tip nail designs, the double lined French manicure is one of the easiest, but that doesn't make it any less stylish. As you can probably guess, this mani upgrade features two parallel lines of color at the tips of your nails. Try combining trends by pairing a stripe of white with a stripe of metallic.
8. Slanted French Manicure
Want to steer clear of tips that follow your natural nail shape? Not a problem—that's where the slanted French manicure comes in. Rather than a straight-across, slightly rounded tip, your nail technician will paint your tips at an angle for an abstract yet polished nail look.
Editor's Tip: Try adding different designs to the other side of the nail to jazz up the look even more.
9. Ombré French Nails
It's no secret that the ombré trend has long made its way from hair to other aspects of beauty, including nail looks. If you want a seamless French manicure, have your nail technician create an ombré nail look that fades from nude at the base to brightly colored tips.
10. Colorful French Nails
Adding some variety to your French manicure with the help of a colorful upgrade could be just what your nails need. Swap your white tips for a fun shade—or five! We're especially fans of cheerful manicures during the spring and summer months.
Photo Credit: Melissa San Vicente-Landestoy
Discover more tips & tricks
Keep your skin happy
See all articles
Shop Featured products
Discover More