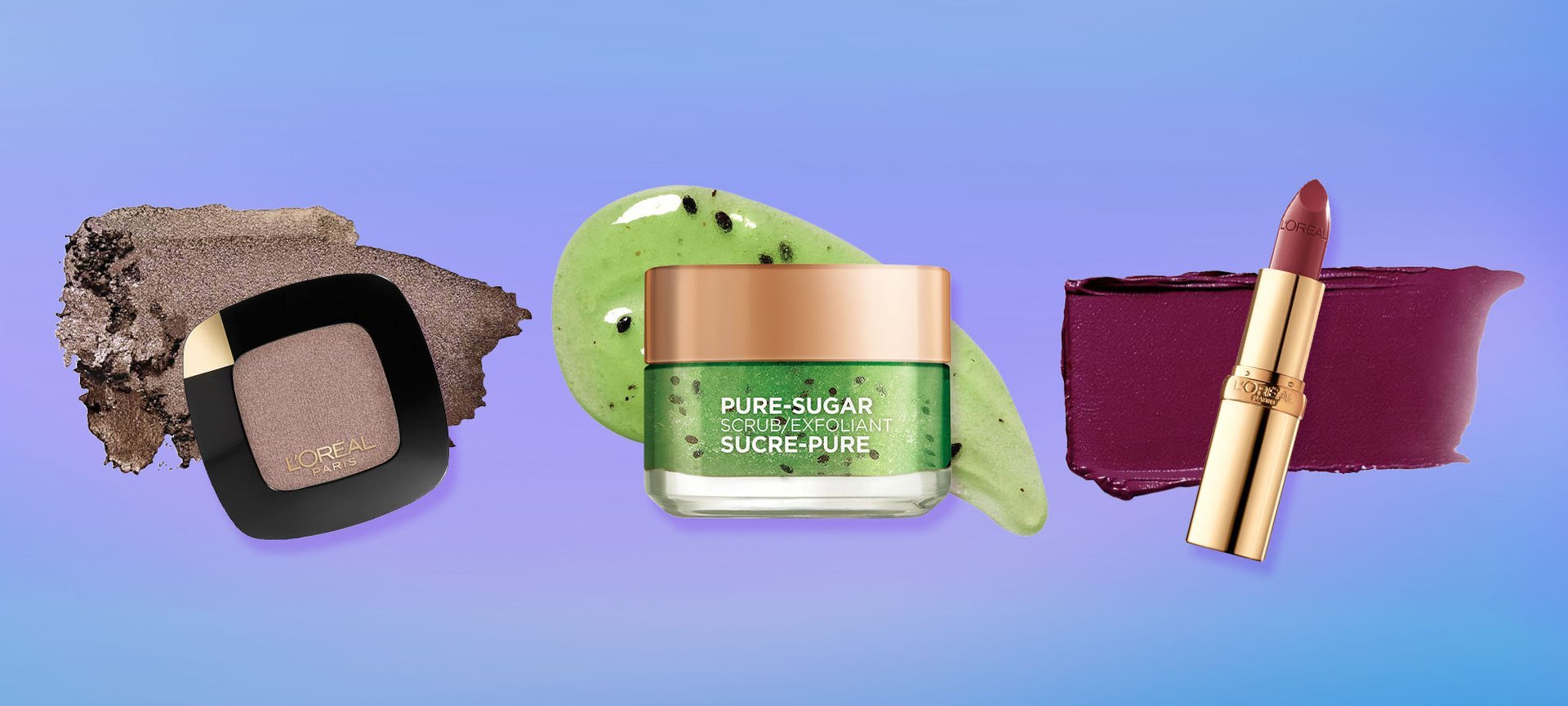 beauty trends
8 Food-Inspired Beauty Products For A Delicious Winter Face
For a look that's absolutely appealing.
There are many ways to find inspiration for your makeup looks. While you may be used to scouring the internet for new styles, your next favorite beauty look might be based on what you eat. There's an array of face makeup and hair colors that are influenced by some of our favorite foods and drinks. From at-home hair dyes to give you vivid red velvet locks to palettes for deliciously refreshing caramel frappuccino eyes, we've rounded up eight food-inspired beauty products for a look with the highest taste level.
Eggplant Eyeliner
Two-toned eyeshadow has become a makeup staple, and you can marry the trend with your purple eyeliner looks. This is a great way to give your eyes a glorious pop without the need for any eyeshadow. To get the look, simply line your upper lash line with L'Oréal Paris Infallible Pro-Last Waterproof, Up to 24 HR Pencil Eyeliner in Aubergine, then follow up with the L'Oréal Paris Infallible Pro-Last Waterproof, Up to 24 HR Pencil Eyeliner in Silver just above the first line you created to add an icy effect.


French Biscuit Ombrè Eyes
If we had to name one black and brown eye look that will turn heads, the ombré eyes trend gets our vote. This multi-colored trend allows you to show off your blending skills to achieve a playful look. It also gives you a gorgeous gradient that adds depth and dimension to your eye makeup look. This combo is perfect for any occasion when you have a full-glam look in mind.
To get the look, apply the matte brown shade from the L'Oréal Paris Colour Riche Pocket Palette Eyeshadow Palette in French Biscuit to the inner corner of your lid. Next, sweep on the shimmery brown shade onto the center of your lid. Follow up by dusting the black shadow on the outer corner and blend evenly where each shade meets.


Pain Au Chocolat Smokey Eyes
A classic eye makeup look always holds a special place in our hearts, and the smokey eye is no exception. This timeless trend features a gorgeous blend of matte and shimmery eyeshadow that works to enhance your eye shape. While some smokey eyes are only reserved for special occasions, switching things up with brown and black eyeshadow can add versatility to your look.
For this face, start by applying a thin layer of eye makeup primer to your lids. Then paint your lids with brown eyeshadow, like the L'Oréal Paris Colour Riche Monos Eyeshadow in Pain Au Chocolat. Using a fluffy makeup brush, sweep a black shade like the Noir Cest Noir onto your crease. Be sure to blend well for a seamless transition between shades. Dust your lower lash line with the black shadow and gently smudge it out for a smokey effect.
Wine Stained Lips
A glass of wine by the fireplace sounds like the perfect fall evening—and it just so happens to be one of the season's most popular lipstick hues. Just like the beverage it's inspired by, this dark wine-colored lipstick is the refreshing touch you need to bring a little life to your look. Swiping on a wine lipstick like the L'oréal Paris Colour Riche Satin Lipstick in Divine Wine makes for a deep, muted purple hue that's dark but striking.

Soft Peach Lips
Peaches may be in season during the summer, but that shouldn't stop you from rocking this color all year round. As the season transitions, gravitate toward a nude that's soft and subtle—all the qualities of the perfect go-to lip color. For those on the hunt for a light peach lip color, look no further than the L'Oréal Paris Colour Riche Lipcolour in Peach Fuzz. This soft, nearly-nude shade will add just the right amount of color to your pout without detracting from the rest of your makeup look.
Kiwi Kisses
For those days when you need to add some pampering to your beauty rotation, a lip scrub will make for the perfect self care situation. A lip exfoliator can leave your pout looking soft and feeling smooth. The L'Oréal Paris Pure-Sugar Purify & Unclog Kiwi Scrub is a face and lip scrub enhanced with real kiwi seeds to remove dead skin cell buildup for a smoother lipstick application.

Red Velvet Hair
If you fancy a dessert-inspired hair color trend that's as decadent as it is delightful, red velvet may be your pick. This rich and delicious hue is a far cry from the typical red hair color you're used to—this daring trend combines red, violet, burgundy, and maroon tones to deliver dimension. While most red hair colors are only reserved for specific skin tones, this shade can be customized to suit warm or cool undertones. Reach for the L'Oréal Paris Féria in Red Velvet and check out our article, Delicious Hair Color? Red Velvet Hair Is Exactly That to spice up your strands.
Chocolate Mousse Lowlights
While it may be hard to control your sweet tooth, you can help satiate your desires with your hair color. Chocolate mousse hair gives your mane the look of more texture for a winning look. Pick up the L'Oréal Paris Colour Experte in Chocolate Mousse to give your strands a stylish treat.
Next: 7 Reasons Why A Lip Stain Is A Must-Have For The Holidays
Written by: Lauren Paige Richeson, Photo Credit: Sarah Duvivier
Discover more tips & tricks
Keep your skin happy
See all articles
Improve your routine
Show your new look more love:
makeup