beauty looks
How To Do Interview Makeup and Hair
August 21, 2020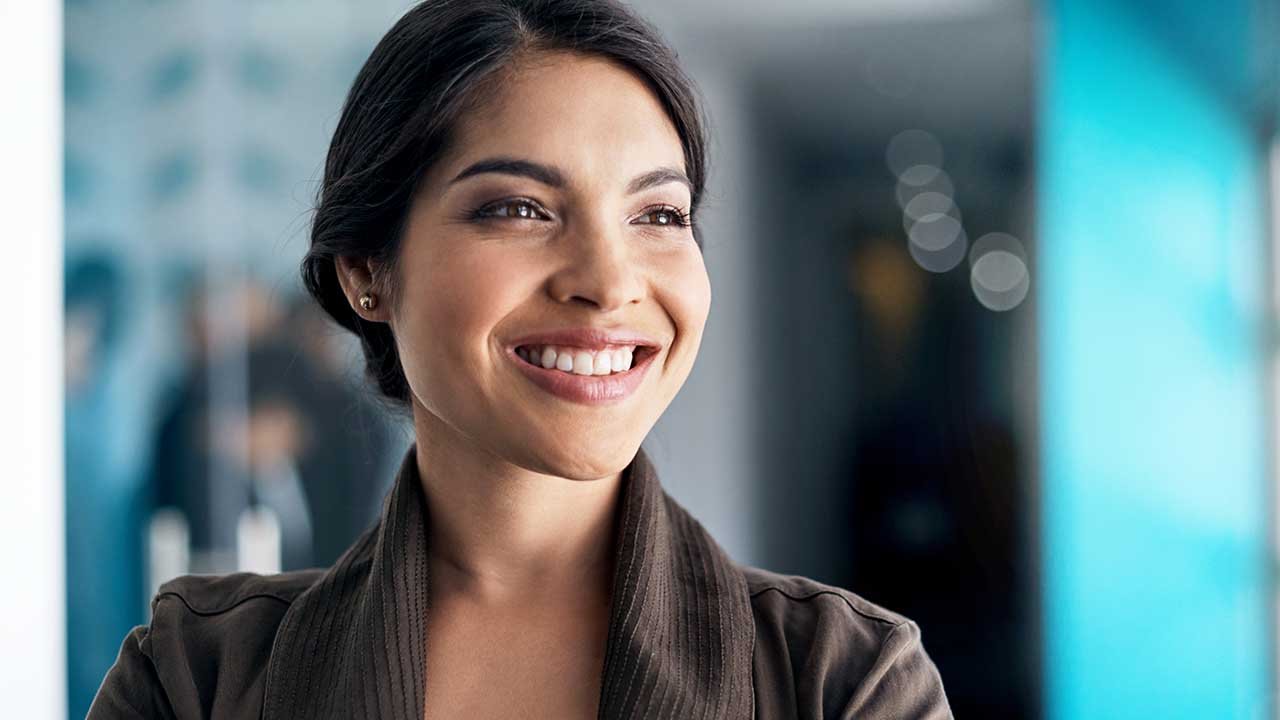 Whether you're interviewing for a new job, internship, or school leadership position, interviews can be pretty intimidating. You want to put your best foot forward—and with that, your best interview makeup look and hairstyle. Even video interviews call for expertly applied makeup and styled hair! From the right shade of lipstick to which hair-styling products to use, here's a step-by-step guide on how to do job interview makeup and hair.
STEP #1: PRIME YOUR FACE
To start your makeup look, it's important to use a makeup primer. Try the L'Oréal Paris Pro-Glow Lock Makeup Primer to create a healthy-looking, radiant complexion and allow your makeup to last throughout the day. The last thing you want is for your makeup to be blotchy or smudged by the time of your interview!
STEP #2: USE A NATURAL FOUNDATION
As tempting as it may be to cover your face with the highest coverage foundation you own, for job interview makeup, you're better off using a foundation that has a natural-looking, bare skin finish. The L'Oréal Paris True Match™ Super Blendable Makeup is a liquid foundation that will give you natural, buildable medium coverage. You'll have a fresh glow, but can still have the option of building up a little extra coverage on spots you consider problem areas.
STEP #3: APPLY A CONCEALER
To brighten your eyes and make them appear more awake, use a concealer that's one to two shades lighter than your skin tone and apply it in an upside-down triangle shape under each eye, making sure to blend it out. Use the L'Oréal Paris True Match™ Super-Blendable Multi-Use Concealer and your go-to makeup sponge.
STEP #4: ADD SUBTLE COLOR
You'll want to add subtle color, so your face makeup appears natural, clean, and sophisticated. Use a light-colored blush, like the L'Oréal Paris True Match Blush in Subtle Sable, on your cheekbones for a soft pop of color.
STEP #5: STICK WITH A NEUTRAL EYE
When it comes to eye makeup, it's best to keep things neutral. Think along the lines of a subtle brown smoky eye. The L'Oréal Paris Colour Riche Pocket Palette Eye Shadow in Boudoir Charme is perfect for your interview. Apply the lightest brown shade to your lids, the cream color to the inner corners of your eyes, and the darkest brown to your creases, so your eyes can be defined without being over the top.
To finish your eye makeup, define your lashes using a black mascara. Try the L'Oréal Paris Bambi Eye Washable Mascara, Lasting Volume in Blackest Black. You'll likely want to skip out on wearing eyeliner for your interview, depending on what it's for and where it is, to maintain a simple, professional look.
STEP #6: PICK A LIP COLOR
To keep things professional with your interview makeup, a neutral lip color is always a good idea. A sheer lipstick is a great way to give your lips subtle color while also keeping them hydrated. Try the L'Oréal Paris Colour Riche Shine Lipstick in Shining Peach.
STEP #7: TAME YOUR LOCKS
For your interview hair, you want to make sure your mane is tamed, controlled, and polished. If your interview is during one of the warmer months, consider using products for frizzy hair to keep your hair smooth and shiny.
STEP #8: STYLE YOUR HAIR
Should you wear your hair up or down for an interview? As far as interview hairstyles go, it's ideal to put your hair into an updo, a ponytail, or to clip it back. When people are nervous—as most of us are for an interview—they have the tendency to play with or adjust their hair. By keeping your hair out of your face, you won't have this problem and will maintain a composed appearance. Check out our article, 3 Sophisticated Hairstyles to Try, for some inspiration.
STEP #9: SEAL THE DEAL
Don't forget to spray your hair with hair spray, like the L'Oréal Paris Elnett Precious Oil Satin Hairspray, once it's styled. This will help keep your style in place and avoid any flyaways from making their debut mid-interview.
Now that you're ready to show up to your interview in style, read our article on How to Prepare for an Interview.
Discover more tips & tricks
Keep your skin happy
See all articles
Shop Featured Makeup products
Discover More