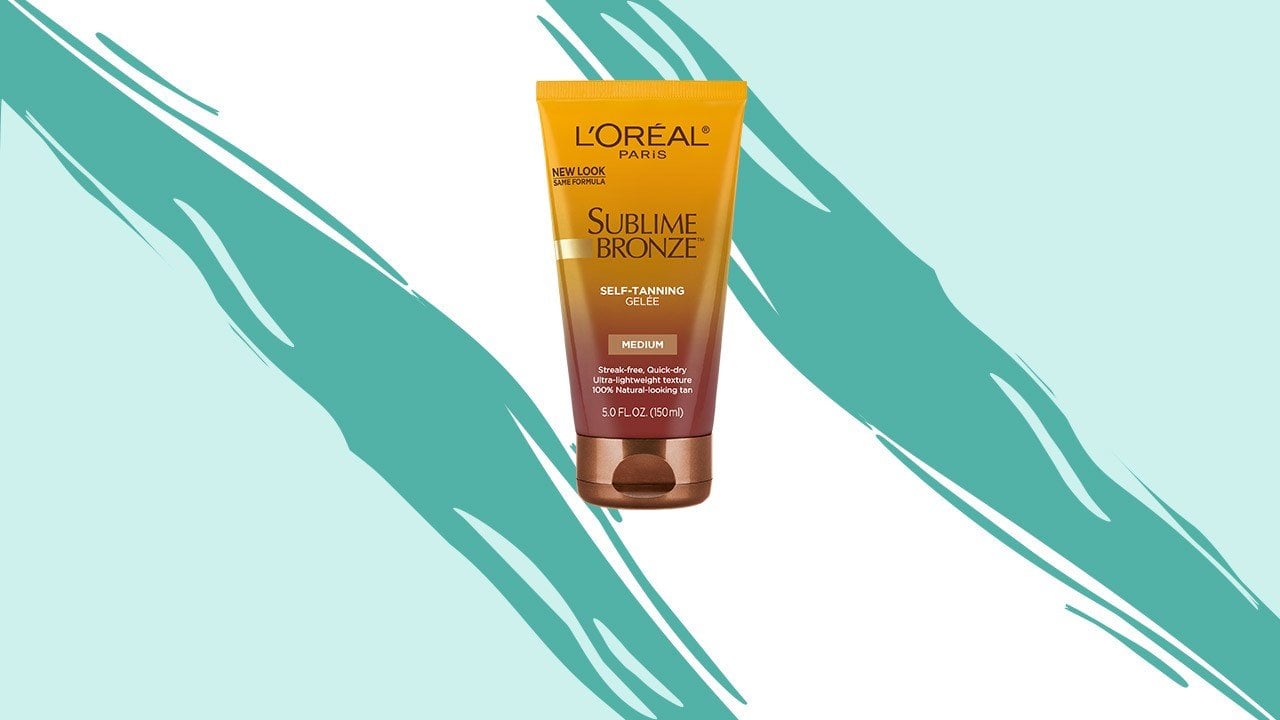 Summer is here—and that means you can finally show off your arms and legs in your warmer-weather wardrobe! If you're ready to add some color to your skin before slipping into your favorite tanks and shorts, consider using a self-tanner or bronzer instead of risking damaging your skin (and wasting all the effort you put into religiously applying your skin care products) under the sun's harmful rays. Here, learn all about one type of self-tanner—the self-tanning gelee—that could be a perfect addition to your summer skin care routine, plus, find out how to apply it for a natural-looking, faux glow.
THE DIFFERENT TYPES OF SELF-TANNER
Looking to achieve a summer tan? It's all about using self-tanner to help you fake that color. But it turns out you have quite a few different options to choose from. If you're traveling, self-tanning towelettes could be good option, as they're individually wrapped and you can just toss a few wipes into your bag. Meanwhile, if you want to avoid getting color on your hands, think about using a self-tanning mist, since you can spray the color on without having to apply it with your hands. Another self-tanner option worth trying this summer: the self-tanning gelee. Below, get all the details on this type of self-tanner as well as how to prep your skin for application and maintain your fake tan throughout the summer.
WHAT IS A SELF-TANNING GELEE?
Chances are, you've heard all about self-tanning lotions, towelettes, and mists—but are you familiar with gelees? Well, it's time to get the 411. The L'Oréal Paris Sublime Bronze™ Self-Tanning Gelee is a refreshing skin-smoothing formula with alpha hydroxy acids and vitamin E that can be used to create a streak-free tan. The unique quick-dry formula leaves your skin feeling soft and smooth. What's more, it's non-tinted, applies easily, and dries quickly. Ready to learn how to use this self-tanner? We've got you covered with step-by-step instructions below!
HOW TO USE A SELF-TANNING GELEE
Now that you know all about how this self-tanning gelee works, it's time to learn how to use it! Follow the below instructions for creating your gorgeous fake tan—and use daily until you reach your desired level of color.
Step 1: Cleanse and exfoliate your skin
Before applying self-tanner, it's a good idea to prep your skin by cleansing and exfoliating . Dead skin cells can build up on the surface of your skin, and these can cause your self-tanner to go on patchy—which we have a feeling is something you'd like to avoid.
Step 2: Apply an oil-free moisturizer to any dry areas
Again, you want to help allow your self-tanner to go on smoothly so that your tan ends up looking even rather than patchy. That means you should apply a moisturizer to any areas on your body that tend to get dry, since dry skin tends to soak up more self-tanner.
Step 3: Apply evenly all over your body
You can use your hands to apply this self-tanning gelee—or, consider investing in a self-tanning mitt so that you don't get any color on your hands.
Step 4: Use sparingly around your ankles, knees, and elbows
Areas where you have joints, like your ankles, knees, and elbows, can be prone to dryness, so use a light touch when applying self-tanner to them. When it comes to self-tanner, less is definitely more!
Step 5: Wash your hands thoroughly once you're done
You don't want your hands to end up looking darker than the rest of your body, do you? Nope, we thought not! So, hit the sink after you're done applying self-tanner.
Step 6: Let your skin dry completely before putting on clothes or makeup
Patience is key when applying self-tanner! Don't go near your clothes or makeup until your skin has completely dried. When you are ready to get dressed, opt for loose, dark clothing to help prevent staining.
That's it! Six steps to self-tanner application. Hey, who knows: Your friends just might ask you if you recently went on vacation!
HOW TO HELP MAINTAIN YOUR FAUX SUMMER TAN
After you reach your desired level of tan, use the self-tanning geleeonce or twice a week to help maintain your results.
Next, find out when to put a self-tanning gelee to use in our article, The Best Time to Use Self-Tanner.
{ "@context": "https://schema.org/", "@type": "WebPage", "speakable": { "@type": "SpeakableSpecification", "cssSelector": ["speakable-content"] }, "url": "https://www.lorealparisusa.com/beauty-magazine/skin-care/sun-care-and-self-tanning/how-to-use-self-tanning-gelee" }
Discover more tips & tricks
Keep your skin happy
See all articles
Shop Featured Skin Care products
Discover More
{ "@context": "http://schema.org", "@type": "BreadcrumbList", "itemListElement": [ { "@type":"ListItem", "position": 1, "item": { "@id": "/", "name": "Home" } } , { "@type":"ListItem", "position": 2, "item": { "@id": "https://www.lorealparisusa.com/beauty-magazine", "name": "Beauty Magazine" } } , { "@type":"ListItem", "position": 3, "item": { "@id": "https://www.lorealparisusa.com/beauty-magazine/skin-care", "name": "Skin Care For Every Age" } } , { "@type":"ListItem", "position": 4, "item": { "@id": "https://www.lorealparisusa.com/beauty-magazine/skin-care/sun-care-and-self-tanning", "name": "Sun Care & Self-Tanning" } } , { "@type":"ListItem", "position": 5, "item": { "@id": "https://www.lorealparisusa.com/beauty-magazine/skin-care/sun-care-and-self-tanning/how-to-use-self-tanning-gelee", "name": "how-to-use-self-tanning-gelee" } } ] }