skin care essentials
8 Products Every Skincare Set Should Include
November 20, 2020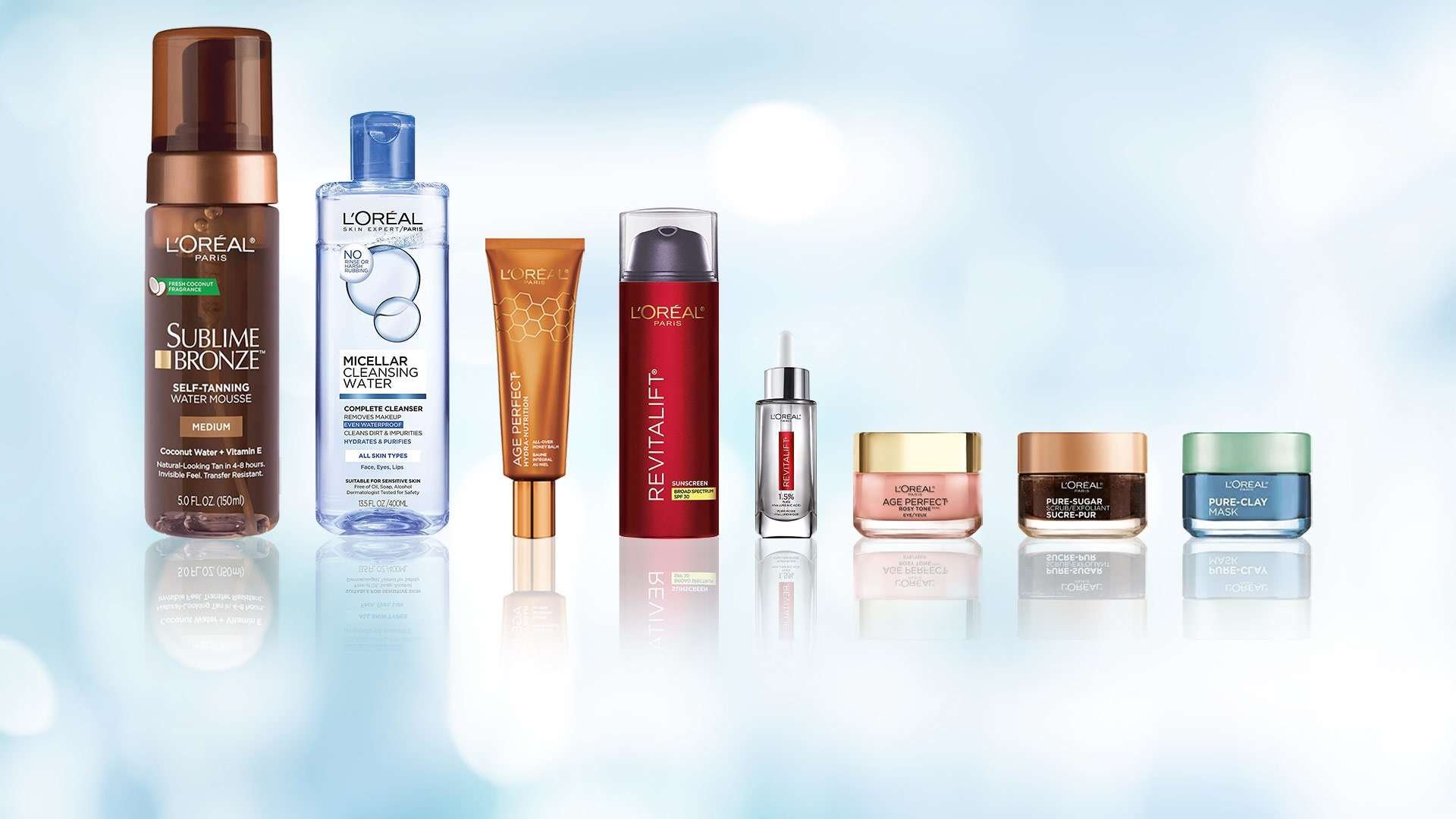 It may sound obvious, but having a dedicated skincare set is a savvy way to organize your daily routine. Just as a makeup kit includes all the necessities for your face beat, a skincare set is meant to include the essentials for your skincare regimen. That said, narrowing down the must-haves can be daunting with so many skincare products available. If you're unsure where to start, we're sharing the ideal eight products to add to your skincare set.
1. Micellar Water
Why we love it: We're firm believers that everyone should own micellar water—seriously, everyone! This product can be used to both cleanse your skin and remove makeup, which is just one of the reasons we love it so much. Aside from its multitasking abilities, micellar water can be used on-the-go or by your bedside, because there is no rinsing required. To use, simply saturate a cotton pad with micellar water and glide it over your skin.
Product pick: L'Oréal Paris Micellar Cleansing Water Complete Cleanser Waterproof - All Skin Types
2. Hyaluronic Acid Serum
Why we love it: There are quite a few face serums on the market, including anti-aging options like retinol to skin brightening picks like vitamin C. And while there are lots of amazing picks out there, there is one serum in particular we feel your skincare set needs: hyaluronic acid serum. Hyaluronic acid works to hydrate your skin, plumping and minimizing the appearance of wrinkles. Layer it on after cleansing and before moisturizing.
Product pick: L'Oréal Paris Revitalift Derm Intensives 1.5% Pure Hyaluronic Acid Serum or L'Oréal Paris Revitalift Derm Intensives 1.9% Pure Hyaluronic Acid 7 Replumping Ampoules
3. Moisturizer with SPF
Why we love it: It's safe to say we're fans of products that can knock two steps out in one, which is why moisturizer with SPF is next on our list. This offering not only hydrates your complexion, but it also helps to protect your skin from the sun's harmful UV rays. Look for one that's formulated with an SPF of 15 or higher, per the U.S. Food & Drug Administration's recommendation.
Product pick: L'Oréal Paris Revitalift Triple Power Day Lotion SPF 30
4. Self-Tanner
Why we love it: Just because you have to take proper sun protection measures doesn't mean you have to go without a golden glow. The right self-tanner can give you the appearance of bronzed skin in just a few hours—no sun exposure required.
Product pick: L'Oréal Paris Sublime Bronze Self-Tanning Water Mousse
5. Gentle Face Scrub
Why we love it: Exfoliation is a must for your skincare routine, but certain skin types can't handle as much exfoliation as others. To air on the side of caution but still promote smooth, soft skin, stock your skincare set with a gentle face scrub. This offering will help you gently yet effectively slough away the buildup of dead skin cells, dirt, oil, and other impurities.
Product pick: L'Oréal Paris Pure-Sugar Resurface & Energize Kona Coffee Scrub
6. Multi-Use Moisturizer
Why we love it: Aside from moisturizer with SPF, it's also a smart idea to include a product that can be used to hydrate more than one area of your body? face?. This way, you won't have to worry about having a separate face cream, neck cream, and so on.
Product pick: L'Oréal Paris Age Perfect Hydra Nutrition Manuka Honey All Over Balm - Face, Neck, Chest and Hands
7. Brightening Eye Cream
Why we love it: The skin around your eyes is more delicate than other areas of your face, which is why using an eye cream is key. For your skincare set, search for one that can brighten your eye area. This will not only help neutralize the appearance of dark circles, but also leave you with a complexion that looks well-rested.
Product pick: L'Oréal Paris Age Perfect Rosy Tone Anti-Aging Eye Brightener Paraben Free
8. Relaxing Face Mask
Why we love it: Face masks are able to offer benefits that tackle various skincare concerns, based on their formula. They're also a necessary product to have on-hand when you're in need of some well-deserved self-care. Include a mask that has a calming formula in your skincare set.
Product pick: L'Oréal Paris Pure-Clay Clear & Comfort Face Mask
Next up: If you like the idea of beauty kits and sets, allow us to help you curate another. Head over to our article, Make Sure You Have a Mani-Pedi Kit at Home.
Discover more tips & tricks
Keep your skin happy
See all articles
Shop Featured Skin Care products
Discover More