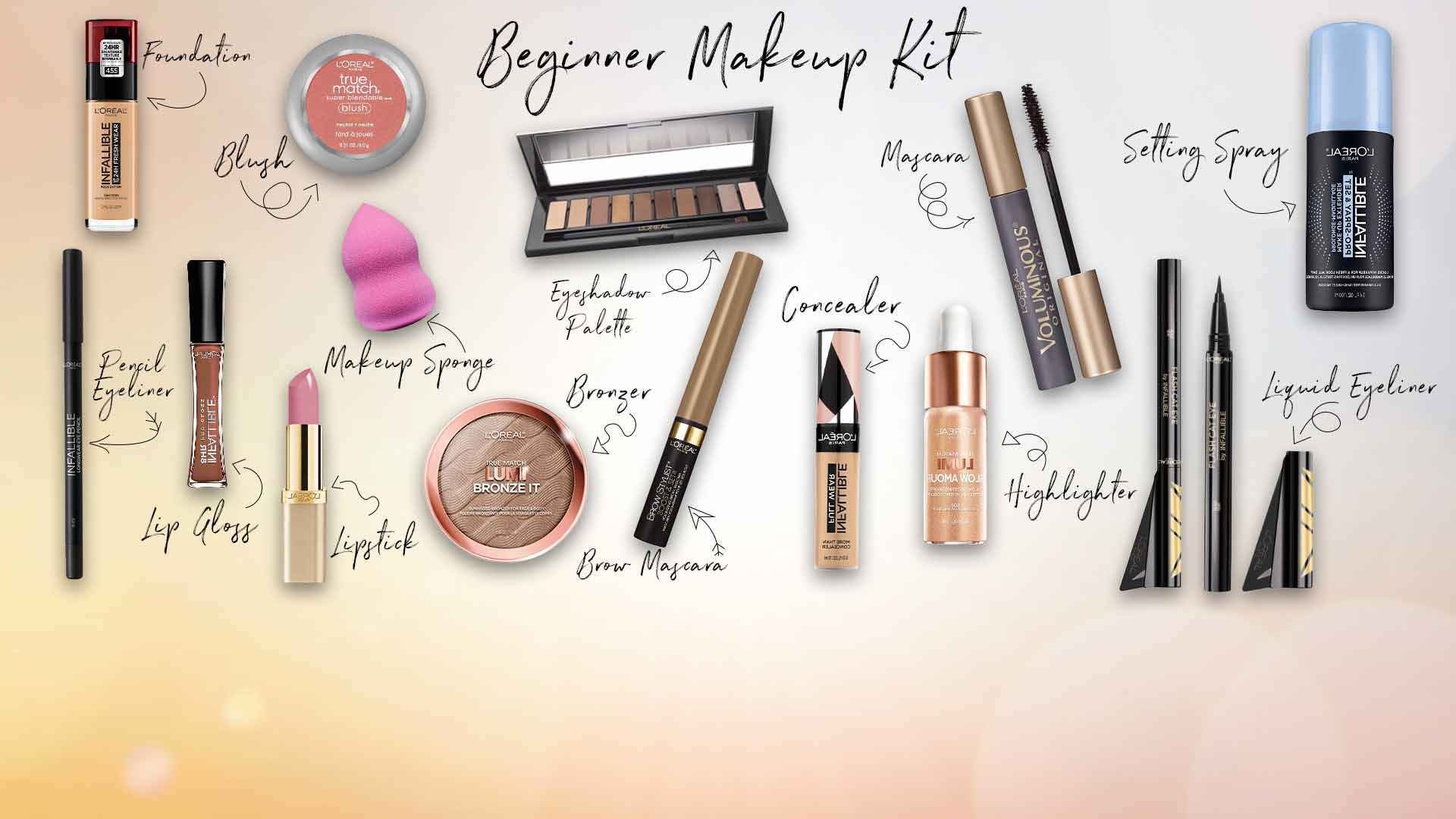 makeup looks
How to Build a Makeup Kit for Beginners
When you're just starting to wear makeup, building your makeup collection with all the necessities can be a bit overwhelming. Where does one start? Putting together a makeup starter kit is a foolproof way to ensure you have all the products to create the makeup looks and trends you've been saving on Pinterest. Instead of wandering down the makeup aisle wondering what to grab and what to pass, read on for 15 items you need to include in your beginner makeup kit, along with drugstore makeup products that fit the bill.
#1. PRIMER
First and foremost, you'll want to grab a reliable makeup primer. Makeup primer will help improve the lifespan of your makeup look, keeping it from fading throughout the day, and also create an even base for you to apply the rest of your makeup.
Product pick: L'Oréal Paris Studio Secrets Professional Magic Perfecting Base
#2. FOUNDATION
Next up, foundation! If you're building a beginner makeup kit, look for a foundation that has a buildable formula. This way, you can use it for everyday wear, as well as days where you want to create a full-coverage look. When in doubt, stick with a natural finish.
Product pick: L'Oréal Paris Infallible 24 Hour Fresh Wear Foundation, Lightweight
#3. CONCEALER
There will be times where you want extra coverage or simply want to disguise blemishes rather than apply a full face of foundation. That's where concealer comes in. Look for one that has a full-coverage formula that'll hide pesky pimples and under-eye bags with ease.
Product pick: L'Oréal Paris Infallible Full Wear Concealer Waterproof, Full Coverage
#4. BRONZER
Who doesn't want a bit of a tan? Bronzer is a must for your makeup kit if you want to give your visage a healthy-looking glow and emphasize your facial structure. You can use a powder bronzer to contour and give yourself a sun-kissed glow sans the sun, so it's a two for one.
Product pick: L'Oréal Paris True Match Lumi Bronze It Bronzer
#5. BLUSH
Whether you're just starting to wear makeup or can count yourself as a self-certified pro, you'll want to add a bit of natural-looking color to your complexion. Use a rosy blush to give your cheeks a faux flush in a matter of seconds.
Product pick: L'Oréal Paris True Match Blush
#6. HIGHLIGHTER
Remember that glow we mentioned earlier? Take it up a notch or two. To further define your facial features, you can apply highlighter to your cheekbones, tip of your nose, and cupid's bow. For your makeup kit, opt for a liquid formula that can easily be dotted on with your fingertip.
Product pick: L'Oréal Paris True Match Lumi Glow Amour Glow Boosting Drops
#7. MAKEUP SPONGE
While liquid highlighter can be popped on with your fingers, not all makeup products can be applied this way. That's where a makeup sponge comes in. This handy tool is the secret to expertly blended foundation and concealer, resulting in an airbrushed finish.
Product pick: L'Oréal Paris Infallible Blend Artist Foundation Blender
#8. BROW MASCARA
When you're just starting out, you don't necessarily need to go crazy when it comes to filling in your brows. That said, a little bit of eyebrow grooming can go a long way. Instead of mastering a pencil or pomade right off the bat, reach for a brow mascara to give your eyebrows the perfect boost.
Product pick: L'Oréal Paris Brow Stylist Boost & Set Brow Mascara
#9. EYESHADOW PALETTE
If you're just building your makeup collection, you likely don't want to buy a million eyeshadow shades at once. But, how can you create all those pretty looks you've been eyeing without them? Rather than turning to a multitude of single eyeshadow pots, stock your makeup kit with a neutral eyeshadow palette that will aid you in creating a variety of classic looks.
Product pick: L'Oréal Paris Colour Riche La Palette Nude
#10. LIQUID EYELINER
We bet you'd love to create a flawless winged eyeliner look but are a little intimidated about doing so. There's no need to be afraid; all you need is the right liquid eyeliner. Rather than picking up the first one you see, look for an option that comes with a stencil so that you can create a sharp, flawless wing without a struggle.
Product pick: L'Oréal Paris Infallible Flash Cat Eye Waterproof Brush Tip Liquid Eyeliner
#11. PENCIL EYELINER
Liquid eyeliner isn't the only type of eyeliner you should have in your arsenal. Instead, there may be days you want to wear pencil eyeliner—or both! Pencil liner is great for lining your lower lash line as well as your waterline. You can even apply a nude shade to your waterline to create the illusion of bigger, more well-rested eyes!
Product pick: L'Oréal Paris Infallible Pro-Last Waterproof, Up to 24HR Pencil Eyeliner
#12. MASCARA
What would a makeup kit be without a tried-and-true mascara? Search for a formula that's both volumizing and lengthening. Whether you're running errands or headed out for date night, a few coats can make all the difference.
Product pick: L'Oréal Paris Voluminous Original Washable Bold Eye Mascara
#13. LIPSTICK
You didn't think we'd leave out lip colors, did you? There are two options you'll want to include in your makeup starter kit, one of which is lipstick. For this makeup kit pick, choose a traditional bullet lipstick that has a hydrating formula.
Product pick: L'Oréal Paris Colour Riche Lipcolour
#14. LIP GLOSS
Not feeling lipstick? Lip gloss in another necessity! This is ideal for when you want a sheer, glossy wash of color on your pout.
Product pick: L'Oréal Paris Infallible 8 HR Le Gloss
#15. SETTING SPRAY
Last but not least, complete your beginner makeup kit with a setting spray! A few spritzes will ensure your look stays fresh day and night, with no smudging or fading as the hours pass. Need we say more?
Product pick: L'Oréal Paris Infallible Pro-Spray and Set Make-Up Oil-Free Setting Spray
Discover more tips & tricks
Keep your skin happy
See all articles