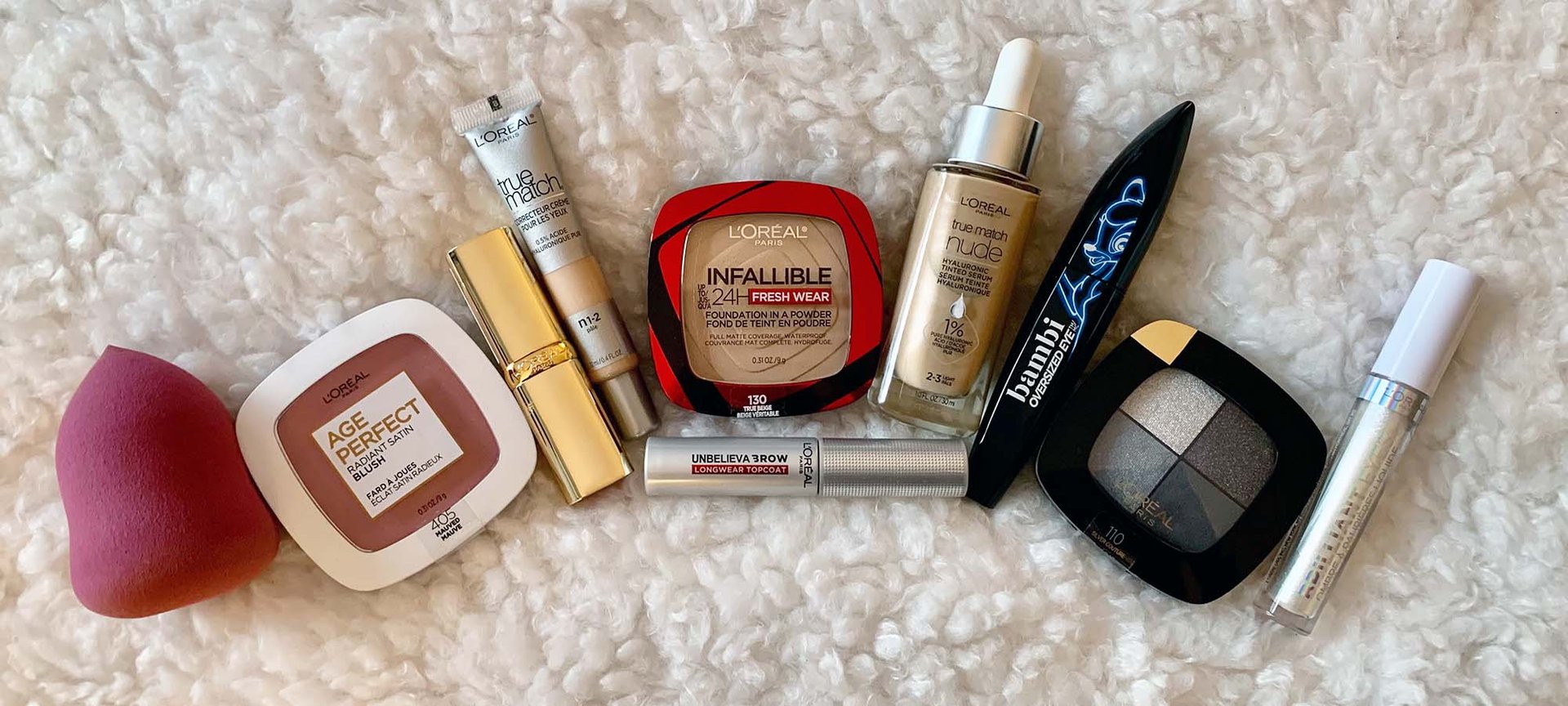 makeup looks
How To Build A Makeup Kit For Beginners
Get all the products you need without breaking the bank.
Piecing together a solid makeup kit can be overwhelming even for those well-versed in beauty 一 but if you're just starting out in makeup, it can be downright intimidating. From figuring out which products you need to understanding which formulas will suit you best, there's a lot to consider. Plus, there are so many products to choose from (with new categories popping up constantly), it isn't an easy task for a novice. So if you're a stressed makeup newbie, you can breathe a sigh of relief because we're sharing everything you'll need to build your makeup starter kit 一 and it's all at the drugstore. From foundation recommendations to nude lipsticks and more, we've got you covered.

1. Tinted Serum
When you're starting out with makeup, it's best to opt for products that are mistake proof. This means choosing more sheer and buildable products like tinted serum over full coverage items to make makeup faux pas, like unblended foundation, less obvious. The L'Oréal Paris True Match Hyaluronic Tinted Serum is a sheer but buildable product that beautifully evens out the skin tone while never looking cakey. It's a skin care and makeup hybrid making it as simple to apply as any other step in your skin care routine. Plus, it's incredibly lightweight and adds a gorgeous illumination to the complexion.
2. Powder Foundation
Multitasking items will be your saving grace to prevent you (and your makeup bag) from being overwhelmed. The L'Oréal Paris Infallible Up to 24H Fresh Wear Foundation in a Powder can be worn on its own as a full-coverage foundation, as well as used to lock in the makeup underneath and provide a matte finish. It's a breathable formula that's transfer-resistant, waterproof and heatproof.

3. Hydrating Concealer
The L'Oréal Paris True Match Eye Cream in a Concealer, 0.5% hyaluronic acid is a must-have for makeup beginners because it's easy to blend, can be built up for medium coverage, and keeps the skin hydrated while you're wearing it. It's formulated with hyaluronic acid, and looks seamless when worn on its own or with a full face of makeup. Not to mention that it works beautifully as an eyeshadow base, too.
You also want to add an all over concealer to your kit too. The L'Oréal Paris Age Perfect Radiant Concealer with Hydrating Serum is great if you're looking for something with a bit more coverage that still looks completely skin like.

4. Neutral Blush
The key to keeping your makeup kit functional and minimalistic as you start out is to opt for neutrals that will pair with your look no matter what. A neutral blush, like the L'Oréal Paris Age Perfect Radiant Satin Blush with Camellia Oil in Rosewood, is great because no matter what eyeshadow look or lipstick you're rocking, it will pair well with it.
Editor's tip: In addition to all these must-haves, you'll eventually want to invest in brushes too. Check out our article 22 Types of Makeup Brushes And Their Uses to be your guide.

5. Neutral Eyeshadow Palette
Eyeshadow can often be the most intimidating makeup step for beginners because pairing colors together can be tricky. So choosing a neutral palette with just a few shades takes the guesswork out of it. We love the L'Oréal Paris Colour Riche Pocket Palette Eye Shadow in Boudoir Charme because it has neutral shadows with varying depth so that you can complete a whole look with just this quad.

6. Creamy Brown Eyeliner
To give your eyes definition, be sure to have a rich brown eyeliner on hand. Going for brown over black is a great way to achieve a softer appearance. The L'Oréal Paris Easy-Glide Mechanical Eyeliner, Waterproof in Brown Denim is great because it can be applied to the waterline and it's soft and creamy enough to be smudged at the upper lash line, too. The bonus: It's mechanical so you won't need a sharpener.

7. Buildable Mascara
Finding a mascara that does it all 一 curls, separates, lengthens and volumizes 一 isn't easy, but the L'Oréal Paris Bambi Eye Oversized Eye Washable Mascara Instant Volume checks every box. With just one coat, you'll have subtly boosted lashes, but add one or two more coats and it can be built up to provide dramatic length and volume for a bold lash look.
8. Longwear Brow Gel
Whether you're going for a glam makeup look or something more minimal, you'll want to have a clear eyebrow get on hand to keep your brows in place all day. The L'Oréal Paris Unbelieva-Brow Longwear Brow Topcoat, Waterproof Universal Transparent keeps the brow hairs in place for up to 30 hours without making them feel crunchy.

9. Nude Lipstick
Nude lipstick goes with everything, making it a makeup bag must-have. Apply your favorite nude shade to your lips to add color and definition, or even pop some on your cheeks to double as a neutral blush. We adore the L'Oréal Paris Colour Riche Les Nus Intense Nude Lipstick formula because it's ultra-pigmented, has a light formula that feels comfortable on the lips, and wears well for hours on end.
Editor's Tip: On the contrary, when you want a more dramatic look, reach for the perfect red lipstick to complete your look. Check out our article, 8 Universally Flattering Red Lipsticks To Fall In Love With This Season to find the best L'Oréal Paris shades for you.

10. Hydrating Lip Gloss
You can never go wrong with a hydrating lip gloss formula, like the L'Oréal Paris Glow Paradise Lip Balm-in-Gloss Pomegranate Extract. It contains pomegranate extract and hyaluronic acid to keep the lips moisturized, while creating a gorgeous glow and a hint of stunning color.
Next: 7 Simple Makeup Looks For Everyday Wear

Written and photographed by: Alyssa Kaplan
Discover more tips & tricks
Keep your skin happy
See all articles
Shop Featured Makeup products
Discover More