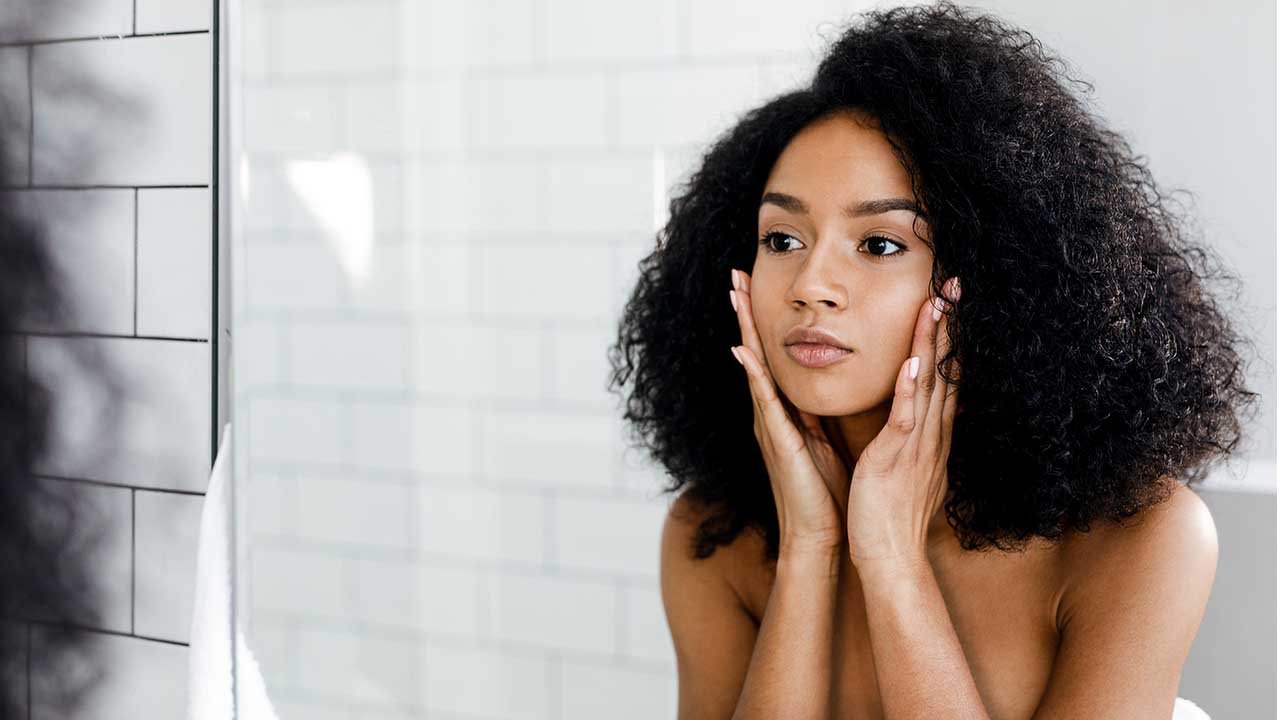 skin care essentials
12 Skin Care Resolutions to Make Before the New Year
It's almost that time of the year—time to plan your New Year's resolution ideas, that is. While you may have fitness challenges, saving goals, and healthy eating habits on the brain, why not switch things up in the skin care department, too? Your skin deserves all the love and attention it can get, and with a solid list of skin care resolutions, you'll be on your way to healthy and radiant-looking skin in no time. So, instead of making your New Year's resolution list at the last minute—and then abandoning them—why not switch things up and pre-plan? Who knows, maybe this time your resolutions will actually stick around.
If you're in need of some inspiration for your skin care routine, as always, we've got you. From using an anti-aging routine to keep fine lines and wrinkles at bay to multi-masking to help manage a multitude of skin concerns, here are 12 New Year's resolution ideas you can start following through on before January 1st.
SKIN CARE RESOLUTION #1: UPDATE YOUR FACIAL CLEANSER
Your daily skin care routine should always include cleansing your complexion twice a day, every morning and evening. However, updating your go-to facial cleanser is a great way to switch things up when you're in need of a change. This year, try a facial cleanser that's formulated with clay—not only is it a naturally-derived ingredient, but it also cleanses impurities from the skin without over-drying. Reach for a facial cleanser from the L'Oréal Paris Pure-Clay line. Take your pick from the following options, picking based on your skin type and concerns:
L'Oréal Paris Pure-Clay Detox & Brighten Cleanser: This powerful clay-to-mousse cleanser is formulated with charcoal and helps detoxify skin from everyday pollution and debris.
L'Oréal Paris Pure-Clay Exfoliate & Refine Cleanser: This cleanser contains red algae, a potent antioxidant ingredient, and can help keep your skin looking and feeling youthful.
SKIN CARE RESOLUTION #2: TRY DOUBLE CLEANSING
If you find that your pores are feeling a bit congested, one cleansing session may not be enough. It may behoove you to add double cleansing into the mix. This skin care trend cleanses your skin in two steps: a no-rinse cleanser followed by a regular facial cleanser. The result? A super thorough cleansing. If you're ready to get in on the double-cleanse fun, check out our article, Is Double Cleansing Necessary?
SKIN CARE RESOLUTION #3: GRAB A FACIAL TONER
Once your skin is clean, you want to follow up with a facial toner. This ensures that dirt, excess oil, and leftover facial cleanser are removed from the skin's surface after cleansing. It also comes in handy to refresh and prep your skin for other skin care products that are to come. With that said, make some space in your skin care collection for the L'Oréal Paris HydraFresh Toner, which is formulated with beta-hydroxy acid and pro-vitamin B5. The alcohol-free toner rejuvenates tired-looking skin and protects against moisture loss.
SKIN CARE RESOLUTION #4: USE LUKEWARM WATER
While there is no denying that hot water feels amazing on your skin in the moment, regular use can have adverse effects on your skin. Using hot water excessively can deplete natural oils from your skin and lead to dryness. Not cool. So, instead of cleansing with hot water, opt for a more gentle approach. Per the American Academy of Dermatology (AAD), it's best to use lukewarm H2O when you cleanse. Think you can resolve to turn down the temp? We're confident you can!
SKIN CARE RESOLUTION #5: UPDATE YOUR FACIAL MOISTURIZER
Immediately after you've washed and applied toner to your face, your skin will be calling out for a facial moisturizer. If you've been slacking on your skin care routine, it's time to switch to a face cream or lotion that suits your skin type. Try the L'Oréal Paris Hydra Genius Daily Liquid Care – Normal/Dry Skin, L'Oréal Paris Hydra Genius Daily Liquid Care – Normal/Oily Skin, or L'Oréal Paris Hydra Genius Daily Liquid Care – Extra Dry Skin and smooth your moisturizer of choice over your complexion post-cleansing.
SKIN CARE RESOLUTION #6: COMMIT TO SUN PROTECTION ALL YEAR LONG
Like it or not, sun protection is an absolute must. No matter the time of year—or the weather—there are a few sun protection measures you should take every single day to prevent sun damage. For starters, apply a broad-spectrum sunscreen or facial moisturizer that's formulated with SPF 15 or higher, like the L'Oréal Paris Revitalift Triple Power Day Lotion SPF 30.
In addition to using a moisturizer with SPF every morning, limit your amount of time in the sun (especially between 10 a.m. and 2 p.m., which are the sun's peak hours), seek shade, and cover up exposed areas in long sleeves, pants, a broad-brimmed hat, and UV-blocking sunglasses.
SKIN CARE RESOLUTION #7: EXFOLIATE REGULARLY
Wanting to pare down your skin care routine is totally understandable—after all, it can get pretty lengthy. We fully support simplifying your skin care routine, but there's one step you shouldn't skip out on: exfoliation. Dead skin cell buildup on your skin's surface is a one-way ticket to dull, dry skin. Which, hello, is just about the last thing you want in the dead of winter. So, instead of saying goodbye to exfoliating in the new year, kick things up a notch—now.
Keep in mind, the frequency with which you should exfoliate varies from person to person. Some people can exfoliate a few times a week, while others can only handle it a few times a month. Pay attention to your skin to determine what's best for you. As for what to exfoliate with, try one of our sugar scrubs. Here are your options:
L'Oréal Paris Pure-Sugar Resurface & Energize Kona Coffee Scrub: This scrub contains real Kona coffee grounds and helps energize and revitalize tired skin.
L'Oréal Paris Pure-Sugar Nourish & Soften Cocoa Scrub: Formulated with finely crushed cocoa and hydrating coconut oil, this option is ideal for dry skin.
L'Oréal Paris Pure-Sugar Smooth & Glow Grapeseed Scrub: This sugar scrub is formulated with acai and grapeseed oil and will leave your skin feeling soft and supple.
L'Oréal Paris Pure-Sugar Purify & Unclog Kiwi Scrub: As its name implies, this sugar scrub, which contains kiwi seeds, is a great choice if your skin is prone to clogged pores.
SKIN CARE RESOLUTION #8: CLEAN OUT YOUR SKIN CARE PRODUCT COLLECTION
Spring cleaning may be just around the corner, but cleaning out your skin care product collection isn't something that needs to be put off. Look through your collection and take notice of products that have been sitting there (unused) for longer than six months—they're likely expired and should be tossed! Farewell to old dark spot correctors, eye creams, and glycolic acid peels. Don't you feel lighter already? Not only will a less cluttered medicine cabinet be completely welcome, but now you'll have extra room in case anyone wants to treat you to new skin care products or makeup for the holidays.
SKIN CARE RESOLUTION #9: USE A FACE MASK ONCE A WEEK
While you make consider face masks a special occasion treat, there is no harm in using one for regular pampering. They're the perfect choice for your next self-care Sunday, and most face masks only require 15 minutes of your time.
You know the drill here: Choose a face mask that's formulated to treat your specific skin care concerns. If you're a city-dweller and your complexion is feeling weighed down by environmental stressors and pollutants, try the L'Oréal Paris Pure-Clay Detox & Brighten Face Mask. It's formulated with charcoal to help draw out the buildup of dirt, impurities, and pollution and reduce the appearance of dull skin.
If your skin is feeling stressed out and uncomfortable, reach for the L'Oréal Paris Pure-Clay Clear & Comfort Face Mask. If your skin tone is looking and feeling dull, try the L'Oréal Paris Pure-Clay Clarify & Smooth Face Mask, which contains yuzu lemon and will help brighten your complexion. Whatever option you choose, apply an even layer onto clean, dry skin, leave it on for 10-15 minutes, then rinse off thoroughly with lukewarm water and pat dry.
SKIN CARE RESOLUTION #10: USE FACE SERUMS REGULARLY
When it comes to your skin care routine, in order for products to work their magic, you need to use them consistently. And this is absolutely true for face serums, which hold the power to work wonders on your skin if you choose the right formula and use it every morning and evening.
For intense hydration, reach for a facial serum that contains hyaluronic acid, like the L'Oréal Paris Revitalift Derm Intensives 1.5% Pure Hyaluronic Acid Serum. For antioxidant protection, try a serum formulated with vitamin C, such as the L'Oréal Paris Revitalift Derm Intensives 10% Pure Vitamin C Serum. If you're dealing with dark spots, consider making a resolution to be consistent with the L'Oréal Paris Revitalift Derm Intensives 10% Pure Glycolic Acid Serum.
One of the many amazing things about facial serums are that you can choose a formula to address very specific skin needs. Once you've picked your potion, apply two to three drops onto clean skin every morning and night. After applying, you can smooth your moisturizer on directly on top.
SKIN CARE RESOLUTION #11: ALWAYS TAKE YOUR MAKEUP OFF BEFORE BED
This is skin care 101, so if you're not already doing this, you need to start taking your makeup off before bed ASAP—like tonight! With makeup removers like micellar water and wipes that are both gentle and effective, it really couldn't be easier to swipe off your makeup at the end of the day. Leaving it on while you sleep is a recipe for future breakouts. We particularly love micellar water for this task because it removes makeup and cleanses skin at the same time. Reach for the L'Oréal Paris Micellar Cleansing Water Complete Cleanser Waterproof – All Skin Types to take off even the toughest waterproof mascara before you hit the hay.
SKIN CARE RESOLUTION #12: START AN ANTI-AGING REGIMEN
We have some good news. No matter your age, it's never too early—or too late—to start an anti-aging skin care routine. Start transitioning your skin care routine now, swapping out old skin care products for ones that can help keep your skin looking youthful. The perfect place to start? With the L'Oréal Paris Revitalift Cicacream Face Moisturizer Pro Retinol & Centella Asiatica, a lightweight cream that immediately makes skin feel softer and smoother while reducing the appearance of fine lines and wrinkles with continued use over time.
For even more anti-aging benefits, add a nourishing night cream, like the L'Oréal Paris Age Perfect Hydra Nutrition Manuka Honey Night Balm, to your routine.
Now that you have your skin care routine under control ahead of time, you can focus on planning the perfect makeup look for NYE. For a few cool ideas, check out the 7 New Year's Eve Makeup Looks That Are Worthy of Ringing in the New Year.
Discover more tips & tricks
Keep your skin happy
See all articles
Shop Featured Skin Care products
Discover More