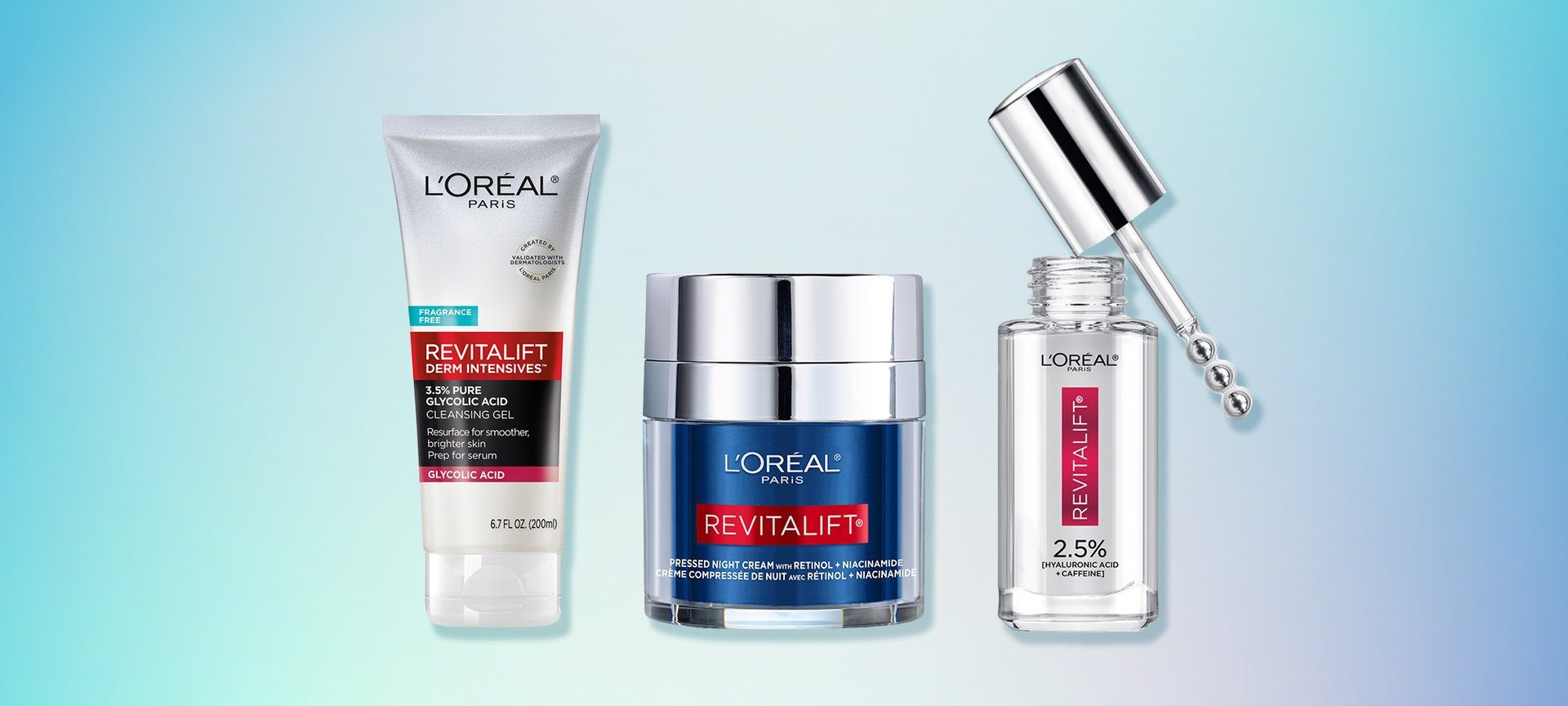 skin care concerns
How To Layer L'Oréal Paris Revitalift Derm Intensives Products
Your guide to get you the best results.
Although you may not know it, the order in which you apply your products in your skin care routine is actually the key to ensuring that the products are as effective, helping your skin reap all their benefits. We love using the L'Oreal Paris Revitalift Derm Intensives line of moisturizers, cleansers, treatments and serums in our skin care routines to keep our skin looking youthful and radiant. However, when you're not sure about which products work together and what order to apply them in, layering might feel like a science experiment. Don't worry, because we're breaking down everything you need to know about layering the Revitalift Derm Intensives products, ahead.

How To Layer the L'Oréal Paris Revitalift Derm Intensives
Step 1: Cleanser
While a cleanser technically isn't being layered, it's an important first step. Be sure to start any skin care routine off with a cleanser, like the L'Oréal Paris Revitalift 3.5% Pure Glycolic Acid Cleanser. This gel cleans the skin and preps it for serums and treatments while gently exfoliating away dead skin cells and pore-clogging dirt to reveal smoother, brighter skin.
Step 2: Toner
Using a toner might not seem essential, but hear us out. Even after washing your face, there can still be residual dirt, grime and oil sitting on your skin. In order to reap the full benefits of products to come, you'll want to get rid of the remaining impurities. Apply some of the L'Oréal Paris Revitalift Derm Intensives 5% Glycolic Acid Toner to a cotton pad and swipe it across your skin. In addition to clearing gunk from the surface of your skin, this toner works to soothe, moisturize and exfoliate the skin, prepping it for your serum.
Step 3: Facial Serum
As a rule of thumb, apply products that have the thinnest or lightest consistencies and work your way up to ones that are heavier. So, with that said, opt for a lightweight hyaluronic acid serum first and apply it on top of damp skin. Feel free to pat a few drops of the L'Oréal Paris Derm Intensives 1.5% Pure Hyaluronic Acid Serum onto just-toned skin for hydration and an instant plumping effect.
Step 4: Moisturizer
After the serum has soaked into the skin, it's time to apply a moisturizer to lock in hydration. During the day, we recommend using the L'Oréal Paris Revitalift Anti-Wrinkle + Firming Day Cream SPF 25. It's lightweight and contains SPF, which is extremely important to prevent sun damage (read: premature signs of skin aging).
We love incorporating the L'Oréal Paris Revitalift Retinol and Niacinamide Pressed Night Cream into our nighttime routines because not only does it deeply moisturize the skin, but it also helps to even skin tone and reduce the appearance of wrinkles. This pressed night cream is formulated with retinol and niacinamide, which helps promote a healthier-looking complexion for smoother, more radiant skin come morning, and over time visibly reduce the look of wrinkles and uneven texture.
Step 5: Eye Cream
Before you head out for the day or drift off to sleep, finish off your skin care routine with an eye cream or serum. We can't get enough of the L'Oréal Paris Revitalift Derm Intensives with 1.5% Hyaluronic Acid + 1% Caffeine Eye Serum and it's cooling triple roller. The combination of hyaluronic acid and caffeine replumps and brightens the under eye area in just a few swipes. The cooling triple roller applicator gives the skin under eyes a full contour massage, which helps to further depuff and make eyes look less tired.
Next: Our Best Skin Care Products With Retinol
Written By: Caitlyn Martyn, Photo Design: Sarah Duvivier
Discover more tips & tricks
Keep your skin happy
See all articles
Improve your routine
Show your new look more love:
makeup