anti aging
Our Best Skin Care Products With Retinol
Cheers to smooth, youthful-looking skin.
July 23, 2020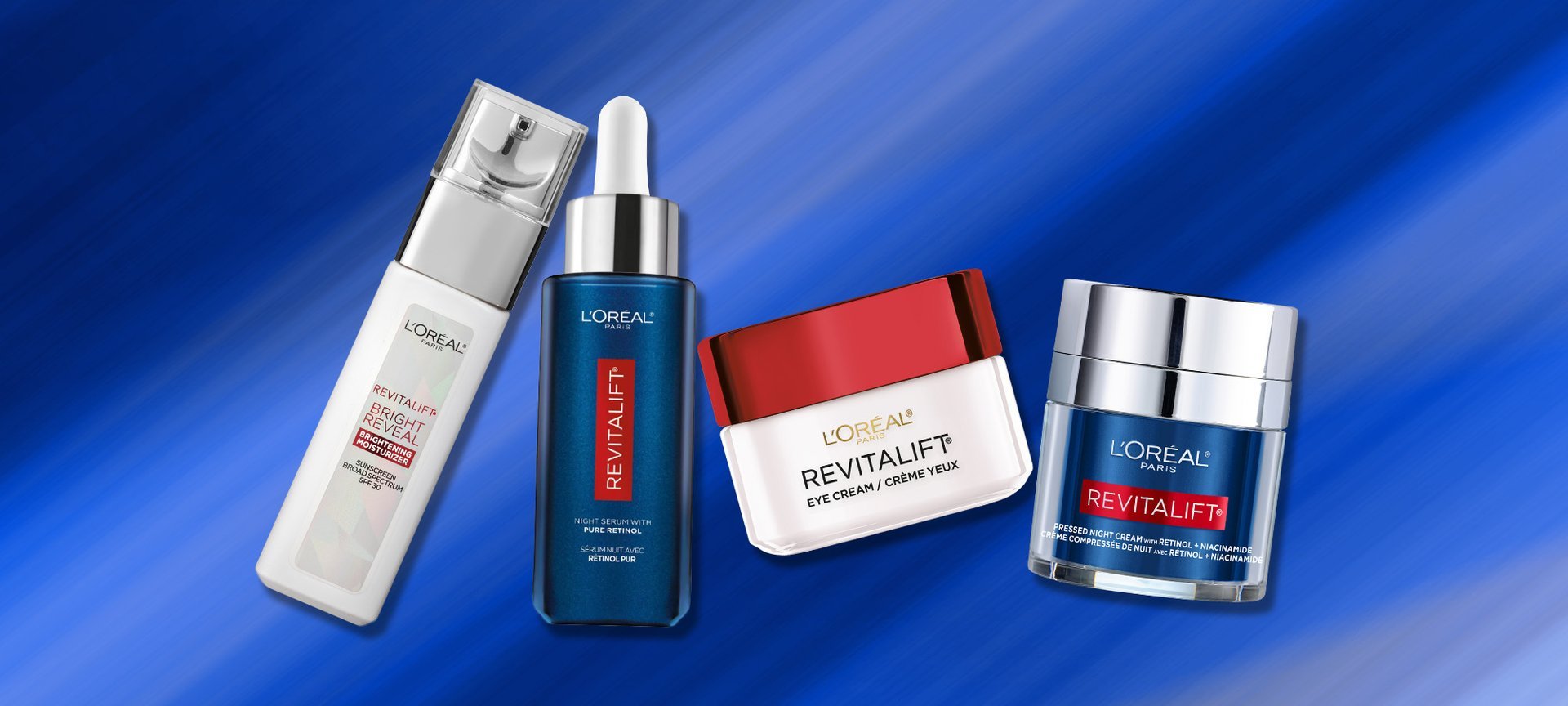 Of all the buzzy skin care ingredients that are popular in the skin care world and on social media, retinol is without a doubt a holy grail. Beloved by beauty industry pros thanks to its ability to help minimize the appearance of fine lines and wrinkles, it's no surprise that retinol creams and retinol serums have become standard fixtures in anti-aging skin care routines. If you're on the hunt for the best retinol products to add to your own skin care routine, look no further because we're sharing the details about our best retinol products, below.

What Is Retinol?
To begin, let's make sure you're familiar with what retinol products do. According to the American Academy of Dermatology (AAD), retinol—a derivative of vitamin A—can help prevent premature signs of aging, including fine lines and wrinkles, with continued use over time. The AAD also recommends the use of retinol for those who have oily skin or mild acne as it has been known to help address these concerns. If you decide to incorporate retinol into your routine, just keep in mind that the AAD recommends starting slowly to help avoid any dryness that may occur when using retinol.

Our Best Skin Care Products With Retinol
We're sharing our best products formulated with retinol, from serum to cream, day to night, below.

1. Retinol Serum
Formulated with an optimal concentration of pure retinol, the L'Oréal Paris Revitalift Derm Intensives Night Serum, 0.3% Pure Retinol fights key signs of aging, like wrinkles, and works to smooth and brighten your complexion. It's also formulated with glycerin and hyaluronic acid to balance the potential drying effects of retinol. Plus, it's paraben-free, fragrance-free, and is suitable for all skin types.
It's best to introduce retinol into your routine gradually so the skin can get used to its powerful formula. During week one, start by applying two to three drops to clean, dry skin twice a week. Week two, use every other night. Week three, use nightly if your skin can tolerate it. Follow up with a moisturizer to ensure your skin is hydrated.

2. Retinol Night Cream
The newest addition to our retinol lineup is our innovative L'Oréal Paris Revitalift Pressed Night Moisturizer with Retinol, Niacinamide, 1.7 oz. It's formulated with retinol and niacinamide to reduce the appearance of fine lines and wrinkles and to even out the skin tone and texture. It also contains panthenol, glycerin and hyaluronic acid for even more hydration. Not to mention, it comes in a fresh-pressed jar which makes it extra sanitary and easy to know how much product to use.

3. Retinol Eye Cream
The eye area is often the first place to show signs of aging. Consider adding an eye cream formulated with Pro-Retinol A, like the L'Oréal Paris Revitalift Anti-Wrinkle + Firming Eye Cream to your daily skin care routine. It helps to reduce the appearance of dark circles and crow's feet, plus it provides long-lasting hydration. If you experience puffiness under your eyes, it addresses that, too. Dab on a bit of this eye cream after cleansing but before applying moisturizer, morning and night.

4. Retinol Daytime Moisturizer
Despite what you may have heard, retinol does not need to be reserved for nighttime use only. The L'Oréal Paris Revitalift Bright Reveal Brightening Day Moisturizer SPF 30
is a daytime moisturizer with retinol and glycolic acid that works to reduce signs of aging and brighten your complexion. Since both retinol and glycolic acid can make the skin more sensitive to the sun, it also contains SPF 30 as a layer of protection.
Next: Which Skin Care Products Should Be Refrigerated?
Written by: Alyssa Kaplan, Photo Credit: Sarah Duvivier
{ "@context": "https://schema.org/", "@type": "WebPage", "speakable": { "@type": "SpeakableSpecification", "cssSelector": ["speakable-content"] }, "url": "https://www.lorealparisusa.com/beauty-magazine/skin-care/anti-aging/best-skin-care-products-with-pro-retinol-a" }
Discover more tips & tricks
Keep your skin happy
See all articles
Shop Featured Skin Care products
Discover More
{ "@context": "http://schema.org", "@type": "BreadcrumbList", "itemListElement": [ { "@type":"ListItem", "position": 1, "item": { "@id": "/", "name": "Home" } } , { "@type":"ListItem", "position": 2, "item": { "@id": "https://www.lorealparisusa.com/beauty-magazine", "name": "Beauty Magazine" } } , { "@type":"ListItem", "position": 3, "item": { "@id": "https://www.lorealparisusa.com/beauty-magazine/skin-care", "name": "Skin Care For Every Age" } } , { "@type":"ListItem", "position": 4, "item": { "@id": "https://www.lorealparisusa.com/beauty-magazine/skin-care/anti-aging", "name": "Anti Aging Skin Care" } } , { "@type":"ListItem", "position": 5, "item": { "@id": "https://www.lorealparisusa.com/beauty-magazine/skin-care/anti-aging/best-skin-care-products-with-pro-retinol-a", "name": "best-skin-care-products-with-pro-retinol-a" } } ] }