skin care essentials
Mini Skincare Fridges Are the New Place to Store Your Products
February 27, 2020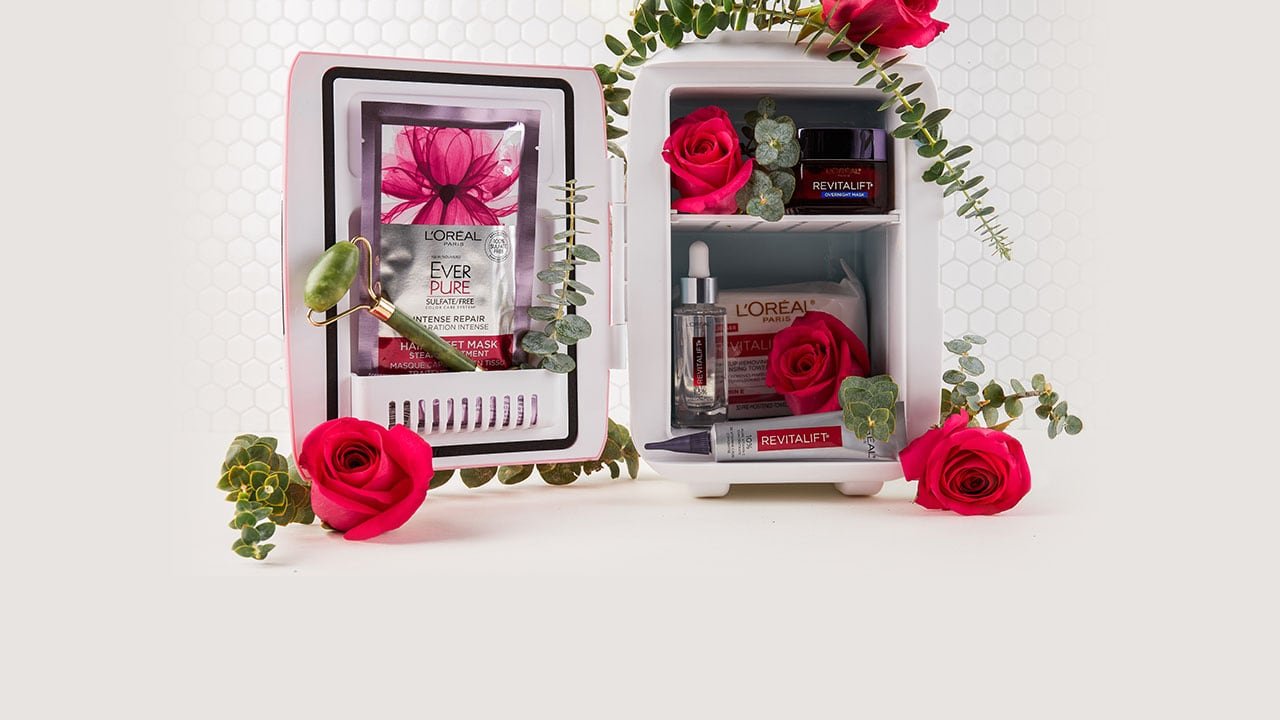 Have you noticed a new trend gracing your social media feed, taking up space that used to be occupied by shelfies galore? Trust us, if you take a moment to view Instagram's explore page, instead of seeing shelves lined with beauty products as per usual, you'll see mini makeup and skincare fridges stocked with beauty products. Teeny tiny skin care fridges, much cuter than what you had in your college dorm room, overflowing with sheet masks, eye creams, jade rollers, facial moisturizers, and more. Basically, beauty fridges are your ticket to taking your skin care (and even hair care) routine to the next level. Ready for the full scoop on this beauty trend? Read on!
WHY ARE MINI MAKEUP AND SKINCARE FRIDGES TAKING OVER?
So, you've seen fridges full of skin care products and even certain makeup essentials, but why are beauty appliances suddenly so popular? Beyond the fact that keeping beauty products in the fridge can reportedly help them to last longer and stay fresher, there are a few reasons mini skin fridges are taking over.
1. REFRIGERATED BEAUTY PRODUCTS FEEL AMAZING
Have you ever splashed cool water on your face and felt immediately refreshed? Well, using chilled skin care products can give a similar, cooling effect that you'll absolutely love.
2. YOU CAN KEEP SNACKS AND SKIN CARE SEPARATE
Not everyone wants to see a tool they rub all over their face (like a jade roller) right next to their butter and eggs. Some people believe skin care and food should be kept separate and wouldn't want their beauty products stowed too close to things they consume, so it's only fitting to have a totally separate skincare fridge—don't you think?
3. YOUR BEAUTY PRODUCTS CAN BE RIGHT WHERE YOU WANT THEM
Do you go through your skin care routine at the kitchen sink? We're guessing not, which means having beauty products stored in your fridge may be slightly impractical. Are you really going to trek downstairs to the fridge every night to put on eye cream? We think not! You'll be much better at keeping your skin care resolutions if all the necessary products are within reach, stored in a skin fridge right on your vanity or bathroom counter.
4. THEY'RE ULTRA-CUTE!
Don't deny it; you like your beauty products to look nice. That's the reason you're drawn toward cute packaging and why skin care shelfies get so much love on Instagram. Mini skin care fridges play into this, as they're all out adorable. They're tiny, and they come in cute colors (we're partial to pink). It's also on-trend to deck your mini-fridge out with stickers, preferably beauty-related ones. Mini beauty fridges are undeniably snapshot-worthy, which also never hurts a trend in our Instagram-loving world.
WHICH PRODUCTS SHOULD BE STORED IN A SKINCARE FRIDGE?
We've already hinted at a few ideas, but which products should you keep in a mini skin care fridge? You can't go wrong with most products, but in the case that you have a new mini-fridge to pack with products, here are our best suggestions:
L'Oréal Paris Age Perfect Cell Renewal Rosy Tone Mask: Gel-based masks are one of our favorite picks as far as products to keep in your skincare fridge—a chilled mask really takes pampering to the next level. Pop this rosy-hued mask into your skin fridge and break it out on your next at-home spa day if you have mature skin.
L'Oréal Paris Revitalift Derm Intensives 1.5% Pure Hyaluronic Acid Serum: As if serums, with their potent formulas, weren't amazing enough, application becomes a luxurious experience when you keep them in the fridge. The next time your skin is in need of a moisture surge, smooth on a serum formulated with hyaluronic acid that's been kept chilled in your skincare fridge.
L'Oréal Paris Revitalift Derm Intensives 10% Pure Vitamin C Serum: Applying multiple serums is essential in any skin pampering routine, but you can really take the TLC to the next level by storing your vitamin C serum in a beauty fridge. Try applying your cool (literally) serum before a hot day on the beach, layering it under your sunscreen.
L'Oréal Paris Eye Defense: You can't go wrong with keeping an eye cream nice and cool. Your under-eye area is sure to appreciate receiving a cool treat, not to mention the anti-aging benefits offered by this particular cream, with every application.
L'Oréal Paris Revitalift Triple Power Anti-Aging Overnight Mask: You know those nights in the summer when your room is way too hot, and sleep is evading you? Applying a night cream or an overnight mask that's been refrigerated might just do the trick and help you catch some shut-eye! Try a formula like this one, with centella asiatica, to not just cool down but also address anti-aging concerns while you sleep.
L'Oréal Paris True Match Lumi Shake and Glow Dew Mist: Face mists are an amazing way to refresh your face as is, and that's only amplified when they're refrigerated. A few spritzes will have you feeling like a whole new person, especially when you use this illuminating mist.
Want to stay in the know? Then it's time to learn about another beauty trend! Here's our article, Trend Alert: Powder to Cream Makeup Pigments.
Discover more tips & tricks
Keep your skin happy
See all articles
Shop Featured Skin Care products
Discover More