skin care essentials
Which Skin Care Products Should Be Refrigerated?
Keep it cool for your skin's sake.
December 11, 2020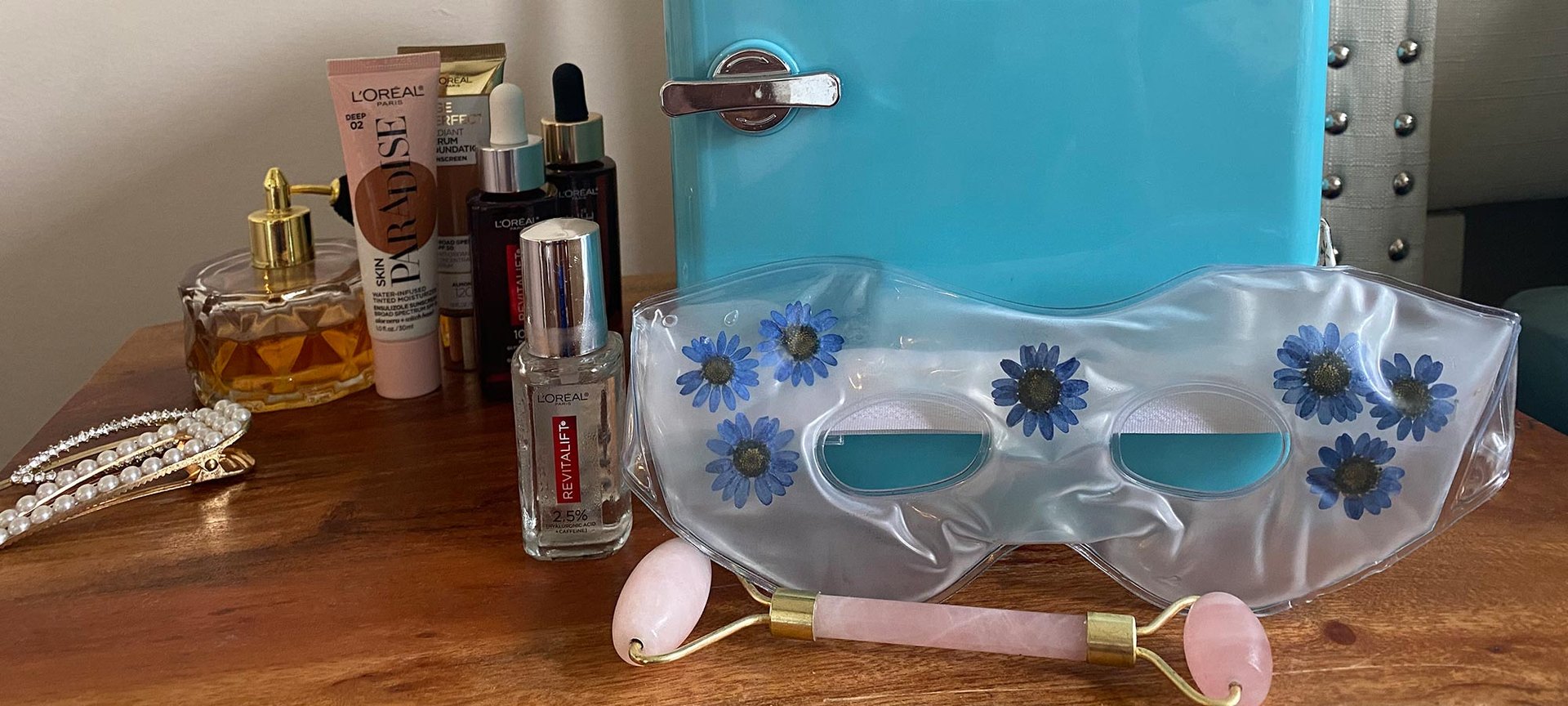 Make a little room in your fridge next to your milk and eggs. It's time to chill some of your favorite skin care products, too. Using formulas that have been stored in the refrigerator can help to temporarily reduce the appearance of puffiness. Plus, it can feel refreshing to slather on a chilled cream when it's super hot outside or when you've spent all day in a workplace or home office that's been pumping out artificial heat. These days, you can get a skin care fridge specifically for your products, small enough to fit on your desk or vanity. Wondering which skin care products should be refrigerated? Here, we're naming seven types of products—including overnight face masks, eye creams and more—that you should consider stashing in your fridge.
7 Skin Care Products You Should Refrigerate
Store these products in the fridge for a cool and refreshing boost to the skin when you apply them.
1. Overnight Face Mask
Store your overnight masks, like the L'Oréal Paris Revitalift Triple Power Anti-Aging Overnight Mask in your refrigerator to give your skin a cool treat before you go to bed. When you put the chilled overnight mask on your face, it'll start to warm up as it comes into contact with your skin. This creamy, leave-on mask can immediately make skin feel hydrated and can diminish the look of fine lines and wrinkles with continued use over time. Take the overnight mask out of the fridge and use it in place of your regular night moisturizer.
2. Sheet Mask
Sheet masks are already an amazing option for refreshing your skin. You can amplify that effect by popping them into the fridge before using. They'll feel amazing at the end of a long summer day or to wake yourself up first thing in the morning. Pull the cold sheet mask out of its packaging and lay it over your skin for about 10 to 15 minutes.
Editor's tip: If you're hosting a girls' night, have a few sheet masks ready to go in the fridge and dole them out to your friends for a skin-pampering activity.
3. Lightweight Moisturizer
As you're well aware by now, moisturizing is one step in your skin care routine you should never skip—and that's especially true if your complexion is super dry. Extra dry skin has a very fragile skin moisture barrier that can be easily damaged by external factors like pollution and UV rays. Consequently, skin can then lose its ability to retain moisture, becoming easily dehydrated, feeling tight and uncomfortable. Once you've taken the moisturizer out of the fridge, apply a thick amount onto your face and then tissue off any excess.
Editor's tip: Stash the L'Oréal Paris Hydra Genius Daily Liquid Care - Extra Dry Skin in your refrigerator for a nice refreshing feeling. This water-based moisturizer is formulated with hyaluronic acid and aloe water to help provide long-lasting hydration and comfort to extra dry skin. Apply it to damp skin to help lock in hydration.
4. Eye Cream
You can also store an eye cream in the fridge to help temporarily reduce the look of puffiness and dark circles. When kept cold, eye creams can cause short-term vasoconstriction (tightening of blood vessels), which may make them more beneficial for those with puffy eyes or dark circles. Try storing the L'Oréal Paris Revitalift Triple Power Eye Treatment in your refrigerator. This anti-aging eye cream is formulated with hyaluronic acid, vitamin C and Pro-Retinol to visibly reduce wrinkles, brighten and depuff the under-eye area in just one week.
5. Eye Serum
Just like your eye cream, your eye serum can go into the fridge too. In fact, those eye patches that you probably store in the refrigerator are effective because of the serum in them. The cool feeling of the product is not only refreshing but can further help to depuff the under-eye area. If your serum has a rollerball wand, massage the serum into the skin in a circular motion then pat in excess with your ring finger.
6. Face Mist
The L'Oréal Paris True Match™ Lumi Shake and Glow Dew Mist has a formula with coconut water and vitamin C that awakens skin and revives your complexion. A quick spritz also provides the skin with a boost of healthy hydration. It's already a customer favorite, but you just might like it even more if it's kept in the fridge. Using a chilled face mist like the hydrating Dew Mist doesn't just feel amazing, it also benefits your skin. It also works to set makeup, so you can use it whether you have a full face on or are going makeup-free under your mask.
7. Vitamin C Serums
Since the L'Oréal Paris Derm Intensives 10% Pure Vitamin C Serum is packaged in an air-tight metal tube to maximize the stability of the vitamin C, storing it in your fridge is just a bonus. This concentrate enhances radiance, combats dullness and helps to even skin tone. Keep it in the fridge to wake uo skin with a cool boost in the morning.
Bonus: Skin Care Tools
While skin care tools are not exactly products, it's worth mentioning that you can put them in the fridge. Stash your jade roller, face globes, gua sha massagers and eye gel packs in your skin care fridge. Stowing your facial massage tools somewhere cold allows you to take at-home spa sessions to the next level. Even better if you use them to apply an equally chilled moisturizer or eye cream!
Next: How Do You Layer Skin Care Products?
Photo Credit: Shalwah Evans
Discover more tips & tricks
Keep your skin happy
See all articles
Shop Featured Skin Care products
Discover More