skin care essentials
7 Micellar Water Hacks and Uses To Take Your Routine Up a Notch
November 06, 2020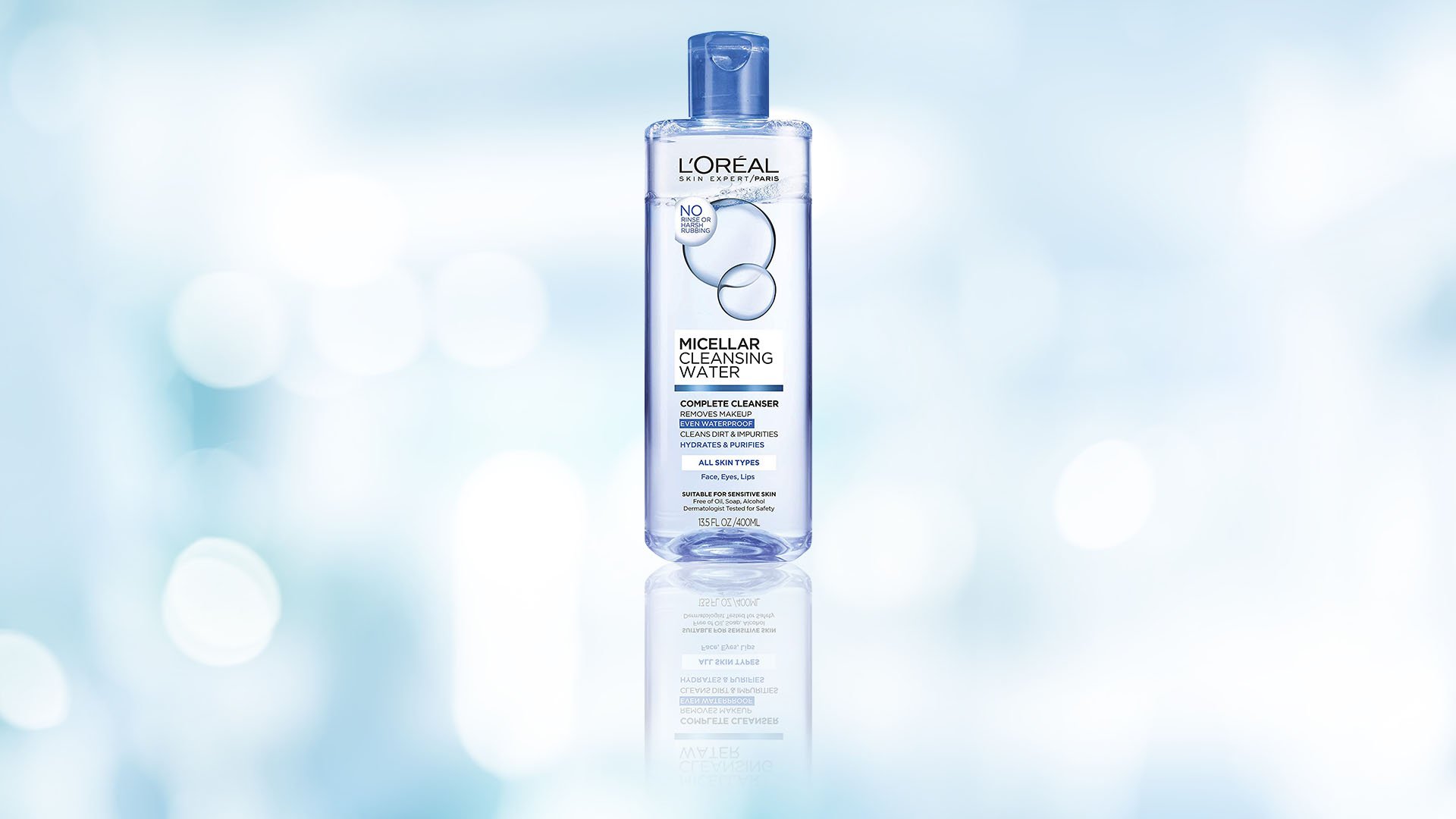 With so many beauty products to choose from, it always helps to have a multi-functional offering that can complement your routine. That may be the reason why learning how to use micellar water has become a popular topic in the beauty world. Not only does this French-favorite skin care product hydrate your skin, but it also works to clean and remove impurities from the surface of your face. If you're ready to see what micellar water can bring to the table, we're here to provide some clarity. Follow along as we dive into the best hacks on how to use micellar water in your beauty routine, including removing makeup, double cleansing, and refreshing your skin.
FIND YOUR MICELLAR WATER MATCH
Before you get started, it's best to pick a micellar water that suits your needs. The L'Oréal Paris Micellar Water Complete Cleanser Waterproof - All Skin Types helps to hydrate and intensely purify your skin all in one step. This gentle option gets your skin completely clean without any rinsing or harsh rubbing required. We also appreciate that it doubles as a makeup remover to get rid of stubborn products, including waterproof makeup in a pinch.
7 MICELLAR WATER HACKS TO TRY
If you're ready to see how micellar water can complement your routine, we're here to help. Here are seven different ways you can use this skin care product.
Hack #1: Use it as a makeup remover. Gone are the days when you need to use a separate makeup remover and facial cleanser. As we mentioned, micellar water can be used on even your most stubborn face makeup, lip color, and eye makeup to remove all traces of residue in addition to dirt and oil. So, there's no reason to go to sleep with your makeup intact. When you sleep in your makeup, it can mix with the dirt and oil on your skin and cause breakouts down the road.
If you're too tired to wash your face of makeup, micellar water makes for the perfect alternative. Leave a bottle of micellar water and a few cotton pads on your bedside table. Saturate a cotton pad with micellar water and wipe it across your face for a clean slate. For eye makeup removal, hold the pad over closed eyes for a few seconds, then wipe until clean.
Hack #2: Double cleanse. Sometimes one round of cleansing is not enough to completely remove impurities from your skin. This is where the double cleansing trend comes into play. As the name suggests, it's all about cleansing your face twice—with a no-rinse cleanser and a rinse-off option. Use a micellar water as the first step in your double cleansing routine. Then, follow up with a second cleanser formulated for your skin type. Try a trendy clay cleanser, like the L'Oréal Paris Pure-Clay Detox & Brighten Cleanser or L'Oréal Paris Pure-Clay Exfoliate & Refine Cleanser. Each option is formulated to transform from clay to mousse to remove debris from your skin without drying out your complexion.
To use, squeeze your clay facial cleanser of choice into your hands and add water to transform it from clay to mousse. Gently massage the facial cleanser onto your face using circular motions, making sure to avoid your eye area. Rinse with lukewarm water and pat dry.
Hack #3: Use it as a post-gym refresher. After a sweaty cardio session at the gym, cleanse and refresh your skin with micellar water. Since it doesn't require you to rinse it off, micellar water is an ideal skin care product to stash in your gym bag (along with deodorant and dry shampoo, of course). Once you're done working out, head to the locker room to cleanse your face and do whatever else you need to freshen up.
Hack #4: Perfect your makeup. Whether you're a makeup novice or veteran, you've likely made a few application mistakes. This is where a micellar water can save the day. Instead of starting your makeup routine all over again, just dip an angled brush or cotton swab into micellar water to help clean things up right away. You can say goodbye to smeared eyeliner or lipstick in a flash.
Hack #5: Use it as a facial mist. For days when you're not wearing any makeup and you want to freshen your skin a little bit, turn to micellar water. Pour it into a spray bottle and spritz it onto your face in the middle of the day for a quick refresh.
Hack #6: Clean false eyelashes. Instead of tossing out your false eyelashes after a single use, give them a quick cleaning session with micellar water. Just as how this essential can remove dirt, oil, debris, and makeup with ease, it can give your false eyelashes the same treatment. Check out our article, How To Clean and Reuse False Eyelashes, for more information.
Hack #7: Use it as a toner. Using a toner in your skin care routine is another way to moisturize and remove impurities from your skin. So, if you've been asking yourself, "Is micellar water a toner," we're here to tell you that all signs point to yes. Micellar water works to purify and hydrate the skin just like other toners.
Next up: If you loved learning about how beneficial micellar water can be in your beauty routine, it's time to focus on other multi-functional beauty essentials. Check out our article, 6 Baby Powder Uses For Your Beauty Routine, for some pointers.
Discover more tips & tricks
Keep your skin happy
See all articles
Shop Featured Skin Care products
Discover More