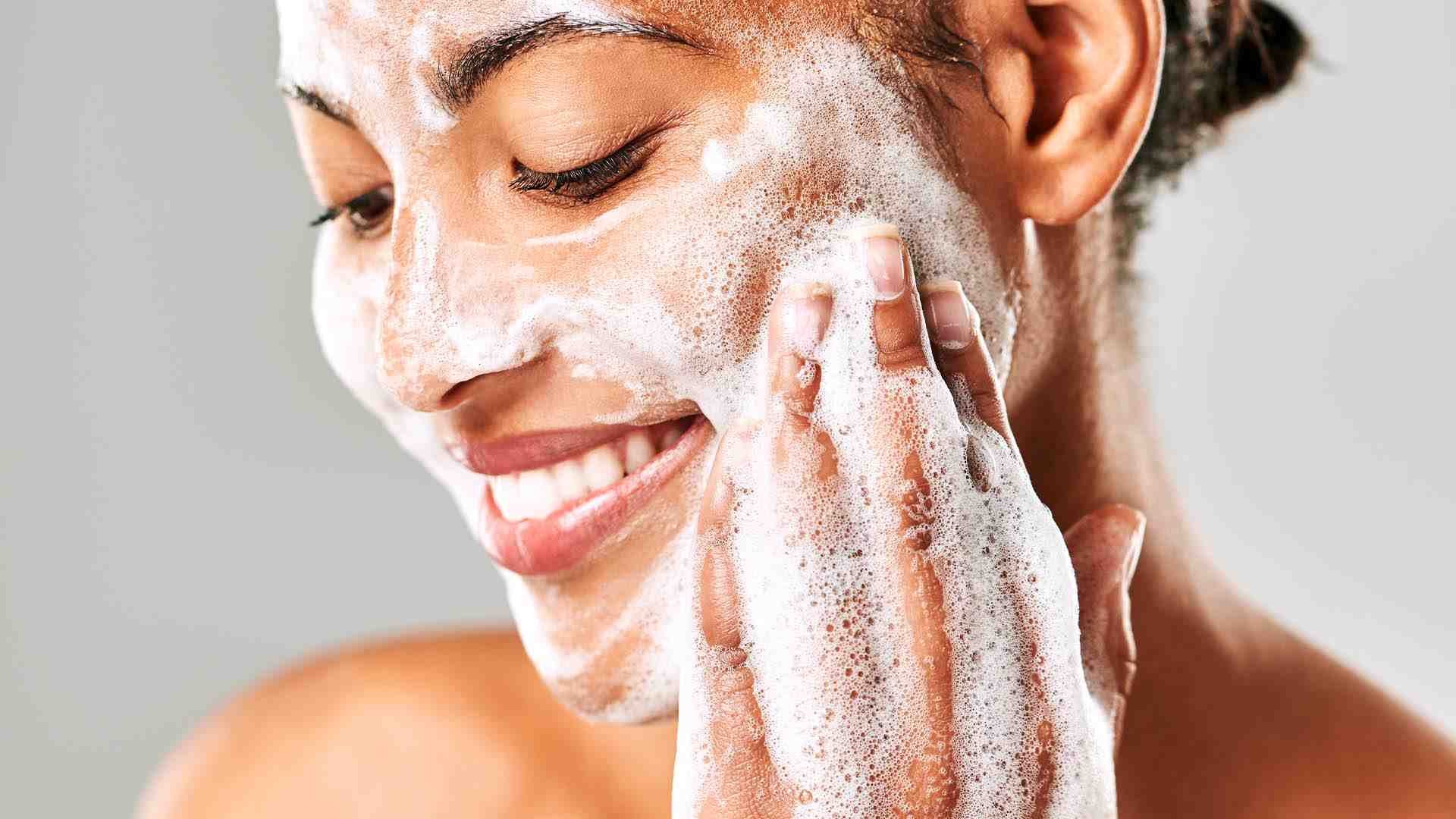 skin care essentials
8 Face Cleanser Hacks for Cleaner Skin
Using a face cleanser is an essential part of any skin care routine. It's the first step in removing dirt, oil, and impurities from your skin so you can have a healthy-looking visage. But while washing your face morning and night may seem like a no-brainer, it turns out there's a lot more to learn. From using a cleanser that suits your skin type to cleaning your makeup brushes, knowing all the best face cleanser uses and tips can take your skin care game to the next level. Intrigued? Below, we've rounded up our eight favorite skin care hacks to try the next time you pick up a facial cleanser.
FACE CLEANSER HACK #1: CHOOSE YOUR FORMULA WISELY
When it comes to picking out a facial cleanser, it's a must to look for one that's formulated to address your skin type and specific skin concerns. Any old cleanser won't do! The L'Oréal Paris Pure-Clay Detox & Brighten Cleanser, and L'Oréal Paris Pure-Clay Exfoliate & Refiner Cleanser are formulated to seamlessly transform from clay to mousse and remove everyday impurities from the surface of skin without over-drying. Squeeze your cleanser of choice into your hands and add water to transform it from clay to mousse. Gently massage the mousse onto your face using circular motions, then rinse thoroughly and pat dry.
FACE CLEANSER HACK #2: CLEANSE WITH LUKEWARM WATER
While hot water feels amazing, it can wreak havoc on skin. See, super-hot temps can strip your skin of its natural oils, leaving it to sport a more dry and dull appearance. And when you combine hot water with your facial cleanser, it can keep your cleanser from doing its job. To stay ahead of the game, always cleanse with lukewarm H2O to keep your skin in tip-top shape. Head on over to our article, Cold vs. Hot Water: What's the Best for Your Skin?, for all the deets.
FACE CLEANSER HACK #3: WASH ON THE GO
Face washing doesn't have to leave you tethered to the sink or the shower. That's because not all cleansers actually require the use of water. No-rinse options like micellar waters are great to pack with you when you're hitting the gym or traveling. The L'Oréal Paris Micellar Cleansing Water Complete Cleanser for Normal to Oily Skin purifies and mattifies while the L'Oréal Paris Micellar Cleansing Water Complete Cleanser Waterproof – All Skin Types intensely purifies. Just saturate a cotton pad with your micellar water of choice, then wipe the pad across your face.
FACE CLEANSER HACK #4: KEEP TOWELETTES ON HAND
Sometimes you're just so tired that washing your face is just about the last thing you want to do before bed. Still, skipping out on cleansing at night is a skin care no-no, as your makeup can mix with the dirt and oils that have built up throughout the day on the surface of your skin, which can lead to clogged pores—and clogged pores can lead to breakouts. Not fun!
Make nighttime cleansing as easy as possible on yourself by leaving a pack of the L'Oréal Paris Ideal Clean™ All Skin Types Makeup Removing Towelettes on your bedside table or in your bag for an easy way to remove makeup pre-smooth. The ultra-soft wipes remove all traces of makeup, dirt, and oil without drying out the skin.
FACE CLEANSER HACK #5: DOUBLE CLEANSE
To help rid the surface of your skin of impurities such as dirt, excess oils, and makeup, you may find that double cleansing is beneficial. Double cleansing involves first using a no-rinse cleansing option (such as micellar water or towelettes) to take off makeup, then following up with a rinse-off facial cleanser that will wash away any remaining impurities. A two-step cleansing process may seem like extra effort, but it shouldn't take too much time and provides a more thorough cleansing. Give it a shot, and see what you think!
FACE CLEANSER HACK #6: DON'T FORGET YOUR NECK AND DÉCOLLETÉ
While it's easy to think that facial cleanser should only be used on your face, there is no harm in showing your neck and décolleté some love. While many people tend to overlook those areas, your face isn't the only spot that can suffer from breakouts and dull-looking skin. So, every time you reach for your facial cleanser, don't forget to give skin below your chin some TLC, too.
FACE CLEANSER HACK #7: CLEAN YOUR MAKEUP BRUSHES
You may also be able to use your go-to facial cleanser to clean your makeup brushes. Lather up a bit of cleanser in the palm of your hand, then move the bristles in circular motions through the lather to help break down buildup. Rinse off and leave your brushes to dry before you use them again.
FACE CLEANSER HACK #8: USE A CLEANSING TOOL
Cleansing with your hands gets the job done, but a cleansing tool could prove useful when you're in search of that squeaky clean feeling. Feel free to use a cleansing brush, glove, or other tools to help you get completely clean. Be sure to use gentle tools, as harsh rubbing can have adverse effects on your skin. Much like exfoliating, you also may not want to use a cleansing tool every day. Stick with what your skin can handle, and remember you can always save the tool for special occasions.
Once you've learned these helpful hacks, check out our article, 5 Facial Cleanser Dos and Don'ts to Follow, for even more cleansing tips.
Discover more tips & tricks
Keep your skin happy
See all articles
Shop Featured Skin Care products
Discover More