skin care essentials
The Perfect Skin Care Routine For A Minimalist
July 20, 2020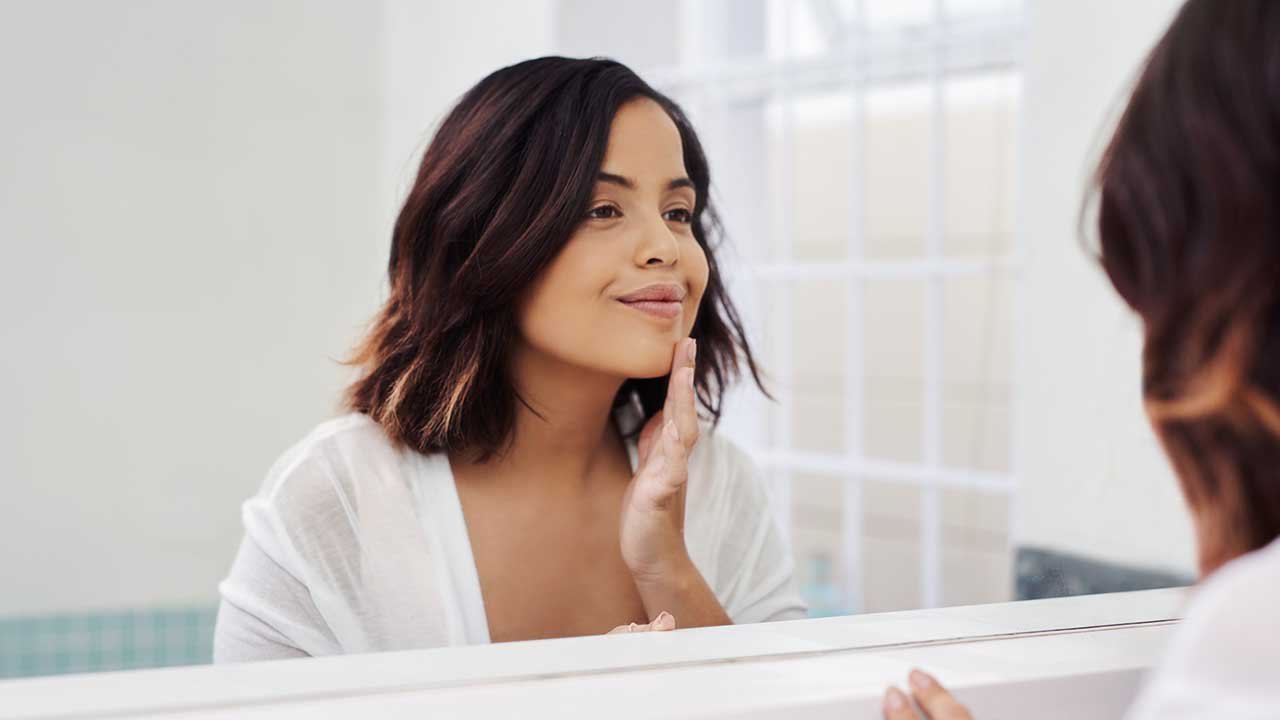 When it comes to putting together a consistent skin care routine, sometimes less is more. If you're a lover of minimalism, it may be common to hear that a high-maintenance routine is better for your skin. But that's simply not true. While a long and thorough regimen is a fabulous way to give your skin a bit of pampering, you can definitely do the same with a pared-down variation. Now, don't be mistaken—you can't ditch the basics like facial cleanser and moisturizer—but you don't always need all the extras that soak up your time and counter space. After all, skinimalism is hugely popular right now. If you like to keep things pared down as much as possible, you'll want to keep your complexion in the best condition with only the most essential skin care products. So follow along as we give you the rundown on how to keep your beauty routine simple—because there's no reason it has to be complicated!
HOW TO CARE FOR YOUR SKIN WHEN YOU'RE A MINIMALIST
If you're ready to create some magic within your beauty regimen sans the fuss, we've got you covered. Follow our skin care routine for minimalists below.
Step 1: Facial cleanser
You probably saw this coming. The first step in any skin care routine should always be cleansing. When you cleanse your skin, you can help rid it of dirt, excess oils, and impurities that have built up on the surface. Plus, it's not smart to skip out on cleansing before hitting the hay. When you sleep in your makeup, it can mix with the dirt and oils that have built up on your skin and cause clogged pores, which can lead to breakouts.
Micellar water is an easy cleansing option for anyone who runs the risk of skipping their cleanse. Since there's no rinsing required, you can keep one on your bedroom dresser for easy access when you're just too tired to wash your face in the bathroom. Try the L'Oréal Paris Micellar Cleansing Water Complete Cleanser Waterproof – All Skin Types, which intensely purifies and hydrates skin. Just saturate a cotton pad with the micellar water and wipe it across your face until clean.
Editor's Tip: Using a face mask a few times a week can also be a great idea. Try the L'Oréal Paris Pure-Clay Detox & Brighten Face Mask to rebalance and brighten dull skin.
Step 2: Serum
If you've got specific skin issues you're looking to address—like dark spots or fine lines and wrinkles—you'll want to use a serum after cleansing. Serums have formulas with highly concentrated ingredients that help to target specific skin concerns. A great day to night serum that helps lock in moisture and strengthen the skin barrier is the L'Oréal Paris Age Perfect Cell Renewal Midnight Serum. Formulated with an exclusive Antioxidant Recovery Complex, hyaluronic acid and Vitamin E, it smooths wrinkles and firm's skin over time. Smooth a few drops onto your skin before moisturizer before bed and as part of your morning skin care routine.
Since exfoliating is important to keep your skin looking radiant and to keep skin cells from building up on the surface of your skin, add a serum like the L'Oréal Paris Revitalift Derm Intensives 10% Pure Glycolic Acid Serum. This derm-validated offering is formulated with glycolic acid and aloe to soothe and resurface the skin. It also absorbs quickly to visibly even skin tone and reduce wrinkles and dark spots with continued use. Apply four to five drops to clean, dry skin every evening before moisturizing. For sensitive skin, start by using two to three times per week and build to nightly use.
Step 3: Eye Cream
Applying an eye cream only takes a couple of seconds, making it perfect for a low-key skin care routine. Depending on which eye cream you use, it can help address signs of aging around your eyes, such as dark circles, puffiness, and fine lines. The L'Oréal Paris Revitalift Triple Power Eye Treatment helps depuff the skin around your eyes, minimizes the appearance of dark circles and brightens with continued use. Gently tap it into the area underneath and around the eyes daily.
Step 4: Moisturizer
Hydration is one step in your skin care routine that you should never skip—even if you're a minimalist. It's also important to apply moisturizer, regardless of your skin type. When it comes to this product, what's right for one person may not necessarily be suitable for another. Those with oily skin may benefit from using a lightweight lotion, while those with dry skin may benefit from using heavier formulas.
Find a water-based moisturizer that's right for your skin type from the L'Oréal Paris Hydra Genius line:
Grab the L'Oréal Paris Hydra Genius Daily Liquid Care - Normal/Oily Skin for a matte finish. Try the L'Oréal Paris Hydra Genius Daily Liquid Care - Normal/Dry Skin if you like a radiant finish. Or opt for the L'Oréal Paris Hydra Genius Daily Liquid Care - Extra Dry Skin for dry skin comfort. All three offerings are formulated with aloe vera water and hyaluronic acid to help provide long-lasting hydration.
Step 5: Broad-spectrum sunscreen
It doesn't matter how much of a minimalist you are, broad-spectrum sunscreen is a non-negotiable morning skin care step. That's because when you spend prolonged periods of time in the sun without wearing protection, this can lead to damage. That damage can show up on your skin down the road as visible signs of aging, like dark spots and fine lines and wrinkles. The American Academy of Dermatology (AAD) states that dermatologists recommend using an SPF of at least 30. And don't avoid wearing sunscreen when it's chilly or rainy outside—you can still get burned on cloudy days.
Of course, if you're a minimalist, you want to keep things as simple as possible. Just reach for a moisturizer formulated with broad-spectrum sunscreen instead of two separate products. The L'Oréal Paris Revitalift Triple Power Day Lotion SPF 30 is formulated with hyaluronic acid, vitamin C, Pro-Retinol, and broad-spectrum sunscreen to hydrate and protect. Be sure to apply it 15 minutes before you go outside and toss it in your purse in case you need to reapply it after sweating or swimming.
Photo Design: Sarah Duvivier
Next: 7 Reasons To Love Your Skin Without Makeup
Discover more tips & tricks
Keep your skin happy
See all articles
Shop Featured Skin Care products
Discover More