skin care concerns
How To Identify Combination Skin And Tips To Manage It
Every skin type requires different care.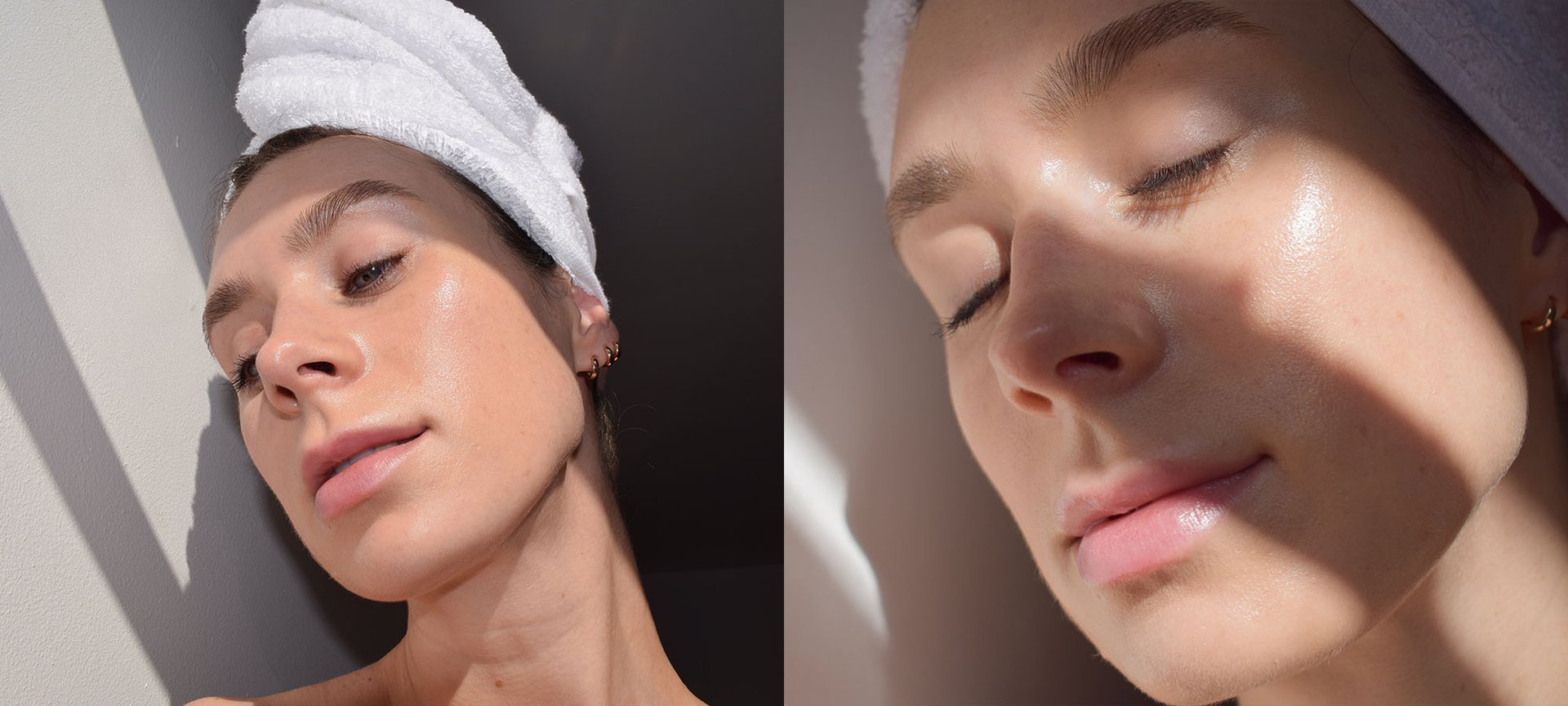 If you've noticed that you experience dry areas as well as excess oil, you might have combination skin. It can be tricky to figure out how to care for your skin properly considering that different parts of your face have different needs. But you can help your skin find the perfect balance by following a skin care routine for combination skin. Ahead, we're sharing tips on how to care for combination skin, as well as the must-have products to help give it the balance it needs.

How To Identify Combination Skin
You'll know you have combination skin when you feel like you're dealing with two different skin types at the same time. When you have oily skin, you can expect to deal with a greasy-looking complexion. You may also experience blackheads and breakouts. With dry skin, you can experience patches of dryness and even flaking on your face. When you have combination skin your cheeks, temples, and eye area tend to be dull and dry, while other parts of your face are oily, especially around the T-zone.

How To Care For Combination Skin
Check out these helpful skin care tips and product recommendations to help you create a tailored skin care routine based on your combination skin's needs.

1. Use A Gentle Facial Cleanser
Your skin's surface becomes covered with dirt, excess oils, and impurities throughout the day. Make sure to use a facial cleanser that will help mattify your oily T-zone without over-drying your cheeks and under-eye area. The L'Oréal Paris Micellar Cleansing Water Complete Cleanser Waterproof - All Skin Types is a great pick for combo skin. It's a no-rinse formula that can be used to clean the surface of your skin as well as remove makeup. Be sure to cleanse your skin morning and night to ensure you're removing bacteria and excess oil frequently enough.

2. Gently Exfoliate
If you have combination skin, exfoliating dead skin cells is key to keeping your skin in great condition. If you're looking for a gentle, chemical exfoliating product that can be used daily, give the L'Oréal Paris Revitalift Derm Intensives 5% Glycolic Acid Peeling Toner a go. This toner formulated glycolic acid works to gently smooth skin texture and remove dead skin cells.

3. Hydrate Your Skin
Regardless of your skin type, using a moisturizer is essential to keep your skin looking and feeling healthy. For combination skin, your best bet is to opt for a moisturizer that's hydrating while not feeling heavy or greasy. The L'Oréal Paris Age Perfect Rosy Tone Fragrance Free Face Moisturizer is great because it has a lightweight texture and it's formulated with lipohydroxy acid (LHA) to gently exfoliate and brighten the complexion.

4. Stop Touching Your Face
This is easier said than done since you don't even realize you're doing it most of the time. But your hands carry a lot of bacteria and dirt, and you don't want to transfer that to your face, as it could end up clogging your pores.

5. Blot Away Oil
If you're struggling to combat greasiness in your T-Zone, try reaching for blotting papers. These papers are easy to fit in your bag and can offer a quick way to cut back on excess oil mid-day. They'll temporarily absorb oil without ruining your makeup.

6. Make Broad-Spectrum Sunscreen Your BFF
One of the best ways you can care for your skin is by applying a generous amount of SPF 30 or higher daily. Spending time in the sun sans SPF protection can cause damage, which can lead to visible signs of aging like fine lines and wrinkles. Plus, it can lead to dryness. To cut down on steps in your routine, go for the L'Oréal Paris Revitalift Triple Power Day Lotion SPF 30 which is a hydrating daily moisturizer with SPF protection and anti-aging properties.

7. Treat Your Complexion To A Face Mask
Multi-masking is a great skin care practice for combination skin. It's all about simultaneously applying different face masks to various areas of your face depending on what each area needs. Try using the L'Oréal Paris Pure-Clay Detox & Brighten Face Mask on your T-Zone and oily areas. It's formulated with charcoal to help draw out impurities and tighten up your pores. On the drier areas, go for a hydrating face mask that will work to plump and brighten your skin. The L'Oréal Paris Revitalift Triple Power Anti-Aging Overnight Mask is great because it works to reduce wrinkles, brighten and firm the skin while hydrating.

8. Don't Forget About Your Eyes
The under eye area is not only one of the first areas to show signs of aging, but it can also be a very dry area, too. To ensure you're tackling skin concerns like fine lines and wrinkles as well as dark circles and dehydration, try an eye cream or eye serum like the L'Oréal Paris Revitalift Derm Intensives with 1.5% Hyaluronic Acid, 1% Caffeine Eye Serum. Not only does it work to address fine lines and wrinkles, but it also hydrates the delicate area and targets the root causes of dark circles.
Next: 4 Skin Types Test The Derm Intensives 5% Glycolic Acid Peeling Toner

Edited by: Alyssa Kaplan, Photo Credit: Drew Richards
Discover more tips & tricks
Keep your skin happy
See all articles
Shop Featured products
Discover More