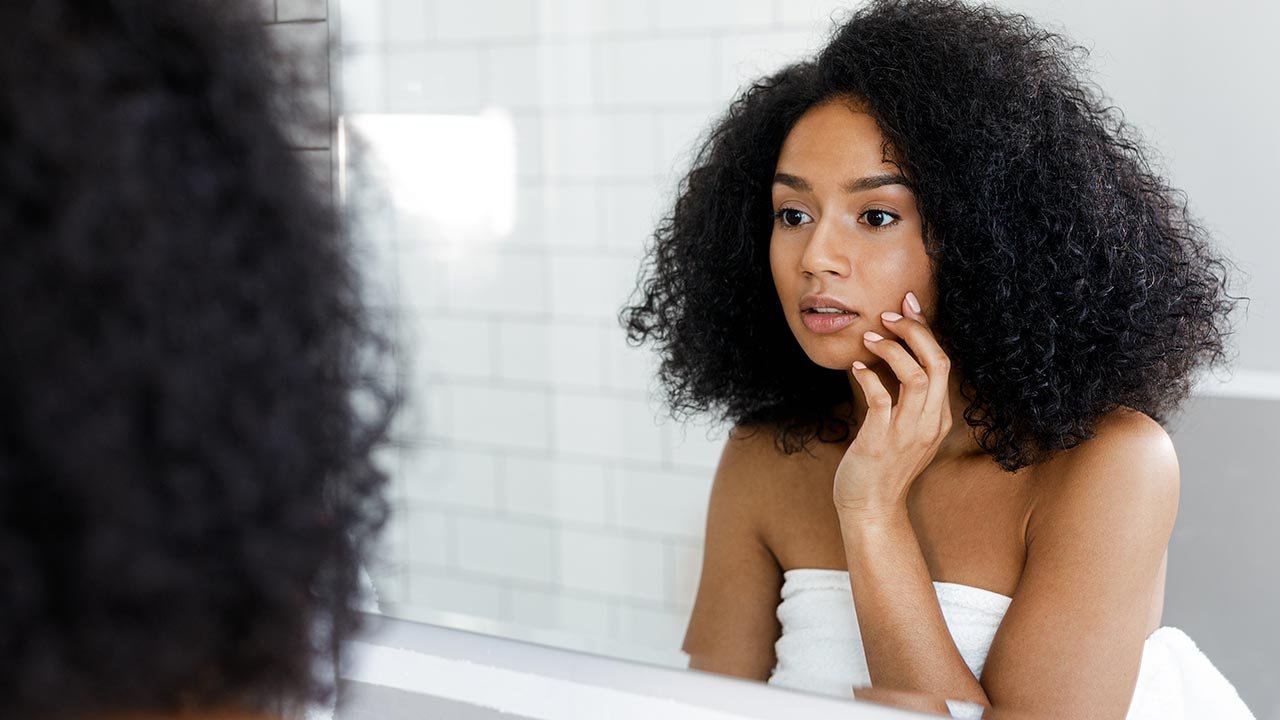 Beautiful skin always seems to be connected to having an inner glow or a natural radiance. If you're experiencing dull skin, you may find it difficult to achieve a glowing, gorgeous complexion. Typically, skin dullness can be a result of factors like pollution, cold weather, and even aging. As your skin ages, it tends to lose that rosy, youthful glow, in part because your skin's natural oil production will begin to slow down as you get older. Excessive dryness and dark spots, two more common signs of skin aging, may also contribute to an overall look of skin dullness or a lackluster complexion. Luckily, there are steps you can take (and skin care products you can use) to help bring radiance back to your complexion. Follow these five steps as a part of the best skin care routine to help improve the look of dull skin.
Skin Care Tip #1: Exfoliate
After cleansing, slough away dead skin cells that can pile up on the outer layer of your skin. The collection of dead skin cells can contribute to the look of dull skin—and also prevent your other skin care products from penetrating deep enough to work effectively. Use the L'Oréal Paris Pure-Sugar Smooth & Glow Face Scrub, which melts into skin for gentle yet effective exfoliation. Immediately, skin feels smoother and looks glowing, while dirt, oil, and impurities are effectively removed and dull skin is gently polished away. With continued use over time, skin feels baby-soft, smooth, and comforted while skin texture looks refined with a glow. Just smooth a small amount of face scrub onto dry skin, then wet your fingers and massage the face scrub into your skin. Rinse off thoroughly and pat dry. Use three times a week for best results.
Skin Care Tip #2: Try a Charcoal Mask
One of the most useful skin care products you can add to your skin care routine for dull skin is a charcoal mask. The L'Oréal Paris Pure-Clay Detox & Brighten Face Mask is formulated with three types of clay and enhanced with charcoal to draw out the buildup of impurities, dirt, and pollution, reduce the look of dull skin, increase the appearance of luminosity, and even out skin tone. Immediately, skin looks brighter with a glow and dirt, dust, and pollution are perfectly removed from skin's surface. Three times a week, apply an even layer of the face mask to clean, dry skin, leave it on for 10-15 minutes, then rinse off thoroughly with lukewarm water and pat dry.
Skin Care Tip #3: Upgrade Your Nighttime Routine
If you're looking to put together a skin care routine for dull skin, don't skip out on a few key nighttime beauty essentials. For starters, using a peel pad can be a great way to help increase the look of radiance. The L'Oréal Paris RevitaLift Bright Reveal Brightening Daily Peel Pads are formulated with glycolic acid to resurface skin, while the multi-ply texture of the pads physically exfoliate buildup. Immediately, skin looks brighter. Gently apply in a circular motion to your face at night on cleansed skin and follow up with the L'Oréal Paris RevitaLift Bright Reveal Brightening Dual Overnight Moisturizer, which features an exfoliating concentrate in one chamber and a brightening infusion in the other. In the morning, apply a broad-spectrum sunscreen with an SPF of 15 or higher and take additional sun protection measures, as alpha hydroxy acids like glycolic acid can increase your skin's sensitivity to the sun.
Skin Care Tip #4: Highlight with Moisturizer
This is one tip for dull skin we couldn't help but share with you: Apply moisturizer, instead of a highlighter, to your cheekbones, under your brow, on your nose and forehead. A dull skin tip that is especially good for dry, cold winter months: Applying moisturizer as a highlighter will provide a dewy, but not shiny, complexion. Put this tip to the test with the L'Oréal Paris Hydra Genius Daily Liquid Care for Normal/Dry Skin.
Revitalize your skin and help prevent dullness no matter the cause, by following the best skin care routine for healthy, radiant skin. For more advice on managing dull skin, here are 3 Common Signs of Dull Skin and How to Regain Your Glow.
{ "@context": "https://schema.org/", "@type": "WebPage", "speakable": { "@type": "SpeakableSpecification", "cssSelector": ["speakable-content"] }, "url": "https://www.lorealparisusa.com/beauty-magazine/skin-care/skin-care-concerns/the-best-skin-care-routine-for-dull-skin" }
Discover more tips & tricks
Keep your skin happy
See all articles
Shop Featured Skin Care products
Discover More
{ "@context": "http://schema.org", "@type": "BreadcrumbList", "itemListElement": [ { "@type":"ListItem", "position": 1, "item": { "@id": "/", "name": "Home" } } , { "@type":"ListItem", "position": 2, "item": { "@id": "https://www.lorealparisusa.com/beauty-magazine", "name": "Beauty Magazine" } } , { "@type":"ListItem", "position": 3, "item": { "@id": "https://www.lorealparisusa.com/beauty-magazine/skin-care", "name": "Skin Care For Every Age" } } , { "@type":"ListItem", "position": 4, "item": { "@id": "https://www.lorealparisusa.com/beauty-magazine/skin-care/skin-care-concerns", "name": "Skin Care Concerns" } } , { "@type":"ListItem", "position": 5, "item": { "@id": "https://www.lorealparisusa.com/beauty-magazine/skin-care/skin-care-concerns/the-best-skin-care-routine-for-dull-skin", "name": "the-best-skin-care-routine-for-dull-skin" } } ] }